2016 Chevrolet Malibu Expert Review
By Keith Buglewicz
KBB Expert Rating: 8.4
The all-new 2016 Chevrolet Malibu hits the reset button not just on Chevy's midsize sedan, but maybe on our expectations of all Chevrolet sedans. Its sleek looks might be the best in its class, resembling the larger Chevy Impala in all the right ways. But there's more than that pretty face. The new Chevy Malibu boasts a comfortable and modern interior with a big back seat and high-tech features like Apple CarPlay and Android Auto, rear cross-traffic alert and automatic-parking assist. There are three engine choices, including an all-new 1.5-liter turbocharged 4-cylinder and a hybrid with a Volt-derived powertrain. Put it together, and it's a formidable contender against the likes of the Toyota Camry, Honda Accord, Hyundai Sonata and Kia Optima.
You'll Like This Car If...
If you're looking for a midsize sedan that isn't one of the usual Honda/Toyota/Hyundai choices, the 2016 Malibu offers not just an alternative, but a compelling choice in its own right. With a super fuel-efficient hybrid, plus tons of cool features, it's worth a look.
You May Not Like This Car If...
Some are hesitant to jump in with both feet on an all-new model from any manufacturer, especially one with so much new technology, including two new powertrains. For them, something that's been on sale for a while might be a more comfortable choice.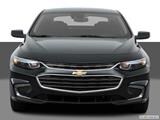 What's New for 2016
The 2016 Chevrolet Malibu is an all-new vehicle, and owes virtually nothing but its name and its top-end turbocharged 4-cylinder engine to last year's model.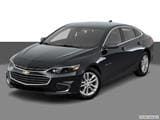 Driving Impressions
Our fully loaded 2016 Malibu Premier immediately impressed when pulling away from the first stoplight we encountered. With the 2.0-liter turbocharged engine, the Malibu pulled strongly, its new 8-speed automatic...
... clicking off shifts with immediacy and precision, but without any harshness. You can manually select gears with a rocker switch on top of the gear selector; we'd prefer paddles on the steering wheel, but for the few times you're likely to manually shift it worked well enough. The suspension was also very nicely sorted. Despite the big 19-inch wheels on our test car, and the corresponding low-profile tires, the new Malibu rode smoothly over pretty much any surface we encountered. Additionally, it held its own in corners, although it's clear that Chevy has conceded the handling crown to the likes of the Mazda6 (along with everyone else).
APPLE CARPLAY AND ANDROID AUTO
We've said it before, and we'll say it again: Apple CarPlay and Android Auto are our two new favorite things. After all, who wouldn't want the identical functionality of their smartphone reflected on their car's infotainment system?

TEEN DRIVER
For nervous parents with first-time drivers, Teen Driver is about as close as you can get to keeping close track of your kids without an actual helicopter. It lets you monitor where the car has been, how fast it's been driven, and even mutes the audio unless everyone's strapped in.
2016 Chevrolet Malibu Details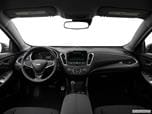 Interior
Chevy strikes a winning balance of integrating controls into its touch-screen system without forcing users to be over-reliant on it. The fact that Chevy's MyLink uses big, bright icons that are easy to tap is part of the appeal, and we aren't just talking about CarPlay. Beyond functionality, the interior looks great. There are big clear gauges, a good-looking swoop and curve to the dash, and it's easy to see out, too. The front seats are comfortable and highly adjustable, and the rear seats finally have enough legroom to seat adults, although headroom is still a little tight.
Exterior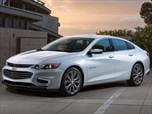 The 2016 Malibu is clearly inspired by its big brother, the Chevy Impala. In fact, this is an even better interpretation of that design aesthetic, with lines that flow when it's needed, but tight when they should be. For example, the subtly sculpted coves in the front and rear doors look elegant, while the taillights tie it together, with LEDs in Premier models. LED daytime running lights augment the headlights in higher-end models as well, and super-bright HID headlights are also available. Wheel sizes range from 16 inches all the way up to the 19-inchers on our test car.
Standard Equipment
The base Malibu L model is a rental-fleet special that comes with only the basics: air conditioning, cruise control and an AM/FM radio. In reality, the 2016 Chevy Malibu lineup starts at the LS model, which includes Apple CarPlay and Android Auto with USB ports and Bluetooth with its 7-inch MyLink infotainment system. Also standard are a rearview camera and the 6-way-adjustable manual driver's seat. Also standard is the new 1.5-liter turbocharged 4-cylinder with stop-start and hill-start assist. On the safety front, there are 10 total airbags, plus stability control and OnStar, which automatically dials for help in an accident.
Optional Equipment
Beyond choices such as the new Malibu Hybrid and 2LT and Premier and their bespoke drivetrains, the 2016 Malibu brings a lot of tech to the midsize-sedan party, including available adaptive cruise control, blind-spot warning, forward-collision alert and rear cross-traffic alert. A 4G LTE-powered Wi-Fi hotspot can help you find your dinner spot, the available on-board navigation system can help you get there, and the Automatic Parking Assist can even help you park when you arrive. And of course there are available leather upholstery and automatic climate control, although the latter only on Premier models.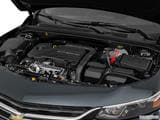 The base engine for 2016 Malibu models from L through LT1 is the 1.5-liter turbocharged 4-cylinder and 6-speed automatic. It's a frugal choice, but its 160 horsepower shouldn't have any trouble moving the new Malibu, which is 300 pounds lighter than last year's model. LT2 and Premier models get the 2.0-liter turbocharged 4-cylinder, which we know gets the new Malibu moving without hesitation. Thanks to the new 8-speed automatic transmission, it's still as fuel-efficient as its competitors' upgrade engines. Then there's the new hybrid, which uses a combination of a 1.8-liter 4-cylinder and two electric motors working in tandem for a combined 182 horsepower. All the engines run on regular gasoline; premium is recommended for the 2.0-liter but not required.

1.5-liter turbocharged inline-4
160 horsepower @ 5,600 rpm
184 lb-ft of torque @ 2,000-4,000 rpm
EPA city/highway fuel economy: 27/37 mpg

2.0-liter turbocharged inline-4
250 horsepower @ 5,300 rpm
258 lb-ft of torque @ 1,700 rpm
EPA city/highway fuel economy: 22/32 mpg

1.8-liter inline-4
122 horsepower @ 5,000 rpm
129 lb-ft of torque @ 4,750rpm
Motor A: 55 kW
Motor B: 76 kW
136 horsepower (electric motors combined)
277 lb-ft of torque (electric motors combined)
182 net horsepower
EPA city/highway fuel economy: 48/45 mpg
The 2016 Chevrolet Malibu L comes with a Manufacturer's Suggested Retail Price (MSRP) of an advertisement-friendly $22,500, squarely in the lower end of the midsize-sedan segment. However, the real-world base model is the 2016 Malibu LS, which starts just under $24,000. If you're looking for the 2.0-liter engine with its 8-speed transmission, you'll have to bring $29,500 for the LT, or about $31,795 for the Malibu Premier and all its extras. Malibu Hybrid prices aren't yet available, but expect them to be as competitive as the rest of the new Chevy Malibu lineup, which slots in slightly lower than similar midsize sedans like the Honda Accord and Toyota Camry. Before buying, be sure to check the KBB.com Fair Purchase Price calculator to see what others in your area are paying. Unfortunately, while the new car looks great and offers a lot, historically resale value hasn't been one of the Malibu's strengths.
To compare current market prices, check out KBB.com's car classifieds to view the new and used Chevrolet Malibu vehicles for sale near you.