This Week in Car Buying: Nissan bets renters beget buyers; Cadillac ramps up SUVs; What's hot, what's not; Lender under pressure
by
Matt DeLorenzo
|
August 14, 2015 5:33 AM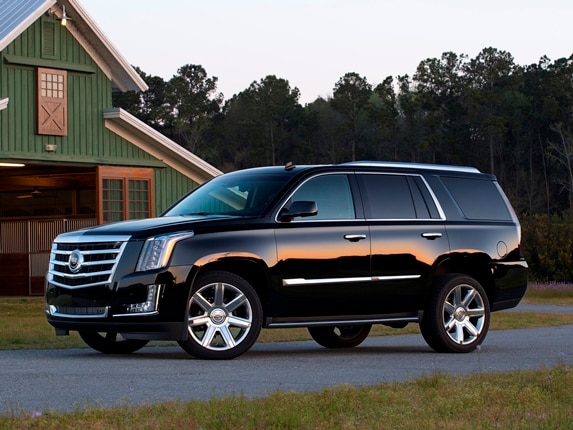 Nissan is teaming up with Enterprise CarShare on 90 college campuses in an effort to turn renters into buyers. The partnership will see Nissans used exclusively by Enterprise CarShare at the schools and users on campus will be able to get a $5 hourly driving rate on all Nissan vehicles. According to Enterprise, 68 percent of millennials said they would consider buying a specific model if they have rented it.
The program dovetails with Nissan's New College Grad Program, which provides no haggle pricing, the lowest finance rates available to those with no credit history and a 90-day deferred payment option. Students also are eligible to get all the incentives available on a particular model in addition to the benefits from the grad program.
"The Enterprise CarShare program offers a convenient way for college students, faculty and staff to enjoy an extended test drive of a wide range of Nissan vehicles," said Fred Diaz, senior vice president of sales and marketing for Nissan U.S.A. "And for those about to graduate and recent graduates, we'll be there to support the transition into the working world with our College Grad Program when they are ready to purchase a new Nissan car, SUV or truck."
Also: The Class of 2016 -- New Cars Ready to Roll
Cadillac looks to crossover SUVs for growth
With only the Cadillac Escalade and SRX as its entries in the hot selling SUV realm, GM's luxury division is looking to expand that lineup by adding five new models in that segment by the end of the decade, according to the Detroit Free Press. Other product plans call for three redesigned car models in the compact to mid-size range.
The changes include a redesigned SRX which will be renamed the XT5 as well as many as two models between the SRX and the current Escalade, a subcompact entry below the XT5 and a new range topping SUV positioned above Escalade to take on Range Rover.
Cadillac is looking to grow sales and trim incentives, goals that it is incrementally achieving having seen a 1.5-percent increase in sales largely on gains in the Chinese market (U.S. volume is down slightly). On the incentive front, the division has trimmed its spend by $600 to an average of $5,201 per vehicle. The highest luxury maker incentives are offered by BMW which averages $6,313 and Mercedes-Benz, which averages $5,606.
What's hot, what's not
Compact crossover SUVs continue to be in high demand, outselling their compact car counterparts in July with a total volume of 205,258 units versus 201,621, according to Automotive News. Year to date, compact cars still lead, but the growing roster of compact and subcompact SUV entries will ensure that the two segments will likely outsell their car counterparts by year's end. The two top-selling vehicles continue to be full-size pickup trucks, with Ford's F-150 leading overall, followed by the Chevrolet Silverado. Through the first seven months of the year, Mitsubishi posted the largest percentage gain seeing its sales climb by nearly 25 percent on the strength of its new Outlander. Jeep also continues to grow, posting a July increase in sales of 23 percent over the previous year.
Showing that there is some life in the sedan market, KBB.com saw a big spike in shopping traffic on the Ford Fusion, which is also currently eligible for rebates of up to $750 along with 0-7.9-percent financing. Other models registering significant interest include the Honda Civic, Honda Accord, Toyota Camry and Honda CR-V. Among new models being shopped are the all-new Mazda MX-5 Miata, Cadillac CTS-V, Audi TT and Nissan Maxima.
Santander under scrutiny
A large auto lender, Santander USA Holdings, says the Consumer Financial Protection Bureau (CFPB) alleges that it overcharged "protected groups" of borrowers who took out loans from the finance company through auto dealers. The Wall Street Journal reports that Santander is the latest lender to undergo scrutiny over practices of making loans to racial or religious minorities. Earlier this year, the U.S. Justice Department reached an agreement with American Honda Finance Corp. to pay $24 million to African-American, Hispanic, Asian and Pacific Islander borrowers who were said to have been overcharged interest on their auto loans.
Earlier, Santander paid $9.35 million to settle charges that it inappropriately repossessed cars owned by U.S. military members.
Also: Kelley Blue Book Best Buy Awards of 2015
The rundown
In its quest to boost fuel economy without sacrificing performance, Nissan's luxury division announced that its 2016 Infiniti Q50 will be getting a new 2.0-liter turbocharged 4-cylinder engine as a base powerplant. The new motor, which is shared with Daimler and used in the Mercedes-Benz C-Class is manufactured by Nissan in Tennessee.
Honda is holding the line on the base price of its new 2016 Accord line at $22,105, which increasing other prices to reflect new content in the freshened family sedan. Among the major changes is the addition of a new suite of safety and driver assist features marketed under the Honda Sensing moniker.
Toyota has gone that extra mile in redesigned its 2015 Prius C to help that entry-level hybrid garner a Top Safety Pick rating from the Insurance Institute for Highway Safety. The revisions under the skin help the vehicle perform better on the stringent small overlap frontal crash test.
In other safety news, Korean automaker Kia is adding collision and lane departure warnings to its 2016 Kia Soul in a bid to raise its IIHS rating to a Top Safety Pick+ status. The Soul starts at $16,515.
POPULAR AT KBB.COM