This Week in Car Buying: Hot deals; Prices rise on Jeeps and Rams; Cadillac cuts ELR sticker; Mazda MX-5 Miata starts U.S. production
by
Matt DeLorenzo
|
April 24, 2015 1:52 PM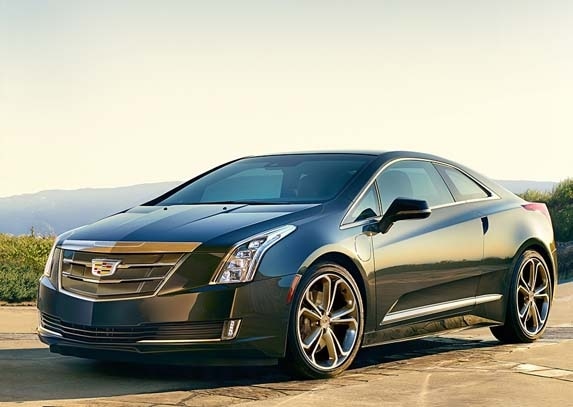 If April brings the promise of a tax refund which may be leveraged into a new car acquisition, then here's some top lease and finance deals to consider. The top offers of the month include a compact SUV, stylish mid-size sedans and even a couple of EVs.
The top deal of the month determined by Kelley Blue book is the 2015 Buick Encore, a compact crossover SUV with a zero-down $199 per-month 2-year lease, followed closely behind by the 2015 Chevrolet Spark EV, which also goes for zero down and $139 per month over three years. The top cash back offer is on the Fiat 500L which gets a generous $4,500 followed by the 2015 Nissan Leaf with a $3,400 plus 0-percent financing for 60 months. Hyundai's 2015 Sonata Hybrid has $4,000 cash back, a further reflection on the soft market for EVs and hybrids at a time when gas prices are down more than $1 per gallon over a year earlier.
While crossovers are a hot commodity, sedans sales could be stronger and manufacturers are stepping up their offers on mid- and full-size family 4-doors. Among the top lease deals are Buick's $259 per month offer on the Regal for 39 months with just $259 down, while the Chevrolet Malibu, which will be replaced early next year by an all-new version, can be had for $211 per month for 39 months and $500 down. Chrysler's redesigned 2015 200 comes with a $2,000 rebate and 0-percent financing for 60 months while the full-size 2015 Ford Taurus has a $4,500 rebate. Meanwhile, VW is looking to give its compact crossover Tiguan a jumpstart by offering a $179 per-month 3-year lease with $2,499 down.
Jeep and Ram prices rise
The big moneymakers at Fiat Chrysler Automobiles remain trucks and SUVs, a trend that is likely to continue as the company raises prices on its extremely popular Ram and Jeep brands. According to trade journal Automotive News, FCA is increasing wholesale prices to dealers 1 percent on some models, which amounts to about $250. Other dealers reported that the increases on some hot-selling Ram pickups could go up by as much as 3 percent -- or more than $1,000 on some models. Jeeps have seen an increase of $100 on Grand Cherokees.
While FCA hasn't commented on the changes in wholesale prices, the retail stickers remain the same, putting additional pressure on dealers. Trucks have been a bright spot in the FCA portfolio with its market share increasing from 11.5 to 12.9 percent.
Also: Class of 2016 -- New Cars Ready to Roll
Cadillac ELR repositioned
As Chevrolet readies an all-new Volt for launch later this summer, Cadillac will be repositioning its 2-door coupe version that employs the same hybrid technology by cutting the price by $10,000 while taking advantage of the technological improvements to its bow-tie sibling. The sticker price on the 2016 Cadillac ELR is expected to drop to $65,995, down from the current $75.995. The plug-in hybrid ELR is also eligible for a $7,500 federal tax credit.
On the performance front, upgrades to the vehicle's control system will boost power and torque by more than 25 percent. Cadillac estimates that the car's 0-60 mph acceleration will improve to 6.4 seconds, shaving 1.5 seconds off previous performance. The Cadillac ELR has been a slow seller, with only 1,310 retailed last year.
Mazda MX-5 Miata production starts for U.S.
The 2016 Mazda MX-5 Miata models destined for the U.S. are now rolling off the assembly line and will be in U.S. dealerships in time for summer top down motoring. While ordering for the 1,000-model Launch Edition begins May 5 and features a $30,195 MSRP excluding $820 delivery, the standard MX-5 will start at $24,915 base price plus delivery. Among the new features of the entry level Miata are a 6-speed manual transmission, cruise control, LED head- and taillights, Bluetooth connectivity, leather-wrapped shift knob, power door locks and a USB port. An automatic transmission will be a $1,075 option. Step-up models include the MX-5 Club, which will start at $28,600 plus delivery and the MX-5 Grand Touring at $30,065.
Interest rates up
Financing a new car has gotten a bit more expensive as bankrate.com reports that most auto loan rates have increased for the second week running. Interest charged on average 36- and 48-month new car loans increased 10 basis points or 0.10 percent to 4.29 and 4.32 percent respectively. The average 60-month contract increased 9 basis points to 4.37 percent.
The picture on used car rates was mixed. Typical 36-month used car rates rose by 6 basis points to 5.17 percent, while the average 48-month loan fell 2 basis points to 5.34 percent.