2016 Cadillac ELR Expert Review
By Matt Degen
After a less-than-enthusiastic reception, the Cadillac ELR plug-in extended-range coupe returns for 2016 with a raft of improvements and a roughly $10,000 price cut. While its sophisticated gas-electric powertrain is based on the far less expensive Chevrolet Volt, the ELR has been modified for better performance and a slight increase in electric driving range to 39 miles. Thanks to its onboard gasoline engine that acts as a generator when battery power is depleted, total range is 330 miles. The upshot of this setup is you don't have to find an electrical outlet when you run out of juice. That's the ELR's main advantage over the far roomier Tesla Model S, but some buyers may still balk at this 4-passenger Cadillac's nearly $66,000 starting price.
You'll Like This Car If...
If you desire a plug-in hybrid that can be powered by both electricity and gasoline – and have it in the form of a small luxury coupe – the 2016 Cadillac ELR could be just the car that fills that niche.
You May Not Like This Car If...
Practicality comes at the cost of high style in the ELR, whose rear-seat space and trunk are far more limited than its Chevy Volt cousin. The pure electric Tesla Model S, meanwhile, offers more space, better performance, all-wheel drive and incredible driving manners for about the same price.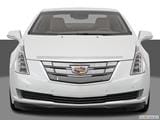 What's New for 2016
After debuting as a 2014 model very late in the production year, the ELR skipped a model year and returns for 2016 with multiple improvements and a $10,000 price cut. The 2016 ELR has roughly 25 percent more power, enhanced handling, Apple CarPlay compatibility and an optional performance package.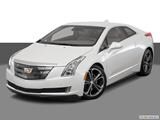 Driving Impressions
Our first blush with the Cadillac ELR plug-in luxury coupe left us impressed with the wizardry behind its gas/electric powertrain, but wanting more oomph when it came to power. The...
... luxury automaker has promised to rectify that shortcoming with the latest edition of the ELR, increasing horsepower from 217 to 233 and peak torque from 295 lb-ft to 373. The ELR's 0-60-mph time has been shaved 1.5 seconds to a now-respectable 6.4 seconds. With the extra power comes a slight increase in electric driving range, from 37 miles to 39. Total range, however, falls from 340 to 330 miles. In addition to more power, this revamped ELR has had its chassis and steering retuned for improved handling. Also new is a performance package. It doesn't increase power, but it does equip the ELR coupe with 20-inch summer-only tires, Brembo 4-piston brakes and tweaks to the continuous damping and electric power-steering system.
REGEN ON DEMAND
Activated via steering-wheel-mounted paddles, Regen on Demand allows the driver to supplement (or in some instances, bypass) the brakes by converting rolling momentum into stored energy.

SAFETY ALERT DRIVER'S SEAT
Included as standard, the ELR's haptic-enabled seat alerts the driver to the direction of possible hazards by vibrating different sections of the seat.
2016 Cadillac ELR Details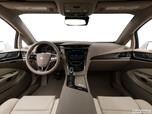 Interior
The 2016 ELR's cabin is much like its skin – sleek, sophisticated, and smaller than you may expect. The rounded dash and paneling resemble a wave flowing down, and most controls on the center-mounted command module are flush-mounted. In the center sits the high-resolution command screen for navigation, audio and app functions. This touch screen differs from others with its haptic feedback, which slightly vibrates against your finger to confirm it got the message. It's neat in theory, but hit-or-miss in execution. The ELR's 20-way front seats are comfortable and highly adjustable. The two rear seats, however, are tiny and difficult to access.
Exterior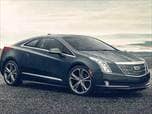 Cadillac's 2016 ELR may just be the most stylish wedge you've ever seen. From the side, it appears to have a forward stance that makes it ready to pounce. A sharply rising beltline accentuates a similarly sloped window treatment above, while the rear C-pillars connecting the roof to the tail are thick and gently sloped. The latter adds to the exterior appeal but creates large blind spots when viewed from the driver's seat. Stylish treatments such as concealed door handles and aggressively raked front glass – along with a flush grille with active shutters – help in the aerodynamics department.
Standard Equipment
Thankfully the 2016 ELR's feature content didn't take a hit along with its price cut. In fact, this latest model gains some. Formerly optional driver-aid features such as blind-zone monitoring with rear cross-traffic alert and lane-change alert are now standard. Also included are leather seating, dual-zone climate control, rearview camera, navigation, three years complimentary service of GM's OnStar Guidance Plan, 10-speaker Bose premium audio, 4G LTE built-in Wi-Fi and wireless charging for certain smartphones. Along with the aforementioned driving aids, other safety features include forward-collision warning system, eight airbags and a rear park-assist system that detects obstacles.
Optional Equipment
As a low-volume model available in just one trim, extras on the 2016 Cadillac ELR are limited. The sole package option is the Performance Package that bundles 20-inch summer tires, alloy wheels, Brembo brakes, sport-tuned suspension and sport steering wheel. The other main option is adaptive cruise control with front automatic emergency braking.
The Cadillac ELR continues to pair a lithium-ion battery pack with a small gasoline-powered engine/generator. But the system has been revamped for 2016 to increase power by 25 percent. The ELR's horsepower increases from 217 to 233, while its torque rating grows from 295 to 373 lb-ft. The lithium-ion battery capacity grows from 16.5 kWh to 17.1. The power boost helps cut the ELR's 0-60-mph time to 6.4 seconds. Recharging a depleted battery takes roughly five hours on a 240-volt charger. A 120-volt can also be used. And the beauty of the ELR is that as long as there is gasoline in the tank, its 1.4-liter 4-cylinder engine can act as a generator. The ELR is front-wheel drive and uses a continuously variable transmission (CVT).

AC synchronous electric motor and gasoline engine/generator
17.1 kWh lithium-ion battery pack
1.4-liter inline-4 gasoline generator
233 horsepower
373 lb-ft of torque
EPA projected full-charge range: 39 miles (all-electric), 330 miles (total with fully charged battery and full tank of fuel), 85 MPGe (all-electric, mpg equivalent)
When the Cadillac ELR debuted for 2014 with a $76,000 starting price, eyebrows raised. While that lofty price may not be the only reason this luxury plug-in coupe didn't connect with many buyers, it certainly didn't help. For 2016, the Manufacturer's Suggested Retail Price (MSRP) has been cut some $10,000 to $65,995. While there are many luxury hybrids and plug-in vehicles on the market – ranging from the $70,000 Tesla Model S to the $100,000 Porsche Panamera hybrid and $45,000 Infiniti Q50 hybrid – there really isn't anything quite like the ELR, as those rivals come as a sedan or hatchback, not a small 2+2 coupe. Check the KBB Fair Purchase Price to see what others in your area are paying for the ELR. As for resale value, the ELR's prospects are unlikely to be good. The past model – even with so few sold – saw a drastic drop in its value.
To compare current market prices, check out KBB.com's car classifieds to view the new and used Cadillac ELR vehicles for sale near you.