Scion's Sales Have Slipped, but the Goal Remains the Same
by
Zach Doell
|
March 5, 2014 11:15 AM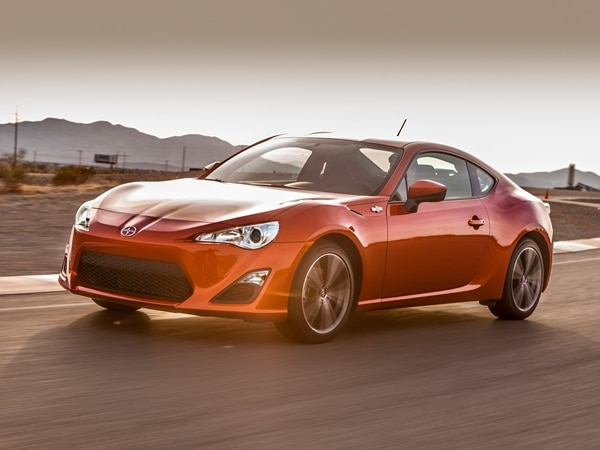 How will the marque get back on top?
Back in 2004, Scion burst onto the automotive scene with a purposeful roster of trendy and practical vehicles. With the aid of a booming economy, Toyota's gritty but reasonably priced sub-brand successfully took the fight to rivals Nissan and Honda. Fast-forward to 2014 though, and Scion is struggling to find its identity amid slowing sales.
Prior to the 2009 financial crisis, Scion was pushing six-digit sales figures annually, posting peak numbers in 2006, with 173,034 vehicles sold. In comparison, post-recession Scion has struggled to match a third of its previous numbers, closing out 2013 with only 68,321 vehicles sold, a 7-percent drop over 2012. With a lineup that's retained high build-quality and practical vehicle layouts, how is it that Scion is struggling?
Changing demographics to blame?
The culprit remains a changing demographic and an undefined branding for the marque. Scion can credit its birth down to Toyota's need to attract young car buyers. The formula worked in 2005, marketing to the 18 to 25 year-old car buyers. The original lineup - xA, xB, and tC - was embraced by the youth market for its fresh and quirky designs, affordable sticker prices, and a long list of dealer installed options.
Also: Check out our coverage from the 2014 Geneva Auto Show
"For consumers, we offer a lineup of distinctive vehicles and a uniquely simple purchase process," commented Scion vice president Doug Murtha. "For the company, we bring a new, younger buyer to the Toyota family and provide a platform for experimentation, both internally and externally. By all of those measures, we continue to deliver on our goals."
But in the wake of the 2008 financial meltdown, the demographic that Scion had been designed to supply has made an about-face turn, and left the company looking for answers. Changing cultural expectations and economic conditions have seen teens delay getting their licenses. Another core component of Scion's audience that has disappeared includes recent graduates, who face a tight job market and remain saddled with student loans. Despite the addition of enticing models and redesigns to the innovative lineup, Scion has yet to fully turn things around.
FR-S to the rescue
The FR-S coupe has made the best case for the success of the Scion brand. Introduced in 2012, it immediately struck a chord with enthusiast buyers. Sales totaled only 18,327 units for its second year, yet it was the brand's runner-up bestseller. But the $25,255 starting price of the FR-S remains well above most of the offerings in the Scion lineup, which has historically appealed to an on-a-budget customer base. Other launches, such as the 2007 introduction of the redesigned xB and the xD (replacement for the xA), featured more content and more conventional styling but may have played a role in reducing the brand's youth appeal. Others have questioned the introduction of the FR-S coupe, which overlaps Scion's other sporty coupe, the front-drive tC.
"We are a sales company and will always look to increase our volume, but Scion has never been about continuous year-over-year increases in sales, and never will be," commented Murtha. "We continue to enjoy favorable third-party reviews for the quality, resale value and overall value of our products, especially the new FR-S."
But ideally some decisions need to be made to either recapture the brand's essence by continuing to primarily cater to Millennials, or to find another formula that widens the brand's appeal to a larger audience.
Scion looks upmarket
Consistent brand-leading sales of the tC coupe and rising sales of the FR-S could see Scion shift the fight to the Honda upmarket, undercutting Acura's TSX and ILX market share. The brand seems to be testing these waters already with the release of the special edition FR-S and tC Monogram Series, which come brimmed with the latest accessories and specific paint schemes.
Also: 12 Best Family Cars of 2014
"[The] Monogram Series is simply an experiment in vehicle packaging. We will study the results of the premium value approach applied in the Monogram Series models and respond accordingly," Murtha said of the program.
On the opposite end of the spectrum, the $12,800 Nissan Versa, having sold 117,352 units in 2013, suggests that the economy-car segment hasn't died, but rather relies on lower sticker prices to build volume in these cost-conscious times. If Scion wants a piece of this action, it will have to lower the MSRP (perhaps by dropping content) on its iQ and xD hatchbacks ($16,250 and $16,500, respectively), which are no longer direct competitors in the Versa price range.
Whatever the direction, it won't come overnight. Rebranding and customer acquisition takes time, but with the tools available to Scion - it's definitely possible. Scion has shown it can build excellent cars, but still needs work as a brand in finding its audience.