2014 Mitsubishi i-MiEV gets new features -- and a $6,130 price cut
by
Bob Nagy
|
December 4, 2013 12:08 PM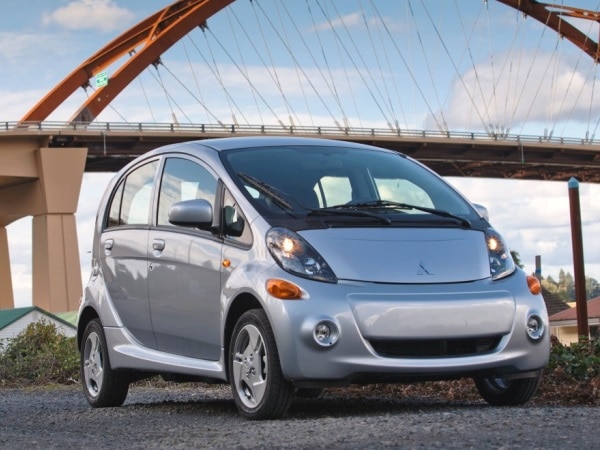 Hoping to boost its competitive position - not to mention its decidedly modest sales numbers -- the 2014 Mitsubishi i-MiEV will arrive in showrooms next spring with a double dose of enhancements but only in a single ES trim level. In addition to an impressive selection of new standard equipment, the base price on this 4-passenger electric hatchback is being slashed by a whopping $6,130. That 21 percent takedown will drop its sticker to $23,845 before the $7,500 federal tax credit and/or any other applicable state or local incentives. Mistu points out that when all spiffs are factored in, California residents will be able to buy a 2014 i-MiEV ES for $13,845.
As for upgrades, the new 2014 Mistubishi i-MiEV ES bolsters the EV side of its personality with the addition of a CHAdeMo DC quick-charge port that can bring its 16kWh lithium-ion battery pack up to 80-percent of full capacity in about 30 minutes on a commercial charger, a charge-port lamp, battery warming system and a new 8-amp/12-amp Level 1 charging cable that will fully replenish the battery in 22 or 14 hours, respectively. Exterior changes to the 2014 i-MiEV ES bring alloy wheels, foglamps, daytime running lights and blackout door trim while new comfort/convenience touches include front heated front seats, a leather-covered steering wheel, rear-door speakers, heated side-view mirrors and a passenger-side vanity mirror as well as various trim tweaks. No changes were announced for the 2014 i-MiEV's 62-mile per-charge estimated range or its 112 MPGe combined EPA rating.
More Electric Vehicles...
We've driven a prototype of the new Kia Soul EV that debuts next month at the Detroit Auto Show
An all-electric Mercedes-Benz B-Class hits showrooms here in early 2014
The Smart Fortwo Electric Drive is an impressive city commuter car
Popular at KBB.com