Midsize SUV Comparison: 2016 Honda Pilot
by
Jason Allan
|
July 17, 2015 6:08 AM
The 2016 Honda Pilot has the most accommodating third row in the midsize SUV segment. Accessing it is as easy as pressing a button. Once situated, the Pilot offers impressive head room and leg room, and is one of the few midsize SUVs to offer seatbelts for three people in the third row. Of course, when you fold down the third row - which is easy to do - the Pilot offers up plenty of cargo room, as is the case with most midsize SUVs.
INTRO , Highlander , Pilot , Sorento , Santa Fe , Pathfinder , NEXT PAGE
Our New Favorite (Again)

The roomy, versatile, smooth-driving Honda Pilot has long been one of our favorite midsize SUVs, so our first group drive of the newly redesigned 2016 model was the most anticipated element of this comparison test. And it didn't disappoint.
Beneath a less rugged look than its predecessor, the all-new 2016 Honda Pilot boasts better fuel economy, a roomier third row, more cargo space and the segment's longest, most impressive list of available technologies.
Like past models, the new Pilot proved particularly impressive around town. Excellent steering and brake feel are Honda hallmarks, and the result here is a midsize SUV that drives with the ease, response and control you might expect from a large sedan. Some of us were less enamored with the Pilot's new 9-speed automatic transmission, which wasn't quite as buttery smooth or responsive as Honda has trained us to expect. However, most Pilots (EX-L and below) will be equipped with a more traditional 6-speed unit.
Out on the highway the Pilot impressed with a comfortable ride and quiet cabin, while those car-like driving dynamics instilled a measure of relaxing confidence. The largest turning circle in the group (39.4 feet) didn't help parking lot maneuverability, but good outward visibility and features like cross-traffic monitoring rendered the Pilot relatively nimble.
Inside, the 2016 Honda Pilot features an attractively designed interior filled with modern creature comforts. Multiple USB ports are increasingly common, but the new Pilot takes the lead in offering up to four 2.5-amp USB ports, which offer enough juice to charge even full-size iPads. Plenty of easy-access bins and cubbies, plus a giant covered bin in the center console are other functional highlights.
2016 Honda Pilot at a Glance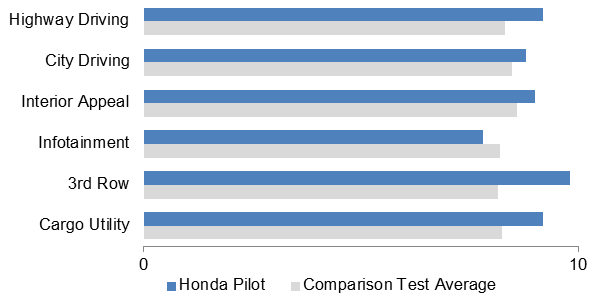 The 2016 Honda Pilot scored highest in all the categories in which we rated these midsize SUVs, except one: Infotainment. There's plenty to like about the Pilot's new infotainment system, it just has more weak spots than the other systems we tested. The lack of a proper volume knob remains a sore spot for many of our editors; the glossy touch-screen display is prone to glare and fingerprints, which combined to make the display almost unreadable at times; and the interface is the least intuitive of the group. Functionally, however, the Pilot's system is robust and seems less prone to the hiccups that still seem to accompany every system we test.
The 2016 Honda Pilot's third-row seat was the segment's most accommodating, as well as the easiest to access. With the press of a clearly marked button (available on Pilot EX-L and above), the spring-loaded second row collapses and slides forward, revealing a roomy, 3-passenger bench with sufficient headroom and legroom to accommodate even full-size adults. Likewise, the second row is also roomy and offers a variety of modern comfort and convenience amenities.
One of the limitations of 3-row midsize SUVs is that when you fill all three rows with people, there's not much room left for their luggage or other cargo. The Honda Pilot, at least, offers more cargo room behind the third row than any of the others in the test. We really liked the cargo bin, concealable by a cleverly stowable cover, that can prevent groceries from rolling out of the back when the liftgate is opened. Of course, when you fold down the third row -- also easy to do -- the Pilot offers up plenty of cargo room, as is the case with most midsize SUVs.
The 2016 Honda Pilot starts around $31,000 with destination charges, while the new top-of-the-line Pilot Elite trim tops $47,000. In addition to familiar niceties like heated and cooled front seats, a panoramic sunroof and navigation, the loaded Pilot we tested featured adaptive cruise control that adjusts vehicle speed to match cars ahead, plus Honda's Lane Keeping Assist System, which reads lane lines and actively helps steer the vehicle to stay within the lane (within limits).
A fully loaded 2016 Honda Pilot is about as comfortable and feature-laden as an average luxury vehicle. But even at the other end of its price spectrum, an entry-level Pilot offers a level of refinement, drivability and flexibility that make it the new midsize SUV to beat.
Honda Pilot vs. Toyota Highlander
Two of our favorites backed by similarly stellar reputations, the Honda Pilot has a roomier third row and slightly better EPA fuel economy ratings (it returned about 1 mpg more than the Highlander in our test). Both are among the best-driving 3-row vehicles you can buy. More Toyota Highlander
Honda Pilot vs. Kia Sorento
The Pilot is the most accomodating 3-row midsize SUV out there, while the Sorento's third row is best for occassional use only (and by smaller-scale passengers). More Kia Sorento
Honda Pilot vs. Hyundai Santa Fe
If you're primarily interested in getting the most features for your money, the Santa Fe is worth a look. If you're more interested in roominess, refinement and/or reputation, you're more likely a candidate for the Honda. More Hyundai Santa Fe
Honda Pilot vs. Nissan Pathfinder
While the Pilot and Highlander offer max seating for eight, the Pathfinder's two-passenger third row means it tops out at seven passengers (but it's otherwise among the best third rows in the segment). More Nissan Pathfinder
More Midsize SUVs
If you're ready for more Honda Pilot, you can read our full review or build and price your own to unlock its Fair Purchase Price, 5-Year Cost to Own and more. If you'd like to explore even more of your midsize SUV options, visit our Midsize SUV Buyer's Guide.
INTRO , Highlander , Pilot , Sorento , Santa Fe , Pathfinder , NEXT PAGE