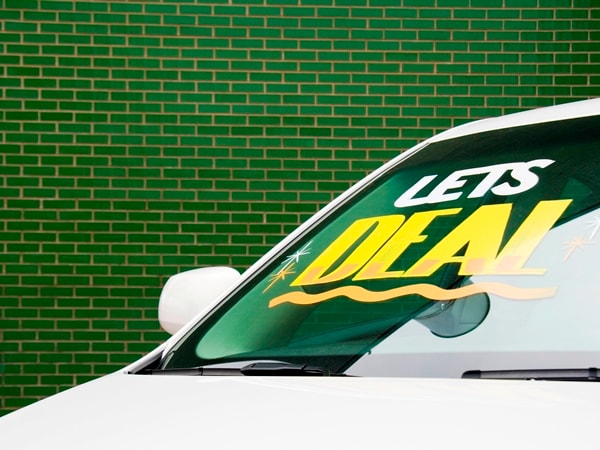 As part of the new car shopping process, knowing the value of your current vehicle plays a critical role in whether it will be a part of the deal on your new one. With that value in hand, you can make an informed decision on if you want to trade it in, try to sell it on your own or donate the vehicle to charity. All are viable options and now Kelley Blue Book offers tools not only to make the decision, but to follow through on your plan.
If you want to donate
Sometimes there's just not much life or value left in your old car.  Rather than go through the hassle of trying to sell it yourself for very little money or getting even less on a trade, donating your vehicle to a charity has tax benefits while supporting a good cause. Keep in mind that the donation will be a deductible item (as opposed to a tax credit) on your filing next year for the current calendar period.
Typically, if your car is worth $1,000 or less, it's worth your while to go this route. Kelley Blue Book has teamed up with CARS, which stands for Charitable Adult Rides and Services, to make the donation process as seamless as possible. Among the charities that benefit from vehicle donations are St. Jude's Hospital, Make-A-Wish Foundation, the Special Olympics, Salvation Army and more.
"Depending on the value of your vehicle, the amount of time you have before it must be sold, and your preferences around disposing of that car, Kelley Blue Book's KBB.com offers car owners a variety of options on how to move on from their current vehicle," said Michael Sadowski, general manager for Kelley Blue Book. "This enhanced section of KBB.com puts these options into perspective and gives consumers all the information they need to make a confident decision."
Start by visiting the Donate section to learn more about the process or call 1-844-688-4483 and have a customer service specialist guide you through the process. Select a charity and schedule the pickup of your vehicle within 72 hours of the donation anywhere in the U.S. You'll receive a donation receipt when the car is collected which will entitle you to a $500 deduction even if the car doesn't sell for that amount. If your car is sold at auction over $500, you'll receive an IRS Form 1098-C with the full sale amount, which you will then be able to deduct on your next filing.
Selling privately
If you look up the value of your car on KBB.com, the Kelley Blue Book Private Party Value reports on a fair price when selling the car to an individual instead of trading it in. Updated weekly, our Values are the results of massive amounts of data, including actual sales transactions and auction prices, which are then analyzed and adjusted to account for seasonality and market trends. Kelley Blue Book Values reflect local conditions in over 100 different geographic regions and are updated weekly to give consumers the most up-to-date used car pricing information. Typically, these values are higher than trading the car in, since the dealer typically will detail the car and incur costs in advertising and selling the vehicle. You also must factor in your time and effort in advertising, showing and ultimately selling your car to a private party. It may net you more, but perhaps the difference between all that work and a straight up trade in may not pencil out.
Trading it in
Many new car shoppers tend to trade-in their existing vehicle making it part of the transaction for their new ride. Smart shoppers, however, will check KBB.com for the trade-in value so that your expectations of what the dealer may offer you are in line with the market. Savvy dealers will ask you first if you have a trade so they factor that into the negotiations. Smart shoppers will hold back, bargain for the best deal possible and then introduce the trade nearer the closing of the deal. Knowing the value range of your vehicle can provide extra leverage rather than just leaving the valuation of the trade to the dealer early in the process.
Kelley Blue Book Instant Cash Offer
Kelley Blue Book's Instant Cash Offer (ICO) is another option in selling or trading a vehicle. Using the ICO tool on KBB.com, the seller types in the model name, mileage, condition and then local dealers participating in the program can make an instant cash offer for the vehicle or offer a guaranteed trade-in price for that car or truck with a certificate that is valid for three days. Some dealer sites also participating in Kelley Blue Book's ICO program will offer this service on their websites in which you may receive an offer for your vehicle from that store.
The offer may not reflect the highest sale price or trade-in value available for your vehicle, and may be less than the Kelley Blue Book Trade-In Value or the Trade-In Range for a similar vehicle. The seller is guaranteed to receive at least that much for the vehicle, and that is an offer that can be used by the seller as the trade-in amount that will be applied to the new car or truck. The seller decides whether to apply the instant cash offer as a trade-in amount, sell the car for the instant cash offer, or try to negotiate a higher price with another dealer for the trade-in. The ICO effectively sets a floor on your car's value.