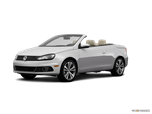 The 2013 Volkswagen Eos convertible gains a new Sport trim that includes all the features found in the Komfort trim and adds 18-inch wheels, a lowered sport suspension, a rear spoiler, steering-wheel-mounted paddle shifter and adaptive bi-xenon headlights.

About Volkswagen Eos
While many people reminisce fondly about their first convertibles, few seem to remember the nightmares of those folding canvas tops. From leaking water, to the horrifically loud wind noise, to the ease with which thieves could enter the car, a cloth top was simply impractical. Volkswagen has found a solution to this dilemma, creating a folding hard top (with a built in sunroof, no less) and attaching it to a sporty, comfortable four-seater priced well within reach of the average working man and woman. The 2012 Volkswagen Eos is no Miata, but it is a fun, safe and quiet way to enjoy open-air driving without the hassles once associated with the old-fashioned soft-top convertible.