A new hybrid model joins the lineup. Using the same 2.0-liter engine only with slightly higher compression and an electric motor assist, the XV Crosstrek Hybrid delivers 12 additional horsepower and 18 more lb-ft of torque, plus an additional 4 mpg in city driving. Models equipped with navigation now feature the Aha infotainment app.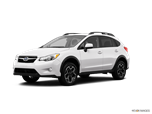 The 2013 XV Crosstrek is a brand-new nameplate in the Subaru lineup and looks to make a name for itself in the small-SUV segment by way of impressive fuel economy, stylish sheetmetal and go-anywhere capability.
About Subaru XV Crosstrek
If there is one thing Subaru owners love about their vehicles it is ground clearance. So, when Subaru decided to make a new SUV from its popular Impreza hatchback, they started by raising it a whopping 8.7 inches. Toss in a little cladding, some cool colors and snappy rims, and you've got the 2014 XV Crosstrek. Although not terribly powerful, the XV Crosstrek is easy on your fuel budget, and it can go places most of its rivals can't. Priced around $21,000 the XV Crosstrek makes sense for people who live in snowy climates but don't want to drive an expensive fuel-thirsty SUV. A new hybrid model offers a bit more power and a few more miles per gallon, but we think the added $4,000 premium is a bit steep.