2015 Best Resale Value Awards: Sports Car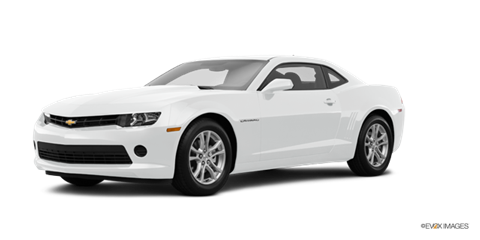 The Chevrolet Camaro V6 is an automotive icon that combines rear-drive performance, classic-yet-modern style, class-leading resale values and a starting price under $25,000. Some might dismiss the V6 as a lesser Camaro but a little investigation reveals that cylinder count isn't everything. Fun fact: the 2015 V6 turns out 53 horsepower more than a 1979 Camaro Z28 while also returning up to 30 mpg on the highway.
Though it's technically the entry-level engine, the Camaro's direct injected, 3.6-liter V6 produces a stout 323 horsepower capable of delivering acceleration from zero to 60 miles per hour in less than six seconds. For the uninitiated that's pretty darn quick. And whether routed through the standard manual or optional automatic transmission the V6 sounds thoroughly thrilling.
Even though the Camaro's interior quality is not among its strongest suits, it's hard to deny the cabin's retro charm. That retro charm extends to the exterior, where modern proportions blend with details drawn from older Camaros. It might seem trivial to focus on style but good looks are a big part of the sporty Chevy's appeal.
Released to the open road the Chevrolet Camaro is equally adept when charging up curvaceous mountain passes as it is loping along scenic beachside byways. If the latter sounds more your style we might suggest springing for the convertible. In either coupe or convertible body style there's something wildly impractical about buying a raucous rear-drive American sports car. Then again, with such excellent resale values the Camaro V6 is among the more justifiable automotive indulgences you could choose.
Get to know this car
Resale Value
at 36 months: 55.7%
at 60 months: 46.3%
Ratings & Reviews
Consumer Rating
9.2
Out of 10
Expert Rating
7.6
Out of 10
---

The Dodge Challenger looks like the concept dream car of a 1960's teenager. It's also the only American muscle car you can buy with seating for five. See, passion and practicality can coexist!
Resale Value
at 36 months: 57.8%
at 60 months: 45.8%
---

Seductive style, mid-engine agility and the lowest price of all Porsche hardtops make the Porsche Cayman an exceptionally alluring contender in the sports car category.
Resale Value
at 36 months: 58.0%
at 60 months: 42.5%
---
Other Category Winners
---
Free Dealer Price Quote
Get the best price and be more prepared with your free, no-obligation price quote