2015 Mitsubishi Mirage Expert Review
By Keith Buglewicz
KBB Expert Rating: 6.2
The 2015 Mitsubishi Mirage is noteworthy not just because of its tiny size, or its low price, or its excellent fuel economy. No, the Thailand-assembled Mirage is a genuine third-world car that wasn't originally considered for the U.S. market. However, stricter fuel economy standards have brought the little 4-door, 5-passenger hatchback to our shores. The Mirage's low price and good fuel economy fulfill its promises of being inexpensive to own and operate, and it's surprisingly well equipped, with standard features like automatic climate control. But make no mistake, making it in America is harder than ever, and even at this price point there are cars offering a more refinement. The Chevy Spark, for example, is no Cadillac, but it's still a marked improvement over the little Mitsu.
You'll Like This Car If...
If the most important thing to you is getting the cheapest new car you can find with the most equipment and best possible fuel economy, you'll like the 2015 Mitsubishi Mirage. It even features a confidence-boosting 10-year/100,000-mile powertrain warranty.
You May Not Like This Car If...
If you want a car that was engineered with some thought given to comfort, or quelling the noise, vibration and harshness that are inherent with driving the 2015 Mirage, you should look elsewhere. However, be prepared to sacrifice some fuel economy and maybe pay a bit more.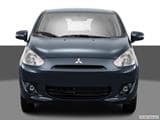 What's New for 2015
All-new last year, the 2015 Mirage gets only minor changes. Aesthetics are improved with the addition of a short antenna mounted on the rear of the vehicle, and ES models get turn signals in the side mirrors. Inside, there's now added chrome trim, and ES models get better seat fabric.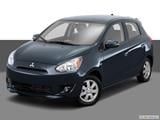 Driving Impressions
The Mitsubishi Mirage is a strict fuel-sipping commuter, in the same vein as elemental subcompacts from the early 1990s. Like those cars, it functions well in that...
... capacity. The car is tiny, making it maneuverable in traffic. Its small 1.2-liter 3-cylinder engine produces enough power to keep up with traffic, and when paired with the continuously variable automatic transmission (CVT), it gets up to 44 mpg on the highway. It's even decently equipped, with automatic climate control, tilt steering and power windows as standard. However, it's important to note that the Mirage's lack of refinement quickly transforms from quirky throwback to quirky annoyance. The 3-cylinder engine shakes ridiculously at idle, and the noise under full-throttle acceleration is unpleasant and plentiful. The suspension is comfortable, but the little car leans heavily in corners, and the imprecise steering requires constant corrections just to stay in a straight line.
AUTOMATIC CLIMATE CONTROL
With one of the lowest base prices of any new car for sale in the U.S., the 2015 Mitsubishi Mirage is surprisingly well equipped with things like automatic climate control. It's a small gesture, to be sure, but set-and-forget air conditioning is handy.

NAVIGATION WITH BACKUP CAMERA
It's not like you really need a backup camera in a car as small as the 2015 Mirage, but it's still nice to see that it's available, along with navigation, for just $900.
2015 Mitsubishi Mirage Details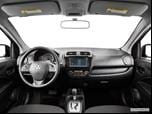 Interior
On one hand, the dash layout is so simple an 18th-century fur trapper could figure out the heating and audio controls. That's good. Unfortunately, it also comes with a heaping serving of chintzy. The armrests are brutally hard, the glove compartment opens with a shin-whacking "thunk," and the cargo cover connects to the rear hatch with just one lonely string. Despite such thrifty touches, the front occupants enjoy decent space and nicely contoured seats. In back, head space is tighter, but there's enough space for two adults or three kids, maybe even three if things get desperate.
Exterior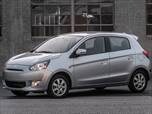 The 2015 Mitsubishi Mirage has the rounded silhouette of a jellybean, not exactly what we'd call "cool," but not ugly, either. The $695 exterior body kit and a palette of bold paint choices, including Kiwi Green and Plasma Purple, do add a bit of style. Mostly though, the shape is pure form over function. The 14-inch wheels reduce rotational mass and are cheap to produce while the body itself benefits from targeted use of high-strength steel. The weight-saving measures, plus the car's tiny size, results in a fuel-saving weight of as little as 2,000 pounds.
Standard Equipment
Small cars are perceived as unsafe, so Mitsubishi has equipped the 2015 Mirage with seven airbags, including a driver's knee airbag, and standard stability and traction control. On top of that, base models get electric power steering with a tilt steering wheel, power windows, mirrors and door locks, an audio system with USB and auxiliary inputs and, the previously mentioned automatic climate control.
Optional Equipment
If you want more equipment, the $1,200-pricier ES model adds steering wheel audio and cruise controls, a leather-wrapped steering wheel and shift knob, 14-inch aluminum-alloy wheels, and keyless access with an engine-start button, strangely located to the left of the steering column. A navigation system with a backup camera is also available, as are parking sensors and an exterior appearance package.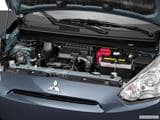 The front-wheel drive 2015 Mitsubishi Mirage is powered by a little 1.2-liter 3-cylinder engine. A 5-speed manual transmission is standard equipment, and it features long throws and possibly the lightest clutch pedal we've ever experienced. However, for maximum fuel economy you'll need to spend another $1,000 for the wide-ratio continuously variable automatic transmission. Whatever you choose, prepare yourself for leisurely acceleration accompanied by more noise, vibration and harshness than you'll get by putting bolts in a blender. The silver lining to all this slow, loud movement is found in the Mirage's fuel economy numbers, which rival the efficiency of many hybrids.

1.2-liter inline-3
74 horsepower @ 6,000 rpm
74 lb-ft of torque @ 4,000 rpm
EPA city/highway fuel economy: 34/42 mpg (manual), 37/44 mpg (automatic)
For a little less than $14,000, you can buy a base 2015 Mitsubishi Mirage DE model with a manual transmission. That's pretty cheap, to be sure, handily undercutting many competitors. However, if you want Bluetooth or cruise control, you have to step up to the ES model. Opt for the ES model and add on the continuously variable transmission and $900 navigation system, and you'll be paying more than $17,000. That puts the little Mirage up against cars like the Mazda2 and low-end versions of the Honda Fit, both of which we'd recommend over the Mirage, even if they lack navigation. On the lower end though, the Mirage commands prices similar to the Chevy Spark. Kelley Blue Book hasn't posted resale figures for the 2015 Mirage yet, but if the Mitsubishi brand as a whole is any indicator the Mirage's residual numbers will likely lag those of its competitors.
To compare current market prices, check out KBB.com's car classifieds to view the new and used Mitsubishi Mirage vehicles for sale near you.