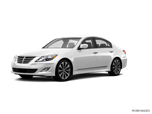 For 2014, Hyundai adds its Assurance Connected Care telematics program to cars equipped with the available Hyundai Blue Link. The system includes collision notification, roadside assistance and Hyundai car care, among numerous other features. Also new are 18-inch wheels on the Genesis 3.8 and a heated steering wheel on the 5.0 R-Spec model.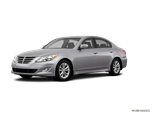 For 2013, the fast, sporty and fully loaded 5.0 R-Spec model becomes the lone V8 alternative to the standard 3.8 V6. There is also a new 8-inch display with enhanced multi-media controller, and Blue Link telematics now accompany the navigation system (both standard on 5.0, optional on 3.8).
About Hyundai Genesis
That the 2014 Hyundai Genesis has garnered so much attention is no mystery. How the Koreans are able to build a sedan that can nip at the heels of a Mercedes or Lexus for so little money, however, still has some scratching their heads in wonder. Powerful, feature filled and equally comfortable on the highway as it is winding back roads, the Genesis proves you don't have to pay a lot to get a lot. Although Hyundai likes to pit the Genesis against such names as the Audi A6 and Lexus GS, it is priced more in line with the Volkswagen CC and Chrysler 300. However, although the Genesis offers a choice between a frugal V6 and potent V8, it doesn't offer an all-wheel-drive platform or a diesel engine – features increasingly popular among the big luxury players.