2015 Volvo V60 Expert Review
By Keith Buglewicz
Wagons are strongly associated with Volvo, and wagon lovers will undoubtedly rekindle their affair with the 2015 Volvo V60. The compact luxury wagon market isn't very large, but the Volvo still has its work cut out for it as it goes head-to-head against the likes of the Acura TSX wagon, and the segment-defining BMW 328i wagon. The Volvo V60 brings the goods though, with sharp styling, a great interior, available all-wheel drive (AWD), and a new 4-cylinder engine that will assuredly up Volvo's reputation for power and refinement. Throw in Volvo's sterling reputation for safety, and you have an elegant, safe and efficient premium family hauler.
You'll Like This Car If...
If you love the idea of a premium European wagon, but are put off by BMW's price, the Volvo V60 is the perfect alternative. Together with Volvo's stellar safety record, the eye-catching style pretty much seals the deal.
You May Not Like This Car If...
If you're looking for the ultimate in cargo hauling, this small Volvo's cargo area may not cut it for you – you might want to check out the larger Volvo XC60 instead.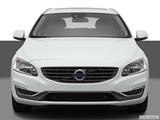 What's New for 2015
The 2015 Volvo V60 is all-new for the U.S. market. A wagon version of the popular S60 sedan, the V60 adds cargo space and a sharp-looking design. Also available for the first time is the Drive-E 4-cylinder engine family, which will eventually replace all of the engines in Volvo's lineup.
Driving Impressions The Volvo V60 is equally at home on highways or a winding country road. When equipped with the Sport package, its suspension absorbs rough patches, while still controlling body lean...
... in sharp corners. The snug but comfortable sport seats that come with the package help reinforce the emphasis on driving fun. Other packages put a premium on luxury, but all V60s offer up precise steering, good brakes and excellent seats. The new Drive-E engine – available only on front-wheel-drive T5 models – delivers smooth, quiet power across the entire rev range, and the new 8-speed automatic transmission is a perfect complement. In Sport mode, the steering wheel-mounted paddles flick off shifts quickly, while the Eco+ Start/Stop function actually shuts off the engine at 4 mph as you're rolling to a stop. All-wheel-drive models are available with the turbocharged 5-cylinder and 6-cylinder engines and a 6-speed automatic transmission. They offer up good power, but not quite the fuel-economy savings of the new Drive-E powerplant.
DRIVE-E
Volvo's new engine design is no joke, offering up very good power and fuel economy, but with a level of smoothness and refinement that's lacking in Volvo's 5-cylinder engine.

WAGON BODY
Volvo and wagons go together like Swedish and meatballs, and Volvo's lineup now feels complete with this new V60 wagon in the mix. There's also that whole extra-cargo-space-and-fun-to-drive thing.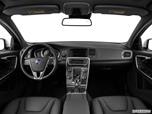 Interior
The 2015 Volvo V60 thankfully shares its sharper TFT digital instrument cluster and most of the rest of its interior with the S60 sedan. This includes the "waterfall" center stack, and clever touches like the person-shaped ventilation control, where you tap figure's "head" to direct air to your face, the "legs" for your feet, and so on. The materials and assembly quality are all first rate, and if you like long distance driving, you'll love the comfortable and supportive seats. We do wish Volvo would upgrade its multimedia control interface. The system alternates between buttons and a knob, and it's clumsy to operate.
Exterior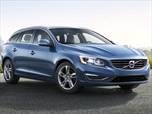 This may be the best looking of Volvo's "60" series of cars, which includes the S60 sedan and XC60 SUV. The profile is graceful and elegant, with a sloping roofline that extends the cargo area, but without making it look like a sedan wearing a backpack. In fact, some of us prefer it over the stubby-trunk look of the S60, and still others like its sleek, low-to-the-ground stance compared to the XC60. While the standard wheel and tire package looks good, we recommend the Sport package, as its 19-inch aluminum-alloys fill out the wheel arches nicely.
Standard Equipment
Base model Volvo V60 wagons come nicely equipped. Standard equipment includes 2-zone automatic climate control and a power glass moonroof. On the safety front – this is a Volvo after all – the V60 comes with Volvo's City Safety (a system that senses potential collisions and automatically brakes the car), in addition to the usual complement of stability control and multiple airbags. Standard equipment also includes steering wheel-mounted audio controls, Bluetooth hands-free phone interface and music streaming, a power parking brake, and rain-sensing windshield wipers.
Optional Equipment
Volvo insists on maintaining its leadership position in safety, and is expanding its collision warning system to include just about anything that could cross your path. In addition to cars, it also will automatically stop the car if it detects pedestrians or bicyclists. It's part of the Technology package, a $1,500 bundle that also includes adaptive cruise control and driver alertness monitoring, plus lane-departure warning and lane-keeping assist. Also available are integrated child boosters for $500, and the $1,500 sport package, which includes paddle shifters on the steering wheel.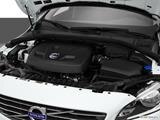 Front-wheel-drive Volvo V60 T5 models get the all-new Drive-E 4-cylinder engine. This turbocharged inline-4 produces 240 horsepower, and is connected to an 8-speed automatic transmission. All-wheel drive models come with the same selection of engines we're used to from Volvo. All-wheel-drive T5 models get a 250-horsepower 2.5-liter 5-cylinder engine, while T6 R-Design models get the 3.0-liter turbocharged 6-cylinder and its 325 horsepower. Both of the all-wheel-drive models come with a 6-speed automatic transmission.

2.0-liter turbocharged inline-4
240 horsepower @ 5,600 rpm
258 lb-ft of torque @ 1,500-4,800 rpm
EPA city/highway fuel economy: 25/37 mpg

2.5-liter turbocharged inline-5
250 horsepower @ 5,400 rpm
266 lb-ft of torque @ 1,800-4,200 rpm
EPA city/highway fuel economy: 20/29 mpg

3.0-liter turbocharged inline-6
325 horsepower @ 5,000 rpm
354 lb-ft of torque @ 2,100-4,200 rpm
EPA city/highway fuel economy: 19/28 mpg
The 2015 Volvo V60 T5 has a Manufacturer's Suggested Retail Price (MSRP) starting just over $36,000, including destination charge. Opt for the V60 T5 AWD, and you'll be starting at just under $38,000. For the quickest V60, you'll want the V60 T6 AWD R-Design – just be sure to put $45,000 and change in your money sack. If you can't help yourself with options, a fully loaded V60 T6 AWD R-Design Platinum will find you spending more than $55,000. Compare those base prices to the competition, and it splits the difference nicely. The BMW 328i xDrive comes only with all-wheel drive, and starts at around $42,500, while the front-wheel-drive Acura TSX Sport Wagon comes in at just under $33,000. For the best deal, be sure to check the Kelley Blue Book Fair Purchase Price to find out what others in your area have paid for their V60.
To compare current market prices, check out KBB.com's car classifieds to view the new and used Volvo V60 vehicles for sale near you.