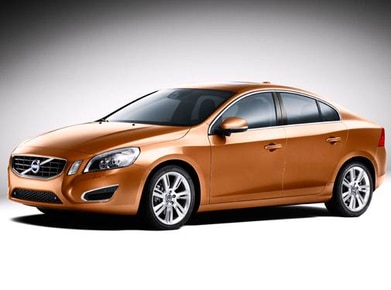 Pros
If you're not a slave to vehicle stereotypes we think you'll like the Volvo S60 for its combination of unprecedented safety, substantial fun-to-drive and crisp interior and exterior design.
Cons
If all you have on your mind is performance from your expensive European-built sedan, then you will find other choices that better fill your bill of fare.
What's New For 2011
Volvo would like its S60 to become its bestselling nameplate, and to aid that effort the company has filled it with innovative safety features and dressed it in un-Volvo-like styling.
Used 2011 Volvo S60 Pricing
Used 2011 Volvo S60 Expert Review
In summing up the 2011 Volvo S60 it is tempting to play the safety card early. After all, the Volvo brand has become synonymous with safety, and the S60 offers one of the most innovative safety systems ever introduced. Pedestrian Detection with Full Auto Brake won't win many "catchiest name" contests, but it will save lives. Simply to dwell on the car's considerable safety initiatives, though, wouldn't do it justice. "Dynamic' and "emotional" are the key words Volvo engineers and designers use to describe their newest creation, and after driving it we can certainly understand why. Not only is the S60 the most attractive Volvo sedan ever, it is also much more fun to drive that the brand's safety reputation might suggest.
Driving the Used 2011 Volvo S60
Seeking to increase the S60's visceral appeal, Volvo engineers created a chassis, suspension and steering system designed to give cars like the 3 Series and Audi A4 some competition. The front suspension is McPherson strut and the rear a multi-link, but it is the tuning that sets the S60 apart from other Volvo sedans in the handling department. The front struts have thicker piston rods than the larger S80 sedan, the bushings are stiffer and the springs are both shorter and stiffer, resulting in more ability to handle lateral loads. These efforts are most notable in the standard version of the three chassis setups available, which Volvo calls "Dynamic." Those seeking a gentler, boulevard ride might well opt for the no-extra-cost "Touring" suspension, while those seeking leading-edge tech might prefer the three-setting-adjustable FOUR-C. (There has been no explanation on why a three-way suspension is called FOUR-C.) All S60 models available in the United States for 2011 offer Haldex all-wheel-drive. The result of the engineering efforts is a level of fun-to-drive that exceeds any Volvo sedan we've driven. We had the opportunity to drive it on dry pavement, wet pavement, rain-slick gravel roads and even a racetrack, and in all situations the S60 was predictable, stable and unflappable. Braking is sure, traction is never an issue, and the steering is precise.

Favorite Features
Pedestrian Detection with Full Auto Brake
Collisions with pedestrians often result in a fatality, so we cheer this innovative system. The radar's job is to detect objects in front of the car; the camera's job is to determine if the object is human. Once the object is determined to be human, the S60 gives a warning and then stops the car if the warning isn't heeded.

Front Camera System
The front-grille-mounted camera that offers a 180-degree field of view is especially effective in helping prevent accidents when emerging from limited-vision areas like a parking garage.
Used 2011 Volvo S60 Interior
As has been our habit with recent Volvo models, we are impressed with the interior's clean, contemporary design. Volvo stresses the Scandinavian ideal of simplicity, and that is expressed well throughout the cabin. The instrumentation is straightforward and legible, and the "waterfall" center dash area provides an array of controls for navigation, climate control and entertainment. In the all-new infotainment unit, navigation and other functions are presented on a seven-inch color monitor in the upper part of the center dashboard. Volvo has eschewed touchscreen operation, choosing instead to provide a fully functional set of steering wheel-mounted controls plus redundant controls under the display. All five passengers will find comfortable seating, and the rear seat offers substantial bolsters for side support. Due to the 2.4-inch increase in wheelbase versus the previous generation, leg- and knee-room in the rear seat area are both much improved.

Used 2011 Volvo S60 Exterior
Volvo exterior designer Orjan Sterner told us his task was to design the sportiest and most dynamic Volvo ever, a tall order since Volvo has a convertible coupe in its arsenal. To accomplish his task he and his team conceived "a coupe with four doors." While previous Volvos have had strong vertical lines, the overall look of the S60 is close to the pavement with the wheels moved to the corners and a double beltline that gives the impression that the car is even lower than it is. At the rear Sterner's team moved away from the giant vertical taillights that typified recent Volvos toward a more refined – if not more anonymous – design. But the overall look is anything but anonymous, because it is one good-looking Volvo.
Used 2011 Volvo S60 Standard Features
All 2011 model S60s feature City Safety, which helps prevent low-speed rear-end collisions, and an anti-lock braking system (ABS) with Hydraulic Brake Assist (HBA), Optimized Hydraulic Brakes (OHB), Ready Alert Brakes (RAB) and Fading Brake Support (FBS.) Of course, as a luxury vehicle the S60 is fitted with a wide variety of comfort and convenience features.
Used 2011 Volvo S60 Options
The headline-grabber in the S60 is "Pedestrian Detection with Full Auto Brake." The camera- and radar-enabled system goes beyond Volvo's City Safety system that was introduced on the XC60 crossover to identify pedestrians in front of the car and, if necessary, apply the car's full braking power to avoid a potentially fatal collision. Pedestrian Detection isn't the only high-tech safety feature the new S60 offers either. Driver Alert Control helps determine if the driver is too tired or too distracted to control the car properly, and Blind Spot Information System helps you avoid colliding with vehicles that are beside you but in your blind spots. The S60 also offers niceties like adaptive cruise control, parking sensors and a rear park-assist camera. The top-of-the-line 12-speaker audio system features a digital 5x130-watt amplifier with circuits from Sweden's Anaview, Dolby Digital in combination with Dolby Pro Logic II Surround and MultEQ from Audyssey Laboratories. Integrated features such as Bluetooth, USB port and auxiliary input are also included.

Used 2011 Volvo S60 Engine
The 2011 Volvo S60 handles so well, we can't help wishing it offered more horsepower. But the S60 walks on the tightrope between green responsibility and pure driving hedonism. The in-line six-cylinder engine offers less than 3,000 cc of displacement, but with turbocharging, it whirs out 300 horsepower at a relatively steep 5,600 rpm. Happily, the 325 pound-feet of peak torque are available from 2,100 rpm all the way to 4,200 rpm. That means the S60 has sufficient low-end torque to accelerate briskly. A bonus is that the engine requires only "regular" grade gasoline, and the fuel economy (18 mpg city/26 mpg highway) is laudable in the luxury class.

3.0-liter in-line 6
300 horsepower @ 5600 rpm
325 lb.-ft. of torque @ 2100-4200 rpm
EPA city/highway fuel economy: 18/26

How Much Does the Used 2011 Volvo S60 Cost?
While the S60 offers styling and performance with great emotional appeal, it is still the cold, hard rational aspects of superior safety that make the 2011 Volvo S60 stand out among the crowd of mid-size luxury-brand sedans. With a Manufacturer's Suggested Retail Price (MSRP) of just around $38,500, the S60 is priced under all-wheel-drive competitors like the BMW 3 Series and Lexus IS 350. The Audi A4 is less expensive than the Volvo, but it gives up nearly 90 horsepower to the S60. On the resale value front, though, the A4 offers better numbers, as does the 335i. Check our Fair Price to see what consumers are typically paying in your area.
Read Less
Used 2011 Volvo S60 Consumer Reviews
---
POLESTAR #36 of...
07/11/2019
2016 Volvo S60
"KBB forgot about Polestar editions."
These cars are a blast to drive. Very comfortable
A hard time getting the grin off your face...
When I purchased this car I knew it was special. Volvo only imported 108 of the 2016 S-60 Polestar edition. The 2016 V-60 Polestar"Wagon" model had apx 160 shipped over. These cars are the performance line for Volvo at the time. To have KBB lowball the trade-in value is a insult. They are giving the seller the wholesale price. If you could find one of these vehicles, they are selling for over 40,000.00 with low miles and average above 30,000.00 with 12000 miles per year on the car. Don't let KBB fool you into selling these cars for anything les
s.If KBB did their homework, you would see that these cars hold their value, also being one of the safest cars on the road does't hurt either. KBB is working for the dealer. It doesn't have your best interest in mind.Do your homework when you check pricing with KBB. Ask to see the dealers "Yellow" Kelly Book. It gives the dealers the wholesale pricing for all vehicles. Then you get a idea of the mark up a dealer makes from the buyer.
Read Less
---
The coop
03/12/2019
2012 Volvo S60
---
Carl
03/11/2019
2012 Volvo S60
"Sensible Used Car Buy, Comfortable Highway Cruiser"
Smooth, quicker than expected
Base model has very limited options.
I have owned this car for over 4 years now. I purchased it with about 20,000 miles, as a lease return, directly from a dealership. The car was in excellent condition when I first bought it. I bought this car based on my previous experience with a 1993 Volvo 850 GLT, which is the grandfather of this S60 T5. Bought this car as a daily driver in the Pittsburgh, PA area. My round-trip daily work commute was about 60 miles, so I needed something I felt safe in, and something that was comfortable. I had this car for about a year in Pittsburgh,
then it came with me to South Carolina for the next two years. I made many 8-hr+ road trips with this car. This car came with me to a construction site for that time in South Carolina, and experienced many potholes in a gravel parking lot at low speeds. Moving to Upstate NY after South Carolina, and the winters here are brutal, and the car was fitted with snow tires for winter driving. The stability control systems really work well when you have good tires for the conditions, even in the FWD configuration. Pros: The car is very comfortable. Very torque-y at most rev ranges. On highways, where my speed averages 65-70MPH, I would get around 32mpg. Very quiet, the bluetooth connectivity is excellent, as the people on the other side of the call couldn't hear any road noise through the microphone. All recall related work performed prior to ownership by dealer. I feel very safe driving this car. Car has held up very well in a variety of climates and road conditions (very cold and snowy upstate NY winters and very hot South Carolina summers). No major mechanical failures. Only scheduled service / wear items replaced to date. Cons: Parts are still expensive when performing maintenance. Value depreciates quickly. Consumes oil at nearly excessive levels now that the engine is older with over 120,000 miles. Does not handle like a sports-car, even if it has some sports car pep (base T-5 model). No true manual transmission option in the US. A few minor electrical gremlins; service interval reset sequence does not work, needs to be reset by dealer scan tool, not an off the shelf OBDII module, or dash board button sequences, tire pressure sensors occasionally trip falsely.
Read Less
---
BigRye
01/31/2019
2017 Volvo S60
This car is terrible and overpriced. I bought it at 7000 miles and it was the worst purchase of my life. It is the price of a BMW, Audi, or Benz but is 1/10 of those cars. Possibly the worst automatic transmission ever put into a car since the invention of the automatic transmission. Rated at 240hp but feels like 100hp less because the power delivery is garbage. Seats are the only positive thing on this car. Probably why they only sold 12k of these in 2017. Steering has no feel and is unenjoyable to drive for more than 5 minutes. Traction contr
ol system is extremely annoying and makes the car shake uncontrollably when there is a slight loss of traction. When it rains, the car would slip out of gear and rev up then slam into third when accelerating (happened about 3 times). Overall, I would say this is one of the worst cars for the price and would get anything else if you can.
Read Less
---
NedM
12/03/2017
2015 Volvo S60
"Just the Perfect Car for My Needs!"
Good driving characteristics, quality, size, warra
Steering OK just a little firm, gas mpg so-so 22.5
Bought as a CPO 2 years ago with 6800 miles. Only problem was a gas cap gasket. Plenty of power, especially off the line. It has the BLiS, convenience pkg, nav, weather pkg...about all I need/want. Only complaint is steering is a little firmer than Audi A4 which I shopped it against. The overall value was clearly in the S60s favor. Bumper - bumper warranty coverage for 100k mi, no deductible (75 for Audi) & regular gas vs Audi premium were other value factors. Very, very pleassed and proud of the car.
---
2011 Volvo S60 Specs & Features
Based on lowest-priced style.
Technology
Bluetooth Wireless Technology

Cruise Control

Hands Free Phone

Navigation System

Remote Keyless Entry

Adaptive Cruise Control

Push-Button Engine Start

Real-Time Traffic Information

USB Port

Voice Recognition System
Entertainment
AM/FM Radio

MP3 Player

Premium Radio

Satellite Radio

Auxiliary Input Jack

CD Player

HD Radio

Rear DVD Entertainment System
Seating
Dual Power Front Seats

Heated Front Seats

Leather Seats

Memory Driver's Seat

Power Driver's Seat

Power Passenger's Seat
Comfort & Convenience
Front Air Conditioning

Power Locks

Auto-Dimming Interior Mirror

Automatic Air Conditioning

Dual-Zone Automatic Air Conditioning

Integrated Garage Door Opener

Power Liftgate/Trunk Release
Fuel Economy
EPA City - 18 mpg

EPA Class - Compact Cars

EPA Hwy - 26 mpg

EPA Combined - 21 mpg
Performance
Horsepower - 300 hp

Horsepower RPM - 5600 rpm

Stroke - 3.67 inches

Torque - 325 foot pounds

Torque RPM - 2100 rpm

0 to 60 - 6.2 seconds

Top Speed - 130 mph
Interior
Cup Holder

Leather-Wrapped Steering Wheel

Power Windows

Rear Window Defroster

Aluminum Interior Trim

Compass

Steering Wheel Controls

Tilt Steering Wheel

Tilt/Telescoping Steering Wheel

Wood Interior Trim
Exterior
Alloy Wheels

Heated Mirrors

HID Headlights

Number of Doors - 4 doors

Power Mirrors

Tires / Wheel Size - P235/40R18

Tires / Wheel Size - P235/45R17

Upgraded Wheels

Wheel Type - Alloy

Tire Type - Run Flat

Adaptive Headlights

Fog Lights

Moon Roof/Sun Roof

Rain Sensing Windshield Wipers
Warranty
Basic Miles - 50000 miles

Basic Years - 5 years

Corrosion/Rust Through Miles - Unlimited miles

Corrosion/Rust Through Years - 12 years

Powertrain Miles - 50000 miles

Powertrain Years - 5 years

Roadside Assistance Miles - Unlimited miles

Roadside Assistance Years - 5 years

Scheduled Maintenance Miles - 50000 miles

Scheduled Maintenance Years - 5 years
Mechanical
Axle Ratio - 3.33

Brakes: Front - Disc

Brakes: Rear - Disc

Braking System - Anti-Lock

Drivetrain - AWD

Engine Immobilizer

Engine Type - Gas

Engine Sub-Type - Turbo

Power Steering

Tachometer

Transmission Type - Automatic

Cylinders - 6 cylinders

Displacement - 3.0 liter

Bore - 3.23 inches

Compression Ratio - 9.3

Total no. valves - 24 valves

Valve Train - Dual Overhead Cam

Engine Configuration - Inline

Max Engine Speed - 6500 rpm

# of Speeds - 6 speed

Overdrive - w/Overdrive

CID - 180 cubic inches

Recommended Fuel - Regular

Manual Mode - Geartronic

4-Wheel Disc Brakes

Anti-Lock Brakes
Dimensions, Weights & Capacities
Curb Weight - 3901 pounds

Fuel Capacity - 17.8 gallons

Head Room: Front - 38.3 inches

Head Room: Rear - 37.4 inches

Height - 58.4 inches

Leg Room: Front - 41.9 inches

Leg Room: Rear - 33.5 inches

Max Seating Capacity - 5

Overall Length - 182.2 inches

Shoulder Room: Front - 57.0 inches

Shoulder Room: Rear - 55.2 inches

Standard Seating Capacity - 5 passenger

Towing Capacity, Maximum - 3300 pounds

Trunk or Cargo Capacity - 12.0 cubic feet

Turning Diameter - 39.0 feet

Wheel Base - 109.3 inches

Width without mirrors - 73.4 inches
See less
2011 Volvo S60 Safety
Crash Test Rating
Safety information is currently not available for this vehicle.
Please check back in the future.
2011 Volvo S60 Safety Technology
Child Door Locks

Child Seat Anchors

Driver Airbag

Passenger Airbag

Stability Control

Traction Control

Blind-Spot Alert

Collision Warning System

Collision Warning System with Auto Brake

Front & Rear Parking Sensors

Front Head Curtain Airbag

Front Side Airbag

Lane Departure Warning System

Pedestrian Detection System

Rear Parking Sensors