Select a Vehicle
Certified Pre-Owned (CPO) cars are high-quality, low-mileage used cars that have been thoroughly inspected and backed by an extended warranty. Learn more
Or Browse Used Vehicles by
About Kelley Blue Book Used Car Prices
When buying a used car, it's usually hard to know what a fair price is. You have to consider not just the type of vehicle, but the vehicle condition, mileage and options. Good thing Kelley Blue Book has over 90 years of experience with used car pricing and we've done the analysis for you. If you're buying a used car at a dealership, start with the Typical Listing Price. It gives you an idea of the asking prices you might see on dealer's lot. For what you might actually pay for that used car, use the Kelley Blue Book® Fair Market Range as a guide. It'll show you what you can reasonably expect to pay this week in your area for a used vehicle with the options and mileage you want. It's based on data from real transactions, plus market conditions and vast industry knowledge. If you're buying the car from an individual instead of a dealership, look at the Kelley Blue Book® Private Party Value. It's the starting point for negotiation of a used car sale between a private buyer and seller. It tends to be a little lower than the used car Fair Purchase Price because a private party doesn't have all the costs associated with running a dealership. And even if you don't know exactly what used car you want, KBB.com helps you find used car pricing and more on vehicles in popular categories like sedans, SUVs and trucks.
Cars for Sale Near You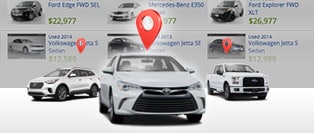 Search from thousands of new and used vehicles close to your home. Shop Now
View actual photos, compare prices, and buy your next car.
Know the History.
Get the Used Car Report.
Was the car reported in an accident or damaged in a flood? Search AutoCheck's extensive vehicle database to find out:
Poll: Your Opinion Counts!