2016 Tesla Model S Expert Review
By Keith Buglewicz
Elon Musk might very well be this century's version of Thomas Edison and Henry Ford rolled into one. In the 2016 Tesla Model S electric luxury-performance sedan, Musk has created not only a viable alternative to the traditional combustion-engine car, but a vehicle that has captured the public's imagination. With its sleek design, impressive range and varied performance upgrade packages, the Model S should scare the heck out of OPEC. Tesla has even taken the bold step of building its own infrastructure, installing a network of "Supercharger" charging stations at various locations across the country. With performance abilities that dwarf some supercars and a price well in line with most full-size luxury sedans, prohibitive arguments against owning a Model S are few.
You'll Like This Car If...
Tesla's Model S for 2016 is a game changer, offering everything a traditional combustion-engine luxury sedan does without the harmful emissions and unpredictable fuel bills. With a zero-to-60-mph time ranging from 4.4 seconds to 2.8 (Ludicrous mode), the Model S can win over the most skeptical enthusiast.
You May Not Like This Car If...
If time to spare isn't one luxury you can afford it's important to understand that recharging a 2016 Tesla Model S takes much longer than filling a gas tank. Those seeking an equally attractive alternative might find it in a Porsche Panamera S E- Hybrid or Lexus LS Hybrid.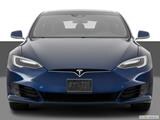 What's New for 2016
The latest Model S includes a new, lower priced rear-drive 70 trim, a 90kWh upgrade for the P85D that increases range by six percent and a new Ludicrous mode that bumps the Model S's zero-to-60-mph time to a ridiculous 2.8 seconds.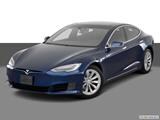 Driving Impressions
If you order a 2016 Tesla Model S P85D electric luxury sedan, you'll find it comes with two acceleration settings: Sport and Ludicrous. The aptly named "Ludicrous" mode unleashes the...
... full force of the electric motor's torque to the wheels, propelling the car to 60 mph in a scant 2.8 seconds. That not only makes the Tesla Model S P85D faster than every production luxury-performance sedan on the market, it also shames a number of exotic supercars. Combined with an upgraded main battery pack, Tesla's newest technology increases max output from 1,300 to 1,500 amps. Combined with the standard rear motor, there is 791 horsepower available. Although it was designed as an advanced EV first and foremost, the Model S has not forgotten its role as a high-tech luxury sedan. The ride is comfortable and, thanks to the low-mounted battery, the handling is superb.
17-INCH INFOTAINMENT SCREEN
If you like high-tech, you'll love the massive 17-inch infotainment screen in the 2016 Tesla Model S. The screen acts as the command center for the Model S, using tablet-like controls to swipe, pinch and drag functions for everything from the climate to the audio system.


REAR-FACING JUMP SEATS
With its available rear-facing jump seats, the Tesla Model S electric sedan for 2016 can become a mini station wagon, although the jump seats are admittedly only large enough to fit two children in comfort. Five-point seatbelts ensure the utmost safety.
2016 Tesla Model S Details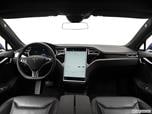 Interior
You'd be surprised how much passenger and cargo space you can get in a car when you don't have an engine or fuel tank. The Tesla Model S is actually a hatchback, meaning there's a ton of cargo space behind the rear seats. In addition, there's a supplemental front trunk, or "frunk" as Tesla calls it (is it a "froot" in England?). Passengers are comfortable in all seating positions, although the front seats sit a bit low to the floor. Numerous interior upgrades fit in with the Tesla's luxury-oriented image.
Exterior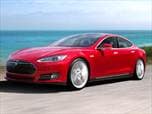 Tesla says it's a sedan, but the wide rear hatch says otherwise. Whatever you call it, the Tesla Model S for 2016 boasts clean, uncluttered lines that lead to an impressive 0.24 coefficient of drag, meaning it slices through the air. Highlights include retractable door handles that emerge when the key is nearby, and a recharging port that's hidden in the taillights. While 21-inch wheels are available, the 19-inch wheels result in a more comfortable ride. About the only criticism is that the Model S looks oddly wide from the front and rear, all to accommodate the large under-floor battery pack.
Standard Equipment
The 2016 Tesla Model S luxury EV gets 12-way-adjustable heated front seats, navigation and a high-definition rearview camera as standard equipment. Other standard highlights include cloth/synthetic-leather upholstery, eight airbags, a 7-speaker/200-watt audio system that lacks a CD player but includes two USB inputs, and a 17-inch touch screen handling climate, entertainment and vehicle controls. It also has the most advanced starter system imaginable: There's no "Start" button – you simply climb in, shift into gear, and start driving.
Optional Equipment
In addition to battery size and rear- or all-wheel drive, the Tesla Model S electric vehicle comes with a variety of available options. A panoramic glass roof (operated by a swipe of the 17-inch touch screen), Nappa leather, high-end audio, and a Tech Package with Autopilot that bundles features like active cruise control, keyless entry, lighted door handles, and a power rear liftgate, are all available. An active air suspension and Subzero package are also available, the latter adding a heated steering wheel, heated rear seat, heated washer nozzles and a windshield-wiper de-icer.
With the new 70, even the least-expensive Tesla Model S has an estimated range of nearly 250 miles thanks to a 70kWh battery rated at 328 horsepower. This new model also comes standard with rear-wheel drive. The Model S 85 offers a 362-horsepower motor, adding an 85 kWh battery pack extending the range to 265 miles. The Model S 70 and 85 are the only RWD Teslas; all others come with all-wheel drive and a dual-motor system. The Model S 85D boasts 417 horsepower and a range of 270 miles. The flagship P85D, with its rear-mounted 532-horsepower motor paired with a 259-horsepower motor in the front, boasts 791 horsepower and an estimated range of 253 miles. The 90D upgrade extends the 85D's range by about six percent.

Model S 70
AC electric motor with 70 kWh battery pack
328 horsepower
387 lb-ft of torque
EPA city/highway economy: NA
Range with full charge (estimated): 248 miles

Model S 70D
AC electric motor with 70 kWh battery pack
328 horsepower
387 lb-ft of torque
EPA city/highway economy: 101/102 MPGe
Range with full charge (estimated): 240 miles

Model S 85
AC electric motor with 85kWh battery pack
362 horsepower
325 lb-ft of torque
EPA city/highway economy: 88/90 MPGe
Range with full charge (estimated): 265 miles

Model S 85D
Dual AC electric motors with 85kWh battery pack
417 combined horsepower
398 lb-ft combined torque (199 lb-ft front and rear)
EPA city/highway economy: 95/106 MPGe
Range with full charge (estimated): 270 miles

Model S P85D
Dual AC electric motors with 85kWh battery pack
503 combined horsepower, 532 in Ludicrous mode
713 lb-ft of torque
EPA city/highway economy: 89/98 MPGe
Range with full charge (estimated): 253 miles
Excluding tax credits, the 2016 Tesla Model S 70 has a Manufacturer's Suggested Retail Price (MSRP) of $71,200, including the $1,200 destination charge. The AWD 70D starts at $76,200, while the RWD Model S 85 starts at $81,200. The AWD 85D adds $5,000 to that price. For the high-horsepower Model S P85D, with its Ludicrous mode, you'll shell out $106,200. Click all the options boxes and you'll be looking at more than $131,000 worth of luxury electric vehicle, putting it in competition with "green" luxury cars like the $98,000 Porsche Panamera Hybrid instead of more commonplace electric cars like the Ford Focus Electric and Nissan Leaf. Check the KBB Fair Purchase Price to see what others are paying in your area. Kelley Blue Book isn't currently tracking residual values for the Tesla Model S because of its low production volumes, though exclusivity generally leads to higher resale value.
To compare current market prices, check out KBB.com's car classifieds to view the new and used Tesla Model S vehicles for sale near you.