SRT Viper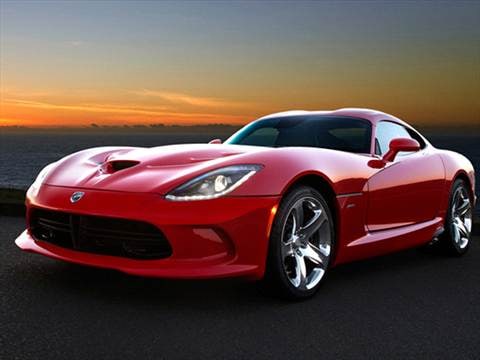 From its groundbreaking performance to its unapologetic road manners, the American-built 2014 SRT Viper is truly a supercar for the ages. Available only as a 2-door coupe, the SRT Viper brings to the table a vicious 640-horsepower naturally aspirated V10, astronomical handling limits, and a top speed of 206 mph. To put it another way, the Viper is perfectly outrageous.
New Features and Revisions
For 2014, a new limited-edition Viper TA joins the lineup as the most intense street-legal Viper ever produced. SRT plans to build only 33 examples of the TA – which stands for Time Attack – all done in Crusher Orange paint and optimized to showcase the car's formidable potential on a racetrack.
Other Model Years
2013
‑

2013 SRT Viper
(2013 model pictured)
New Features and Revisions:
The Viper returns after a 3-year absence with a sensational new skin, a cushier cabin, more technology, and something no other Viper has had: electronic stability control. Formerly under the Dodge brand, the Viper is now the flagship car for SRT. For now the Viper is only available as a 2-seat coupe, but a roadster is expected down the road.
See how style, options and other factors can impact pricing in your area.