smart fortwo electric drive cabrio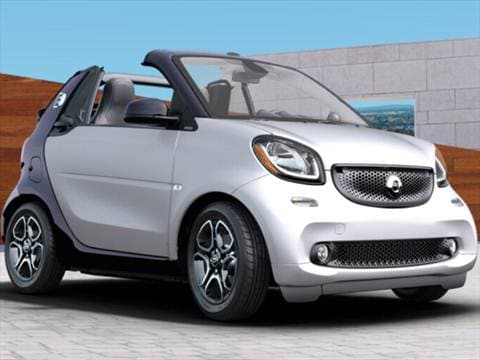 After just two short years with an all-new design, the 2018 2-seat Smart Fortwo makes a radical leap forward, jettisoning its gasoline engine and leaving only the all-electric version to serve the urban-commuter community. Cute, inexpensive and amazingly easy to park in small spaces, the Fortwo is the new 21st-century urban-assault vehicle.
New Features and Revisions
For 2018, Smart joins Tesla in offering only electric-powered cars. The Fortwo Coupe and Cabrio lose their gasoline engines, but everything else remains the same.
Other Model Years
2017
‑

2017 smart fortwo electric drive cabrio
(2017 model pictured)
New Features and Revisions:
Smart continues its model rollout on the new-and-improved platform, which started with the all-new Fortwo coupe in 2016. 2017 brings a cabriolet and electric-drive models on the new platform. This year there are more customization options, including a Brabus Sport package.
See how style, options and other factors can impact pricing in your area.