2017 Nissan GT-R Expert Review
By Joe Tralongo, Contributing Editor
KBB Expert Rating: 7.4
At just under $112,000, Nissan's high-performance GT-R sports coupe for 2017 isn't exactly what we'd call a bargain. That is until you begin to compare the GT-R's performance, technology and build quality to such established exotic names as Ferrari, Maserati, Lamborghini and Aston Martin. With its 565-horsepower twin-turbo V6, sophisticated all-wheel-drive setup and abundance of electronic assists, Nissan's GT-R high-performance coupe for 2017 has earned its place among the great performance cars of our time. For those who seek the ultimate thrill ride, the 2017 Nissan GT-R Nismo is a track-ready 600-horsepower beast. And while most of the GT-R's closest competitors can't touch its pricing, Chevrolet's impressive Corvette Z06 is not only much more affordable, it is also more readily available.
You'll Like This Car If...
If numbers mean everything to you, then the 2017 Nissan GT-R coupe offers a sub-3-second zero-to-60 time, a 196-mph top speed and 565 or 600 horsepower under the hood. The Porsche 911 Turbo S can outrun the GT-R, but you'll pay an additional $80,000 for the privilege.
You May Not Like This Car If...
While the GT-R is getting better, it lacks the polished refinement of a Porsche, Ferrari or Jaguar. The Nissan name isn't exactly highbrow, either. For less money you can find similarly thrilling performance in the newer and better-detailed Chevrolet Corvette Z06, which comes as a coupe or convertible.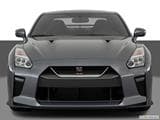 What's New for 2017
The 2017 Nissan GT-R performance coupe gets a new hood, grille and bumper design that improve frontal downforce for better handling. Inside, upgrades include a new dash with fewer buttons and a new 8-inch capacitive touch screen. Shift paddles move to the steering wheel, and engine output increases by 20 horsepower.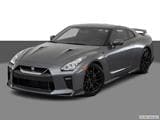 Driving Impressions
It only takes a jab at the center console ignition button to bring Nissan's 2017 GT-R coupe to life. Engaging the built-in Launch Control ensures a sub-3-second sprint, all while...
... controlling gear changes through the newly repositioned steering-wheel paddle shifters. Improvements to the 6-speed automatic this year make for less jerky 1-2 gear changes, and as one of our more seasoned testers noted, gear changes at low speed no longer sound like thunder claps. At high speeds, the GT-R's myriad electronic and mechanical chassis systems help keep the car stable and steady. The same setup delivers incomprehensible cornering abilities that would have lesser rear-drive cars spinning like tops. The adjustable suspension and Brembo brakes are as welcome in everyday driving as they are at the track, but when it comes to daily driver comfort, the GT-R just can't compete with cars like the Porsche 911, Chevy Corvette or Audi R8.
TWIN-TURBO V6 ENGINE
The 2017 Nissan GT-R coupe's hand-built twin-turbocharged 3.8-liter V6 puts out 565 horsepower (600 in the Nismo), a figure that puts most V8 cars to shame. So proud are the workers who build this engine, each unit is personally signed by its assembler.

VALUE
In the world of supercars, value is a relative term, but when you consider the performance and technology offered by the 2017 Nissan GT-R, the top-end price of $150,000 is a bargain compared to the $180,000 Porsche 911 Turbo S, $245,000 Lamborghini Huracan LP 610-4 and $265,00 Ferrari 458.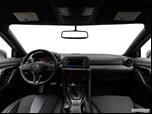 Interior
Nobody will mistake the 2017 Nissan GT-R for a luxury car, but this performance-oriented interior isn't without its charms. The big red start button draws your attention, situated on the center console between the two leather-appointed seats. Three switches on the dash control ride and handling settings, and the 8-inch display can show virtually every data point a car nerd could dream of seeing. Technically there are two rear padded spots with seatbelts, but the reality is that they're for occasional use at best, and should really be relegated to carrying extra cargo, since the trunk is on the small side.
Exterior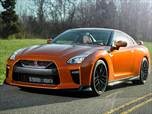 Nissan's GT-R coupe for 2017 isn't the sleekest supercar, but it makes up for its lack of pulchritude with an over-the-top aggressiveness. Put another way: It looks like it wants to beat you up and steal your lunch money. Yet it's not for show, as all the odd angles, rounded contours and crisp edges are in the name of aerodynamic efficiency, and the resulting 0.26 coefficient of drag proves that Nissan knows what it's doing. Other elements, like the enormous front-fender vents, help provide front downforce. Staggered-width 20-inch aluminum-alloy wheels further aid the GT-R's stability.
Standard Equipment
There are technically two 2017 Nissan GT-R models: Premium and Nismo. Base Nissan GT-R Premium models come loaded though, with power leather front seats, a rearview monitor, dual-zone climate control, an 8-inch touch-screen nav system, and 11-speaker Bose audio. The GT-R Nismo offers a more powerful engine, better suspension, reinforced body and additional brake cooling.
Optional Equipment
The most alluring Nissan GT-R options come as option packages, and most of those are offered on the Premium model. A Cold Weather Package adds all-season tires and special coolant mixture to help this exotic handle cold climates better, while three Interior Packages add hand-stitched semi-aniline front-seat interior treatments in Red, Rakuda Tan or Ivory. At the extreme end of the accessories list is the $12,900 titanium exhaust system available for GT-R Nismo models.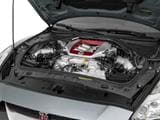 There are two versions of the same engine available for the 2017 Nissan GT-R. First up is the standard 565-horsepower 3.8-liter V6. This compact powerhouse uses twin turbocharges and high-tech construction techniques to squeeze as much power as possible from its family-car displacement. If somehow that's still not enough, the GT-R Nismo packs 600 horsepower. Both engines connect to a 6-speed dual-clutch sequential automatic transmission capable of snapping off shifts in milliseconds; it's way faster than you ever could manage with a manual, and the paddle shifters on the steering wheel are the epitome of engaging driving.

3.8-liter twin-turbocharged V6
565 horsepower @ 6,800 rpm
467 lb-ft of torque @ 3,300-5,800 rpm
EPA city/highway fuel economy: 16/22 mpg

3.8-liter twin-turbocharged V6
600 horsepower @ 6,800 rpm
481 lb-ft of torque @ 3,600-5,600 rpm
EPA city/highway fuel economy: 16/22 mpg
Note: Due to changes in EPA testing to more effectively reflect real-world conditions, some 2017 models show slightly lower fuel-economy scores than their 2016 versions.

The 2017 Nissan GT-R Premium has a Manufacturer's Suggested Retail Price (MSRP) starting just under $111,600. The all-conquering GT-R Nismo will set you back roughly a cool $152,000, give or take a few grand. However, despite the initial involuntary eye-pop of seeing a Nissan with a $150,000 price tag, the reality is that this car is a serious performance bargain compared to exotics like the Ferraris, Lamborghinis and Porsches it routinely embarrasses in performance comparisons. On the flip side, the new Chevrolet Corvette Z06 starts even lower, and with 650 horsepower and nearly equivalent acceleration and performance numbers, is not only a better bargain, but it offers better day-to-day refinement as well. Be sure to check KBB.com's Fair Purchase Price to see what others in your area paid, and be confident that your GT-R's resale value will remain strong, matching Audi's R8.
To compare current market prices, check out KBB.com's car classifieds to view the new and used Nissan GT-R vehicles for sale near you.