2019 Best Resale Value Awards: Luxury Mid-Size SUV/Crossover (2-Row)
Best Luxury Mid-Size SUV/Crossover (2-Row): 2019 Lexus RX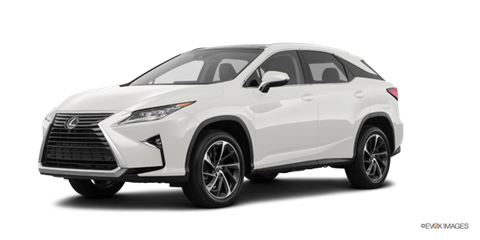 The Lexus RX is one of the first luxury crossover SUVs and has retained its leadership position through thoughtful updates and, more important, its ability to deliver tremendous resale value. While the RX L has been introduced to offer a third row for the first time, the standard 2-row Lexus RX remains the vehicle of choice for those looking for its edgy yet stylish design, comfortable ride and quiet cabin.
Dependability, reliability and good resale value make the Lexus RX a smart buy, but there's also much more to the equation. There's the availability of front- or all-wheel drive with its proven 295-horsepower, 3.5-liter V6, or if you want a bit more fuel economy and a lot more performance, the range-topping all-wheel-drive 450h is your ticket to ride. With the same V6 coupled to the 123-kW electric motor, total system output is 308 horsepower while delivering 31 mpg city and 28 mpg highway, considerably more than the 18 mpg city/25 mpg highway of the all-wheel-drive V6 model.
For those with a more enthusiast bent, Lexus offers its F Sport tuning on the RX, which includes a tauter suspension, upgraded brakes and a larger wheel-and-tire package. Lexus also offers a suite of advanced driver assists and safety systems that include rear cross-traffic alert, automatic emergency braking and blind-spot monitoring. These assists are good for peace of mind, as is the ability of the 2019 Lexus RX to retain its value and lower overall ownership costs at trade-in time.
---

Resale Value
at 36 months:

61.7%

at 60 months:

41.0%
If hybrids aren't your thing, you might want to check out the 2019 Land Rover Discovery for its diesel version, which delivers massive torque and enhanced fuel economy.
---

Resale Value
at 36 months:

60.3%

at 60 months:

41.0%
Like its Macan sibling, the 2019 Porsche Cayenne delivers on- and off-road thrills in a high-tech package that retains its value over time.
---
Other Category Winners
Best Luxury Mid-Size SUV/Crossover (2-Row)