2019 Best Resale Value Awards: Luxury Full-Size SUV/Crossover
Best Luxury Full-Size SUV/Crossover: 2019 Lexus LX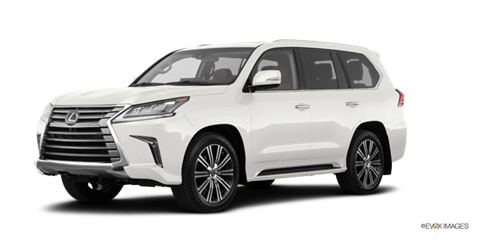 The Lexus LX 570 delivers when it comes to resale value, further burnishing the reputation of Toyota's luxury division when it comes to keeping depreciation in check. And while the Lexus LX 570 also holds its own in offering the highest level of luxury, the real strength of the vehicle is what's beneath the skin. The LX shares its SUV underpinnings with the legendary Toyota Land Cruiser, and that rugged, body-on-frame architecture coupled with a brawny V8 engine gives the LX capabilities that are the envy of some of its rivals. And while this is one tough truck, the company's much vaunted ability in assembly means that it also possesses a high level of quality, reliability and durability, which further enhances resale value.
It's true the Lexus LX 570 lacks the edginess in design exhibited by other models in the range, but there's something reassuring to the boxy looks of the big SUV. This old-school design is another way of saying that this is a real marauder, one that won't shy away from off-road excursions or heavy-duty towing of up to 7,000 pounds. The 5.7-liter V8 makes an abundant 383 horsepower and 403 lb-ft of torque that's delivered to all four wheels through an 8-speed automatic transmission.
While the design and mechanicals are all business, inside the LX 570 offers the kind of luxury expected from vehicles in this price class. There's plenty of leather upholstery, wood accents and features like a power tailgate, moonroof and 4-zone climate control. Buyers can also benefit from a wide range of safety and driver assists including rear cross-traffic alert, lane-departure warning, adaptive cruise control, and blind-spot monitoring. Available in both 2- or 3-row configurations, the LX 570 is a strong performer mechanically and in value retention.
---
Resale Value
at 36 months:

57.0%

at 60 months:

45.0%
While it looks unchanged, the 2019 Mercedes-Benz G-Class is all-new for 2019 without losing any of its endearing personality. Its unchanging looks go hand in hand with its high resale value.
---

Resale Value
at 36 months:

52.6%

at 60 months:

38.2%
Available in two wheelbases and five trim levels, the 2019 Range Rover puts the lux in luxury full-size SUVs. This high level of comfort contributes to a high level of retained value.
---
Other Category Winners
Best Luxury Full-Size SUV/Crossover