2018 Best Resale Value Awards: Entry-Level Luxury Car
Best Entry-Level Luxury Car: 2018 Lexus RC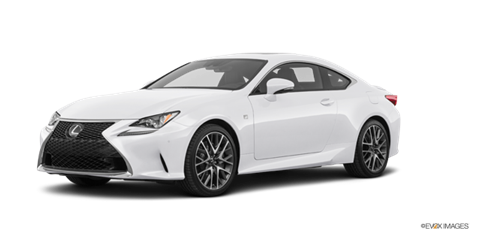 More than just another pretty spindle grille, the Lexus RC sports coupe has been a Best Resale Value Award winner every year since its introduction. That's four straight years of dominance, and the RC seems a long way off from dropping its guard.
Eye-catching and luxurious, and never far from the Lexus reputation for reliability and build quality, the RC never forgets that it looks like a sports rocket, from the 241-horsepower, 2.0-liter turbo-4 in the base RC 300 (formerly the RC 200t) to the 467-horsepower V8 in the rear-drive-only RC F. For 2018, each of the V6 versions (available in rear-wheel drive or all-wheel drive) gets a modest 5-horsepower bump. Lexus endows the RCs with firm suspensions, crisp handling, and steering and braking responses that mirror the car's angry-young-CEO character.
Inside, the RC is more of a snug 2+2 than an actual 4-seater, but that's consistent with this sport coupe's nature. Not to be outdone in the bigger/more-is-better league, all 2018 Lexus RC models come with a premium 10-speaker audio system, along with the availability of a substantial 10.3-inch navigation screen. Standard safety for 2018 -- often a highlight for strong resale value -- includes Lexus Safety System+ on every RC, which includes automatic pre-collision and pedestrian-detection braking, adaptive cruise control and self-adjusting intelligent high beams.
With pricing that starts in the low $40K level for the rear-wheel-drive RC 300 and can mobilize upward into the mid-$60K neighborhood for the take-no-prisoners RC F, the 2018 Lexus RC models take performance to heart at a price that its European competitors can't quite match -- which always makes for an advantageous resale-value equation.
---

Resale Value
at 36 months:

48.0%

at 60 months:

32.0%
A bulletproof reputation for quality, reliability, comfort, and safety keep the 2018 Lexus ES sedan's resale value high.
---

Resale Value
at 36 months:

50.7%

at 60 months:

31.3%
Combining German luxury and build quality with all-wheel-drive sport-wagon utility, the 2018 Audi Allroad provides assurance far beyond its superb resale value.
---
Other Category Winners
Best Entry-Level Luxury Car