2018 INFINITI QX60 Expert Review
By Joe Tralongo, Contributing Editor
KBB Expert Rating: 8.4
The 2018 Infiniti QX60 offers room for seven, a dynamic exterior and a sumptuous interior all wrapped in a manageably sized luxury SUV. Available with the latest technology and safety innovations, the QX60 represents a viable alternative to the more conservatively styled Audi Q7 and Acura MDX, as well as the more expensive Mercedes-Benz GLS. The QX60's athletic suspension setup delivers a firmer ride than that of the Buick Enclave or Lexus RXL, but the reward is superior handling and cornering. Infiniti provides the QX60's owner a choice of drivetrains including the option of all-wheel drive and a hybrid model. As gasoline looks to remain cheap, however, we think most buyers will be more than satisfied with the potent 295-horsepower gasoline V6.
You'll Like This Car If...
Looking for a 3-row luxury SUV that's fun to drive, loaded with features and still reasonable in size and price? The 2018 Infiniti QX60 is all that and more. The QX60 is less expensive than comparably equipped models from Mercedes-Benz and offers a more dynamic driving experience than a Lexus RXL.
You May Not Like This Car If...
If you're looking for maximum horsepower and handling, a BMW X5, Mercedes-Benz GLS 550 or an AMG GLS 63 makes a better choice. If your towing requirements exceed 5,000 pounds or you just need massive amounts of cargo space, a full-size Infiniti QX80 or Lincoln Navigator makes a better choice.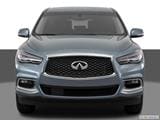 What's New for 2018
For 2018, the Infiniti QX60 luxury SUV carries over with a few modest updates. A new feature called Rear Door Alert reminds drivers to check the rear seat before exiting the vehicle, a helpful way to remember not to leave valuables, pets or children behind.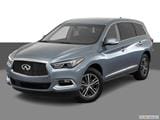 Driving Impressions
The 2018 Infiniti QX60 is one of the better-handling luxury SUVs on the market, but it does sacrifice the softer ride and lighter steering input preferred by some...
... buyers. We think it's an acceptable trade-off so long as the road remains fairly smooth. Infiniti has taken a rather aggressive approach toward the QX60's suspension tuning, a bonus when speeding through winding back roads and mountain passes, but a bit of a drawback when encountering rough or pothole-packed pavement. The 295-horsepower V6 is admirable in both its ability to move the QX60 and its fuel consumption, and while the 4-cylinder hybrid version offers about 5-mpg-better city fuel economy, it surrenders 45 horsepower in the bargain. We find it odd that while driver-assist systems such as collision avoidance, lane-departure warning and adaptive cruise control are available, they're not standard.
PREDICTIVE FORWARD-COLLISION WARNING
Infiniti takes forward-collision-warning technology a step further by monitoring two cars ahead. The system is able to react to any sudden braking situation that may occur with the car directly in front of yours, thus speeding up the emergency braking system's response time.

DISTANCE CONTROL ASSIST
Stop-and-go traffic at any hour is now a reality we all have to live with. Distance Control Assist makes life a little bit easier by keeping an appropriate distance between you and the vehicle ahead. It's an invaluable aid should traffic halt while your attention is momentarily elsewhere.

2018 INFINITI QX60 Details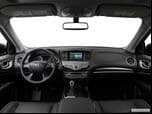 Interior
The midsize-luxury, crossover-SUV segment has plenty of 3-row vehicles, but Infiniti's 2018 QX60 luxury SUV stands out because its plush, leather-lined cabin is comfortable in all seven spots. The comfortable front seats make highway miles go by in a flash, and climate, audio and navigation controls are easy to reach and use. The third row is surprisingly accommodating for two adults and, thanks to a second row that slides fore and aft, getting there is easy. Infiniti makes the interior even more pleasing with ample soft-touch materials, and by using laminated glass to make the interior quieter.
Exterior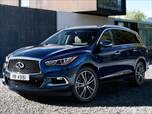 The 2018 Infiniti QX60's rounded, sleek design wears the company's signature headlight-and-grille design, which works well with the overall design. The side view shows a gently sloping roof, but that design doesn't negatively affect the QX60's impressive interior room. One of the key styling cues of the QX60 is the bowed window frame at the back of the side windows. A smaller version of this design detail can also be seen on Infiniti's stunning Q60 coupe. In back, the power-operated tailgate, which comes standard, makes it easier to load and unload gear and groceries.
Standard Equipment
Buyers expect a luxury SUV to come equipped with a bevy of standard features. And even the least expensive QX60 is nicely appointed, with features like heated, power-folding side mirrors; moonroof, and a power liftgate. Inside, all QX60s come with a leather interior with heated and power-adjustable front seats, tri-zone temperature control, Bluetooth and USB ports, power tilt/telescoping steering column, rearview camera with 7-inch screen and 6-speaker AM/FM/CD audio. Some optional features in the regular QX60 are standard in the Hybrid, which also has a system that emits a sound to notify pedestrians that the otherwise hushed vehicle is there.
Optional Equipment
You can choose gas or hybrid, and front- or all-wheel drive (FWD, AWD), but many of the other options are bundled into packages. Navigation is optional, as are a 15-speaker Bose audio system, heated seats in the second row, a motion-activated power liftgate, Wi-Fi, auto high beams, heated steering wheel, a moonroof over the second and third rows and a rear-seat entertainment package. There are also a lot of available safety features, including blind-spot monitoring, intelligent cruise control, lane-departure warning and prevention, and systems that can automatically apply the brakes when traveling in both forward and reverse.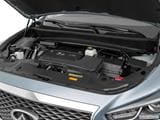 The 2018 Infiniti QX60 is powered by a smooth, 295-horsepower V6 linked to a continuously variable automatic transmission (CVT). This Infiniti has a Drive Mode Selector, which offers four modes -- Standard, Sport, Eco and Snow. The transmission also has a manual mode that simulates shifting gears. Under the hood of the 2018 QX60 Hybrid, you'll find a 2.5-liter supercharged 4-cylinder engine that, in combination with a 15kW electric motor, has a net power output of 250 horsepower. It, too, is fitted with a CVT. Whether you are looking at the V6 version of the QX60 or the hybrid, you can choose between FWD and AWD. Towing capacity is rated at a laudable 5,000 pounds for V6 models and 3,500 pounds for the hybrid.

3.5-liter V6
295 horsepower @ 6,400 rpm
270 lb-ft of torque @ 4,400 rpm
EPA city/highway fuel economy: 20/27 mpg (FWD), 19/26 mpg (AWD)

2.5-liter supercharged inline-4/15kW electric motor
250 net horsepower @ 5,600 rpm
243 lb-ft of torque @ 3,600 rpm
EPA city/highway fuel economy: 25/27 mpg (FWD), 25/27 mpg (AWD)
The 2018 Infiniti QX60 has a Manufacturer's Suggested Retail Price (MSRP) starting just over $44,000 when equipped with a V6 and front drive. Loaded with options, the QX60 can reach close to $60,000, and the hybrid SUV can top $63,000. At its starting price, Infiniti's 3-row luxury SUV is directly in line with the Acura MDX and more than $10,000 below such rivals as the V6-powered Audi Q7 and BMW X5. To find out what others in your area are paying for the 2018 QX60, check out the Kelley Blue Book Fair Purchase Price. Like the Audi, the QX60's resale value is expected to be very good.
To compare current market prices, check out KBB.com's car classifieds to view the new and used INFINITI QX60 vehicles for sale near you.