2014 Ford Fusion Review
By KBB.com Editors
KBB Expert Rating: 7.9
Fresh from its debut last year, the Ford Fusion continues to redefine the role of the midsize family sedan, including a plug-in hybrid electric model dubbed the Fusion Energi. Unlike the hybrid car, the Energi can run at high speeds up to 22 miles solely on electric power, after which the gasoline engine kicks on to power the vehicle. Those interested in more traditional methods of propulsion will be quite satisfied with Ford's gasoline only offerings, including two small displacement turbo engines with big power and bigger fuel economy figures. All 2014 Fusion models offer stunning styling, a host of sophisticated electronic audio and communication options, and a sporty demeanor more commonly associated with Audi or VW than the big blue oval – all of which inspired us to name it one of the 10 Best Sedans Under $25,000 for 2014.
You'll Like This Car If...
If you're looking for a sporty sedan, a luxurious touring car, a fuel-efficient family car or just something to impress the neighbors, you'll find it all in the 2014 Ford Fusion.
You May Not Like This Car If...
While Ford is correct that its 4-cylinder EcoBoost engines are as powerful as some V6s, many customers may still prefer the larger engine's low-end torque and smooth operation. Those looking for a sporty coupe model are also out of luck, as are diesel engine fans.
What's New for 2014
For 2014, the Ford Fusion receives some new color choice inside and out, as well as optional inflatable seatbelts for outboard rear passengers, a heated steering wheel and ventilated front seats. A new 1.5-liter turbocharged engine debuts, while the Fusion Hybrid gains a new, lower price trim level, the S.
Driving Impressions If there is one area in which the 2014 Ford Fusion shines, it's the car's athletic driving character. The base 2.5-liter 4-cylinder isn't going to win you any drag races,...
but even at that level, the Fusion's excellent suspension setup gives it small-car handling in a big package. Move up to the 1.5-liter and 1.6-liter turbo engines and your inner enthusiast will be most pleased, especially considering you can still get a manual transmission on the SE model. But, it's the 2.0-liter turbo with its 240 horsepower that will make the most ardent V6 fan capitulate to this engine's superiority. The Fusion Hybrid system's transition between the gasoline engine and electric motor is nearly seamless, and the car can travel up to 62 mph on electric power alone. The Energi plug-in hybrid's electric-only top speed is 85 mph, and the car is rated to travel up to 21 miles on electricity alone and up to 620 miles total.
HYBRID VERSION
Perhaps the best thing about the hybrid version of the Fusion is that you may not know it is one until you realize how little fuel you're using. The Fusion Hybrid yields an EPA-estimated 47 mpg combined, and is a smooth operator while earning that lofty figure.

SMALL BUT EFFICIENT ENGINES
All of the gasoline powerplants used in the 2014 Ford Fusion are 4-cylinder engines, and all but the version in the base model are 2.0 liters or less. If that size makes you dubious, you need not be. These small engines pack a powerful punch thanks to turbocharging and direct-injection technology.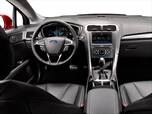 Interior
The 2014 Ford Fusion's cabin is attractive for sure, but it doesn't feel as open or wide as some of its competitors. Four adults can sit comfortably in the Fusion, or three kids can squeeze in the back seat. At 16 cubic feet, the Fusion's trunk is bigger than the Honda Accord's, but smaller than the Hyundai Sonata's. In hybrid models, some space is eaten up by under-floor batteries. Still, even hybrid models allow the rear seats to fold for added cargo room. The cloth seats and foam inserts in Fusion Hybrid and Energi models are made from recyclable or renewable materials.
Exterior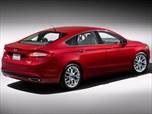 We know the 2014 Ford Fusion is an affordable family sedan, but with its Aston Martin-like grille, it looks more like an expensive European luxury car. Ford adds its own subtle styling cues in the form of numerous original wheel designs, interesting colors and aggressive headlights. The clever EasyFuel capless gas filler system means you'll never again have to wrestle to open a fuel cap or wait for it to "click" into place. On Energi versions a lighted ring surrounds the charging port. The ring lights up as the car charges, with a fully lit circle indicating a full charge.
Standard Equipment
The 2014 Fusion is offered in eight trims: The gasoline and hybrid models are S, SE and Titanium, while the Energi is limited to SE and Titanium. Base S models include manual climate control, a tilt/telescoping steering wheel, a 4-speaker AM/FM/CD player with auxiliary input, 16-inch wheels, and Ford's SYNC wireless communication system with voice control. SE models add 10-way power driver's seat, rear air vents, a 6-speaker audio system, and 17-inch wheels. Moving up to the Titanium model nets the powerful 2.0-liter turbocharged engine, 12-speaker Sony premium audio system with HD and satellite radio, dual-zone auto climate control, a rearview camera, leather seating, and 18-inch wheels.
Optional Equipment
In addition to more powerful turbocharged engines, features available on the 2014 Ford Fusion emphasize technology for making the car safer and commutes more comfortable. Among the offerings are a reverse-sensing system, Active Park Assist to help with parallel parking, adaptive cruise control, a navigation system, and a blind-spot monitoring system. One particularly interesting and potentially life-saving feature is the Lane Keeping System. Using a windshield-mounted camera, the car keeps a digital eye on road markings to detect if the car drifts into another lane. If that happens, the system alerts the driver by sounding a warning, vibrating the steering wheel and, ultimately, applying steering torque to get the car back into the lane.
The base engine in the 2014 Ford Fusion is a 2.5-liter 4-cylinder. Better options are the 1.5-liter, 1.6-liter or 2.0-liter turbocharged 4-cylinder engines, all of which can run on regular gasoline. For 2014, the 1.6-liter is manual-transmission only, while the new 1.5-liter offers start/stop functionally that cuts engine power at idle to save fuel. Front-wheel drive is standard, with all-wheel drive limited to the 2.0-liter engine. The Fusion Hybrid uses a 2.0-liter 4-cylinder gasoline engine and electric motor to achieve a 47-mpg city/highway-combined figure. The plug-in Fusion Energi uses the same engine and motor setup, but offers a larger lithium-ion battery pack that can be recharged via an AC outlet. The Energi can travel 21 miles in pure-electric mode, and up to 620 miles total before having to recharge the battery or fill the gasoline tank. Recharge time is projected at seven hours on a 120-volt outlet, or 2.5 hours on a 240-volt outlet.

2.5-liter inline-4
175 horsepower @ 6,000 rpm
175 lb-ft of torque @ 4,500 rpm
EPA city/highway fuel economy: 22/34 mpg

1.5-liter turbocharged inline-4
178 horsepower @ 6,000 rpm
177 lb-ft of torque @ 1,500-4,500 rpm
EPA city/highway fuel economy: 23/36 mpg (non-Auto Start-Stop) 25/37 mpg (with Auto Start-Stop)

1.6-liter turbocharged inline-4
178 horsepower @ 5,700 rpm
184 lb-ft of torque @ 2,500 rpm
EPA city/highway fuel economy: 25/37 mpg

2.0-liter turbocharged inline-4
240 horsepower @ 5,500 rpm
270 lb-ft of torque @ 3,000 rpm
EPA city/highway fuel economy: 22/33 mpg (front-wheel drive), 22/31 mpg (all-wheel drive)

2.0-liter inline-4 and permanent magnet AC synchronous motor (hybrid)
188 horsepower (total)
129 lb-ft of torque @ 4,000 rpm (gasoline engine only)
EPA city/highway fuel economy: 47/47 mpg

2.0-liter inline-4 and permanent magnet AC synchronous motor (plug-in hybrid)
195 horsepower (total, with full battery charge)
129 lb-ft of torque @ 4,000 rpm (gasoline engine only)
EPA city/highway fuel economy: 44/41 mpg
To compare current market prices, check out KBB.com's car classifieds to view the new and used Ford Fusion vehicles for sale near you.