This Week in Car Buying: Ford bets big on plug-in hybrids; Toyota scales back Prius projections; Axed Toyota FJ remains hot; Nissan prices 2016 Quest
by
Matt DeLorenzo
|
December 11, 2015 11:23 AM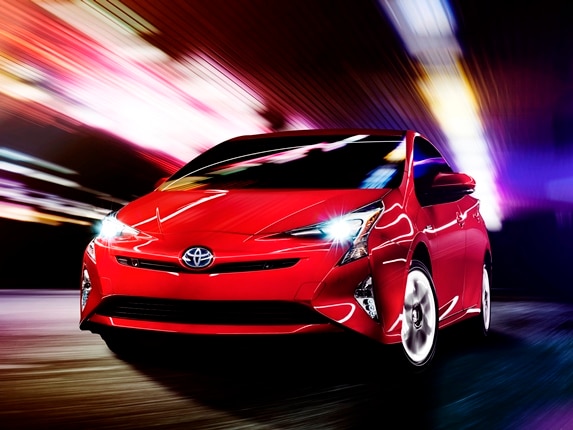 Just as gas prices have dramatically dropped to the $2 per gallon level, Ford announced that it is investing $4.5 billion to bring 13 new electric cars and plug-in hybrids to the market by 2020. This commitment comes at a time when Ford's deliveries of alternative power vehicles like the Ford C-Max, Fusion and Lincoln MKZ hybrids have tumbled 25 percent.
So what gives?
It's not a question of consumer demand, rather it's more about meeting more stringent fuel economy and emission standards which are beginning to ratchet upwards toward a Corporate Average Fuel Economy standard of 57.5 mpg by 2025. Also, Ford recognizes that it must sell zero-emission vehicles in states like California to be able to continue to sell conventional cars and trucks. EVs and plug-in hybrids generate both the fuel economy and zero emission credits the company will need to remain competitive in the marketplace. Expect other manufacturers to follow suit.
Also: See the New and Redesigned Cars of 2016
Toyota lowers Prius sales estimates
Low fuel prices are also to blame for Toyota's recent move to lower its worldwide sales projection for the all-new 2016 Toyota Prius. Previously, the Japanese automaker was aiming to sell as many as 400,000 of the gas/electric hybrids globally. It has since lowered that target to between 300,000 and 350,000 units.
Sales of the Prius have declined 12 percent over the past year, and while some of that drop is attributed to the lower fuel prices, the fact that the vehicle was nearing the end of its product cycle and the highly anticipated new model was coming also may have been a factor. The 2016 Prius is set to go on sale next month and promises an improvement in fuel economy of between 8 and 10 percent.
Want a Toyota FJ? Be prepared to pay
Even though the Toyota FJ was dropped last year from the automaker's lineup, the retro-styled off-roader remains a hot commodity in the resale market, according to a report in Automotive News. While they didn't sell in huge numbers during their 2007-2014 product run-roughly 20,000 per year, they nonetheless have found a cult following in the used vehicle market which has translated into high resale values. One dealer, looking to buy a 2008 model with 87,000 miles on it was prepared to pay $18,000 at auction, or roughly 60 percent of its original sticker.
"It's crazy," Neal Wheat, used car manager at Gloucester Toyota in Gloucester, Va., told the trade paper. But he added the truck underpinnings might be the key to its enduring appeal. "It's a [body-on-frame] SUV, which nobody makes anymore. The Toyota 4Runner and Jeep Wrangler are the only ones that are truck-based anymore."
The range that buyers can expect to pay are typified by two FJ Cruisers on the lot of Traverse City Toyota in Traverse City, Mich. The report said that a 2007 model with 141,601 miles was going for $16,950 while a 2014 model with 28,061 miles was listed at $35,985.
Also: Kelley Blue Book Best Buy Awards of 2016
2016 Nissan Quest priced
Pricing for the 2016 Nissan Quest minivan has been announced by the Japanese automaker with prices starting at $26,350 for the 3.5 S model plus $900 destination. A comparable 2015 model has base MSRP of $26,519 excluding destination. All Quests are equipped with a 260-horsepower 3.5-liter V6 engine.
A total of four models are offered with SV, SL and Premium trim levels rounding out the mix. The 2016 Quest 3.5 SV starts at $30,490, the SL is $34,060 and the range-topping 3.5 Platinum is priced at $43,180. All prices exclude destination charges. Among the equipment changes are standard roof rails on the SV trim level, while the V6 has improved fuel economy adding 1 mpg to the EPA combined rating which is now 23 mpg. City and highway ratings are 20 and 27 mpg, respectively.
Nissan is also adding safety features to the Quest including blind spot warning, which will be standard on the Platinum. Other options include around-view monitoring with moving object detection, a Bose 13-speaker premium sound system and navigation and an 11-inch screen rear DVD entertainment system.
The rundown
The National Highway Traffic Safety Administration is proposing updates to its 5-Star Safety Rating system. The new regimen will include separate ratings for oblique angle front crashes and driver assists like blind spot monitoring and lane departure warnings.
The Hyundai Ioniq is an all-new compact car that will be introduced sometime next year by the Korean automaker that will offer a choice of pure electric, conventional hybrid and plug-in hybrid powertrains.
As expected, the 2016 Buick Envision will be introduced next year to fill the gap in the premium brand's crossover SUV lineup between the midsize Enclave and subcompact Encore.