This Week in Car Buying: Best deals of the month; Sales climb; Buick launches 24-hour test drives; Chevy eyes another crossover
by
Matt DeLorenzo
|
July 24, 2015 10:00 AM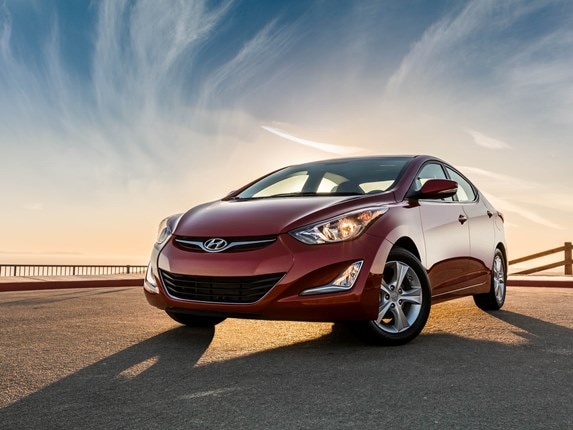 As industry sales continue to blaze along, a contributing factor is the tremendous deals on select vehicles as makers look to balance high transaction prices for hot models with great offers on their slower moving units. Most of the top deals are on traditional sedans, both small and large, as the buyers continue to migrate towards crossover SUVs.
"This month's list of standout deals includes some smart fuel sippers, a couple of SUVs, full-size sedans and a pickup truck," said Jack R. Nerad, executive editorial director and executive market analyst for KBB.com. "At the top of the list is a stylish compact car loaded with standard features and available for less than $20,000. As many dealers are starting to receive more 2016 model-year inventory on their lots, now is an excellent time to score a great deal on a new 2015 model."
The leading deal for the month is on the 2016 Hyundai Elantra which carries an MSRP of $20,525 on which the Korean automaker is offering a $1,500 rebate. The second best deal of the month is another sedan, the full-size 2015 Chrysler 300 which can be leased for $189 per month over 36 months with $2,999 down. Other sedans on the list include the 2015 Ford Taurus, which has a $5,000 rebate towards its $30,360 list price and the 2015 Volkswagen Passat, which comes with $1,000 cash back and 0-percent financing for 60 months on its $27,915 MSRP.
With low gas prices, smart shoppers know that now is the time to score a deal on a hybrid or electric. There is a trio on the top 10 list led by the 2015 Chevrolet Spark EV with has a 0-down 39-month lease at $138 per month. Toyota is also offering $1,000 cash back and 0-percent financing over 60 months for the 2015 Prius c, which sells for $20,365. Ford has a $159 per month lease on its 2015 C-Max Energi with $3,089 down.
On the SUV/truck side, a $1,000 rebate with 0-percent financing continues on the discontinued 2015 Toyota Venza, Buick has a $317 per month lease available on its 2015 Enclave with $3,089 down and the 2015 Ram 1500 Quad Cab can be leased for $219 per month with $2,999 down.
Also: The Class of 2016 -- New Cars Ready to Roll
Sales grow
According to estimates from Kelley Blue Book, the industry continues to sell at a rate of more than 17 million vehicles, with an expected 2.6 increase in volume for July over a year ago. "As the industry settles into the summer selling season, new-car sales are expected to remain consistent with last month's numbers, representing modest and slowing growth versus last year," said Alec Gutierrez, senior analyst for Kelley Blue book. "Sales in the first half of the year totaled 8.5 million units, a year-over-year improvement of 4.4 percent and the highest first-half volume since 2005. Total sales in 2015 are projected to hit 17.1 million units overall, a 3.6 percent year-over-year increase and the highest industry total since 2005."
Two standouts include Fiat Chrysler Automobiles, which saw above industry average growth of 4.4 percent primarily due to its hot Jeep brand and Nissan-Infiniti, which posted a 4.6 percent gain, which reflects the success of its Rogue and Murano crossover SUVs. Those vehicles continue to steal sales from midsize sedans as the compact crossover segment grew by 13.4 percent and midsize cars posted the only drop in overall sales, with the segment declining by 1.5 percent.
Test drive a Buick
Hoping to reacquaint the public with its brand, Buick is offering overnight test drives of its vehicles in a bid to get consumers to experience the upgrades in both the vehicles and the showroom buying experience. It is coupling the promotion with online content featuring a podcast from leading experts in fashion, health and wellness under the rubric "The 24 Hours of Happiness Test Drive."
Duncan Allred, who heads Buick, said the program is more of a brand building exercise than a hard sell program to move the iron. In the past, GM has offered test drive programs that would pay participants $250 if they ended up buying a competitor's car. This time around, there are no financial incentives tied to the program. Instead, it is being looked as a way to reintroduce Buick to the public.
Chevrolet looks at a new crossover
Recognizing the popularity of the hot-selling car-based SUV models, Chevrolet is reportedly looking at adding a fourth model to its lineup of these vehicles, which currently includes the subcompact Trax, the compact Equinox and the full-size Traverse. According to Automotive News, the new model would be a midsize entry positioned between the Equinox and Traverse.
According to the trade journal, the new entry would also cause some adjustments to be made to the current lineup. The Equinox, though starting life as a true compact SUV, has grown in size. Sources say the next generation vehicle may be downsized slightly to provide more room between it and the Traverse for the additional model, which would have three rows of seating, in the lineup. The new vehicle might be based on a short wheelbase version of the next generation Traverse expected in 2017.
Also: Kelley Blue Book Best Buy Awards of 2015
The Rundown
As a new feature in This Week in Car Buying, we will provide a rundown of vehicle announcements and pricing actions you may have missed during the previous week.
The biggest news is that Ford will be creating a new flagship model for its best-selling F-150 pickup line. Set to be introduced this winter, the 2016 Ford F-150 Limited will be slotted above the current luxury-oriented Platinum model and will cost upwards of $60,000.
The 2016 Hyundai Tucson is set to hit showrooms and we had an opportunity to drive this two-row compact crossover SUV. The sporty Tucson starts at $23,595 and tops out at about $35,000.
At the Chicago Auto Show, Toyota showed two limited editions of its popular sedans, the 2016 Toyota Camry Special Edition and the 2016 Corolla Special Edition. The former will have a production run of 12,000 units and be priced at $26,550, the latter will see 8,000 produced starting at $21,470.
Buick will be adding another trim level to its subcompact Encore crossover SUV lineup this fall when the 2016 Buick Encore Sport Touring model bows. In addition to exterior enhancements, the vehicle boasts more horsepower from its 1.4-liter turbocharged 4-cylinder engine.
Scion also announced pricing of its 2016 Scion tC coupe, with a $20,180 base price. That reflects an increase of $175, but also includes new connectivity features as well as keyless entry and start.