Zagato TZ3 Stradale unveiled - A new vision with a Viper
by
KBB.com Editors
|
May 2, 2011 11:25 AM
What began as Carrozzeria Zagato's full-on racing homage created to help celebrate the 100th birthday of Alfa Romeo has now morphed into an equally stunning street-legal version of Alfa Romeo TZ3 Corsa unveiled at last year in Italy at the XII Villa D'Este Concours d'Elegance. While this new Zagato TZ3 Stradale (street) variant shares much in common with the TZ3 Corsa (race) from a styling standpoint -- their neo/retro long nose/Kamm tail configurations recalling the firm's elegant and incredibly successful Alfa TZ1 and TZ2 race cars of days gone by -- under the skin, the two are quite literally, world's apart.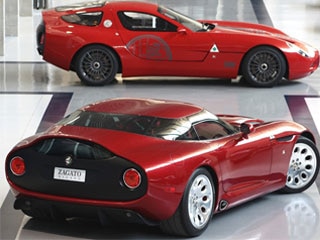 Unlike the one-off Alfa Romeo TZ3 Corsa, which was a full carbon-fiber- based exercise commissioned by German Alfa Zagato collector Martin Kapp and uses a 414-horsepower/4.7-liter Ferrari DOHC V8 from the series-based Alfa Romeo 8C Competizione, the Zagato TZ3 Stradale will be produced in a very limited run of nine and wraps its distinctive carbon fiber bodywork around a modified Dodge Viper ACR chassis, complete with the monster 8.4-liter/600-horse OHV V10 engine. According to Zagato's press release, "Bellezza necessaria (necessary beauty) is the inspiration of this car which matches for the first time an USA powertrain and can represent the first American Alfa Romeo." While hardcore Alfisti will no doubt bristle at the very thought of such a notion, it's hard to argue with the finished product.
So far, three Zagato TZ3 Stradales have been spoken for. The first is headed to American Alfa Romeo and Zagato collector Eric King while the next pair is slated for undisclosed buyers in Japan and Europe. Should you feel a similar overwhelming desire to have one in your personal scuderia, Zagato will be happy to provide pricing upon inquiry.