This Week in Car Buying: Trucks take center stage at Texas State Fair; Sales continue to climb; VW's horrible week; Volvo breaks ground in U.S.
by
Matt DeLorenzo
|
September 25, 2015 10:54 AM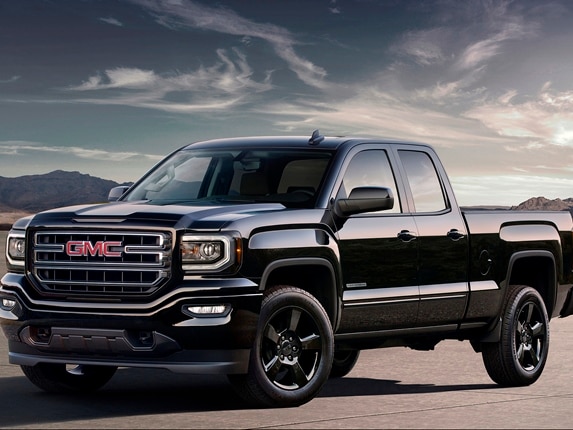 Texans love pickups. No better proof can be found this week than at the opening of the Texas State Fair where manufacturers are out in force touting their new trucks to a place where the official car is a pickup. Ford kicked off its introduction of its all-new heavy duty trucks which incorporate the aluminum body panels introduced on the 2016 F-150. The 2017 Ford Super Duty pickups, which are the F-250, F-350 and F-450 also feature fully boxed frames for the first time and will offer a choice of 6.7-liter turbodiesel V8, a 6.2-liter gas V8 and a 6.8-liter gas V10 engine. How important Texas is to these trucks is the fact that they won't be on sale until late next year.
GM is also showcasing its revamp of the 2016 Chevrolet Silverado and 2016 GMC Sierra. The facelifted Silverado features a new front-end with a bolder appearance and new lighting, while GMC is showcasing its Sierra remake by introducing a limited Elevation Edition that also showcases infotainment upgrades available on both Sierra and Silverado that includes Apple CarPlay and Android Auto. The Sierra Elevation Edition is available as a double-cab only and sports body-color moldings, door handles, mirror caps and a body-color grille surround, body-color bumpers and 20-inch black-painted aluminum wheels.
The 2016 Nissan Titan XD, a truck with heavy duty capabilities based on a beefed up chassis used on the standard Titan, also was showcased at the fair. Boasting a 5.0-liter Cummins V8 turbodiesel, the XD has a towing capacity of 12,000 pounds, thanks to that engine's prodigious 550 lb ft of torque. "Texas has played a huge role in the development of our all-new lineup of American Titan trucks," Fred Diaz, senior vice president of sales and marketing for Nissan, said. "The initial focus groups took place here and we've taken it through multiple clinics through the state. Texans know trucks and we wanted to hear from our expert truck customers."
The Ram truck division of Fiat Chrysler Automobiles (FCA) presented the 2016 Ram Laramie Limited and Rebel special editions in its Ram Truck Zone, a fixture at the fair that includes such features as a mechanical bull ride and photo opportunities with Big Red, a preserved Texas Longhorn steer. Toyota, which is moving its U.S. headquarters to nearby Plano used the state fair to showcase its new 2016 Tacoma midsize truck.
Also: Class of 2016 -- New Cars Ready to Roll
Double-digit sales expected for September
Strong Labor Day sales events contributed to an expected double digit boost in vehicle sales during September, according to data compiled by Kelley Blue Book. The numbers predict sales of 1.39 million units, a 12 percent increase over a year ago. The only maker expected to see a drop in sales is Volkswagen, which is embroiled in a scandal over its failure to meet diesel emission standards.
"While the Volkswagen scandal will have a negative impact on sales, the affected models represent less than a quarter of their portfolio and some dealers have already depleted their stock of those units," said Alec Gutierrez, senior analyst for Kelley Blue Book. "The larger issue is the hit the automaker's brand image and perceived trustworthiness, which may affect sales of their other models. We think the effects on September sales won't be too bad for Volkswagen Group's combined sales, but October and beyond could be another story."
Strong September sales are expected to push the seasonally adjusted annual rate to 17.5 million units, up from 16.4 million a year ago. Much of the growth is attributed to increases in truck and van sales, particularly at Ford, which is seeing an uptick in F-150 volume thanks to a second plant coming on stream, as well as gains in the commercial van segment with its all-new Transit. The compact sport utility segment continues to be hot, with sales up 14 percent year-to-date.
VW's horrible week
The firestorm that erupted last week over revelations that VW embedded software in its diesel cars to make them run clean while undergoing testing, has claimed its top manager, Dr. Martin Winterkorn, who was succeeded by Porsche chief Matthias Mueller. Several top engineering executives, including Audi's head of research and develop Uwe Hackenberg and Porsche engine chief Wolfgan Hatz, both of whom previously worked on VW products, have been dismissed. Early speculation had the head of Volkswagen of America, Michael Horn, being dismissed, but the reports proved unfounded. He remains in charge, although now he has a new boss, former Skoda chief Winfried Vahland, who will head up all VW operations in the U.S., Canada and Mexico.
Dr. Herbert Diess, CEO of the Volkswagen Passenger Cars brand said in a release: "We are working at full speed on a technical solution that we will present to partners, to our customers and to the public as swiftly as possible. Our aim is to inform our customers as quickly as possible, so that their vehicles comply fully with regulations. I assure you that Volkswagen will do everything humanly possible to win back the trust of our customers, the dealerships and the public." In the interim, all sales of 2015 and 2016 VW diesels, including Golf, Golf Sportwagen, Jetta and Passat models have been suspended.
Volvo U.S. assembly on way
Volvo may be the first automaker to import cars from China with its 2016 S60 Inscription models, but it also broke ground a new U.S. assembly plant in Berkeley County, South Carolina which will be capable of building 100,000 vehicles per year.
The next generation S60 sedan, which is under development, is slated to be built in the plant which will open in 2018. Volvo also said it will also assemble a second vehicle at the facility, but didn't disclose what it would be. "Today's groundbreaking proves that Volvo Cars follows promises with action," said Lex Kerssemakers, the carmaker's ceo of its American operations. "Volvo is moving quickly to expand its presence in the United States with new cars, new engines and now, a new factory."
Also: Kelley Blue Book Best Buy Awards of 2015
The rundown
Jaguar has big plans for its 2017 Jaguar XE and 2017 Jaguar F-Pace models when they bow next year, promising that the two will account for 60-percent of overall volume.
The 2016 Buick Cascada marks the return of the first convertible in 25 years. Buick announced a base price of $33,990.
Taking its styling cues from the redesigned Maxima, the 2016 Nissan Altima gets a major freshening that includes the addition of an enthusiast-oriented SR trim level.
While VW's diesel woes dominated the headlines last week, the German automaker introduced a handsome facelift of the 2016 Volkswagen Passat. Like the Altima, it includes a new sporty R-Line model for gearheads.