This Week in Car Buying: Time to look at an EV or Hybrid?
by
Matt DeLorenzo
|
October 22, 2014 9:58 AM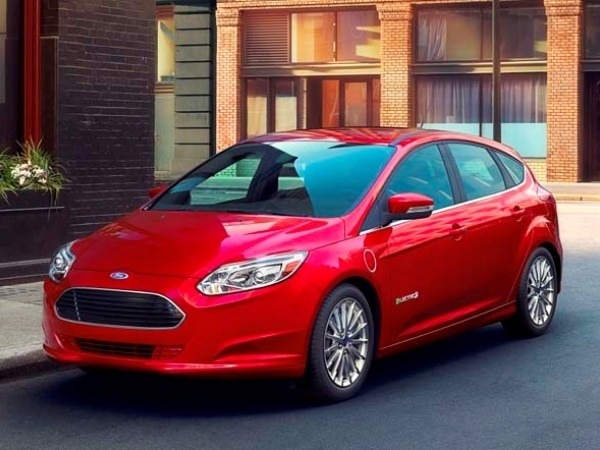 A bear market for crude oil has led to significant drops in the price of gasoline over the past month, with the U.S. average for all grades of fuel dropping from $3.48 per gallon to $3.20 and analysts predicting even lower prices ahead. While lower fuel costs will no doubt help sustain large truck and SUV sales and dampen enthusiasm for most costly alternatives like EVs, hybrids and even diesels, that doesn't necessarily mean that manufacturers will change their product mixes dramatically to reflect this new reality. Why? Because even as fuel prices drop, the Corporate Average Fuel Economy (CAFE) regulations still call for manufacturers to average 54.5 mpg by 2026, nearly double the 27.5-mpg average required in 2011.
Automakers also will continue to rely more on diesels, which can get roughly 25 percent better fuel economy than a standard gasoline engine. However, they also require relatively expensive after-treatment of NOx and particulates to pass emissions muster and have been slow to catch on with consumers due to the higher price of diesel fuel (which current goes for a $3.65 per gallon nationally).
Also: The Class of 2015 -- New Vehicles Ready to Roll
Time to shop EVs, hybrids and diesels
Bargain hunters know to zig when everyone else zags. Lower fuel prices may make buying that V-8 sedan, truck or SUV more attractive, but as alternative fuel vehicles languish on dealer lots, there are deals to be had and ones that may pay handsome dividends down the road especially if fuel prices spike upwards yet again. Remember, you may not want to buy one of these vehicles, but the manufacturers need to sell them, so the advantage is on your side.
A case in point is the 2015 Ford Focus Electric. The Detroit automaker just dropped the list price of this pure EV some $6,000 and that's on top of a $4,000 price decrease a year earlier. Originally introduced with a sticker of $39,995, it was dropped to $35,995 and now will retail for $29,995. And that's before you add in the federal and state tax credits, which could be as high as $10,000 depending on where you live. And, as a bonus for California buyers, the Ford Focus Electric gets a carpool lane sticker allowing access even if there's only one person aboard.
Cadillac, is a bid to jump start sales of its ELR plug-in hybrid, has dramatically slashed its price, although itFo remains at serious luxury-car level. Originally $75,995, the company has since dropped the sticker to $75,000 and has offered dealers incentives of $8,000, which combined with other programs and federal tax credits, gets the price closer to $60,000.
According to data compiled by KBB, rebates on Toyota Prius have grown from $1,400 last year to $2,300 this past September. However, Toyota remains committed to hybrid technology, noting that worldwide sales of its gas/electric vehicles recently passed the 7 million mark worldwide. An all-new Prius is slated to bow late next year.
Meanwhile, the average incentive on the Ford C-Max hybrid has grown from $2,650 to $4,900. Chevy has $1,000 on the 2014 Volt and 2.9-7.9 percent financing on 2015 models, Fiat is offering $1,500 to $2,000 on its 500e, and Mitsubishi is offering 0-3.9 percent financing on its iMiev electric vehicle. While there are incentives and tax breaks on EVs and plug-ins, keep in mind the cost if you decide to add a faster 220/240 volt charger at home which may cost around $2,000.
Shifting trends in equipment
Even as fuel costs ease, the drive by manufacturers to boost fuel economy will affect the choices available to buyers not only in vehicle types but also in equipment. The popularity of traditional trucks will likely suffer from a lack of production as automakers shift to more car-based crossovers and traditional sedans and hatchbacks. According to Automotive News, since 2008 the share of passenger cars as part of total new vehicle sales has grown from 59.3 to 63.2 percent of the market, while the number of traditional trucks, minivans/vans and SUVs has dropped from 40.7 to 36.8 percent over the same timeframe. Just a decade ago trucks accounted for 48 percent of the total market. Crossover SUVs based on passenger car platforms have more than doubled over that 10 year period from 4.1 to 9.9 percent. Typical of this new breed is the upscale 2015 Lexus NX, which goes on sale next month starting at $34,405.
Also: 10 Best Hybrid Cars Under $30,000
Since 2009, the penetration of such fuel saving technology as turbochargers, direct fuel injection and transmissions with seven or more gears has exploded. Turbocharging has gone from 3.3 to 15.7 percent, direct injection was used on just 4.2 percent of all cars and now stands at 37.9 percent and transmissions with more than six gears have gone from 2.6 to 11.2 percent of the market. CVT use has doubled from 9.4 percent to 19.3 percent, while diesel penetration has tripled from 0.5 to 1.5 percent, still just a fraction of all new car sales. Virtually all cars now come with some form of multivalve engines with variable timing.