This Week in Car Buying: Sales continue to grow; Ford launches sale; Nissan prices Altima; Fed reverses self on interest rates
by
Matt DeLorenzo
|
October 30, 2015 4:11 AM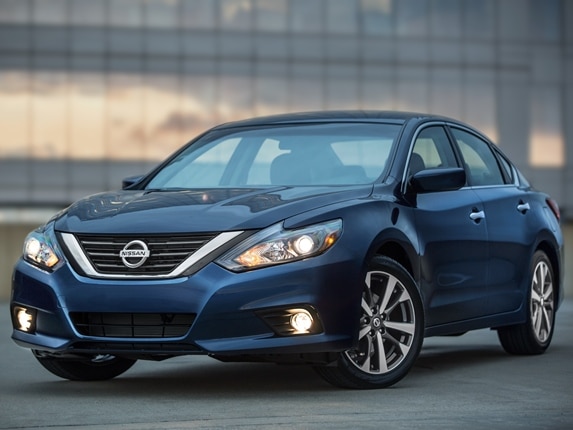 It looks like the 2015 model year closeout sales have been a success and buyers are also in the mood to snap up new 2016 models as October is expected to close the books with a 12-percent jump in vehicle sales, according to Kelley Blue Book projections. At 1.43 million units, this will be the highest October sales volume since 2001.
"Coming off the strongest sales month in a decade in September, sales continue to roll along this month, with double-digit growth expected for the industry in October 2015," said Alec Gutierrez, senior analyst for Kelley Blue Book. "Key economic indicators for auto sales are still strong, including jobless claims at a historic low as the national unemployment rate approaches 5 percent, fuel pricing nearing six-year lows and interest rates that remain near zero. This momentum has pushed Kelley Blue Book's forecast to 17.4 million for 2015, a 5.6 percent year-over-year improvement."
While the seasonally adjusted annual sales rate dipped slightly from September's 18.1 million to 17.9 million, the industry overall performance remains strong, with Ford showing the greatest growth on the strength of F-150 sales. Grappling with its diesel problems, Volkswagen's sales are expected to remain flat for the month. Another sign of industry health is that retail sales are up from slightly from 84 to 84.8 percent of the mix, meaning that manufacturers are profiting from consumer sales rather than relying on lower margin fleet sales to sustain the sales momentum.
Compact crossover SUVs continue to be the most popular, the segment growing by 40 percent, while small and midsize cars continue to lag.
Also: See the New and Redesigned Cars of 2016
Ford launches sale
Even though Ford continues to post gains, the automaker is launching a sales program that will run through the balance of the year offering no haggle pricing, according to Automotive News. The trade journal reported on internal documents detailing the "Friends and Neighbors Pricing Event" slated to begin Nov. 3 and run until Jan. 4, 2016.
According to the report, dealers have been given a guide showing discounts of up to 10 percent below MSRP which can be combined with other incentives. Also, Ford is giving dealers additional direct incentives on each car they sell, ranging from $126 on a 2015 Focus to $471 for a 2015 F-150.
Ford is expected to launch the program next week with a national advertising campaign on TV, radio, print and digital letting the public know that they can get cars at the same pricing offered friends and neighbors of Ford employees. Similar promotions were last seen from Detroit automakers during the depths of the 2008 downturn.
"This is not your normal, 'Let's take $500 off a car,'" Jim Seavitt, owner of Village Ford in Dearborn, Mich. told Automotive News. "Last time we did something like this was ... when things were pretty bad."
The program sets a ceiling on the price for buyers, but dealers have the option to sell the car for less. Ford calculates that price as being 99.6 percent of dealer invoice plus $275 administrative fee. The vehicle is also eligible for any existing incentives. However, low or no interest loans are being discontinued in lieu of the discounts. The pricing is similar to X-plan purchases by Ford employees as well as their family and friends.
Nissan prices Altima
Pricing for the new 2016 Nissan Altima will start at $22,500 for the base 2.5 model, according to a company announcement. The car, which goes on sale November 11, has undergone an extensive mid-cycle refresh which includes both new sheetmetal and interior upgrades. In addition, a sporty SR model priced at $24,470 for the 4-cylinder 2.5 model has been added to the range.
The other trim level pricing incudes the 2.5 S model, which starts at $22,900, the 2.5 SV at $25,460, the 2.5 SL at $28,570, the 3.5 SR V6 at $27,390 and the range topping 3.5 SL V6 at $32,090. Destination adds $825 to all models.
The new Altima interior design includes a new center stack and cupholder design, available 5.0-inch and 7.0-inch displays, Zero Gravity seats, soft-touch seat and door panel materials and custom finishers -- providing a premium look and feel throughout.
Also: Kelley Blue Book Best Buy Awards of 2015
Fed reverses itself on interest rates
Less than two weeks after signaling that it won't raise interest rates for the rest of year and perhaps even into early 2016, the Federal Reserve is now saying that it may hike rates at their final meeting in December. According to the Wall Street Journal, the nation's central bank said that concerns over international markets and inflation may open the door to higher rates sooner than later. The Fed has keep prime rates near zero in an effort to stimulate the economy since 2008.
With solid consumer spending, which is reflected in the strong new vehicle market, as well as other economic indicators showing increased business spending and investment, the Fed is signaling that higher rates may be in order to keep inflation from growing beyond the current level of 2 percent.
The rundown
The 2016 Hyundai Azera and the 2016 Hyundai Genesis have been updated for the 2016 model year with new features and pricing to match. The Azera starts at $34,995 and the Genesis 3.8 at $39,700.
A hotter version of the Audi A7 will be headed to the U.S. The German automaker is expected to launch the 2017 Audi RS7 Sportback next year.
Launched at the Tokyo Motor Show, the performance-oriented 2017 Porsche Macan GTS model is also slated for U.S. sales. The pumped up Macan will boast 360 horsepower.