This Week in Car Buying: Quality ratings muddy car buying waters; VW bumps up incentives amid scandal; Prices new Passat; Ferrari/Maserati casino store closes
by
Matt DeLorenzo
|
October 23, 2015 6:30 AM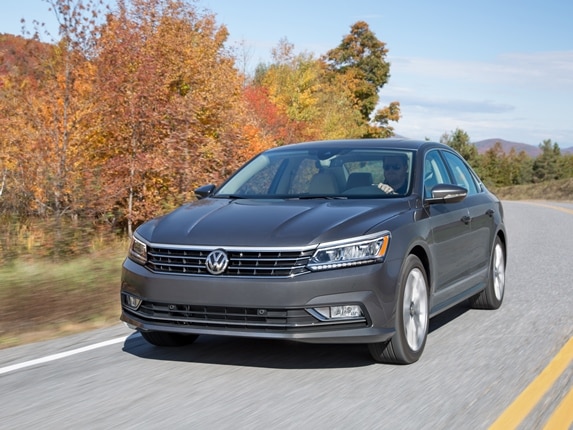 Recently released quality and reliability studies have shown major changes in rankings, result which may muddy car buying waters by upending conventional wisdom on the perennial question of "What's a good car?" Earlier this year, the J.D. Power 2015 U.S. Initial Quality Study, which examines problems experienced by buyers in the first 90 days of ownership, showed Korean automakers widening the quality gap between them and other makes, while Japanese manufacturers collectively fell below industry average for the first time.
Renee Stephens, vice president of U.S. automotive quality at J.D. Power said at the time "For so long Japanese brands have been viewed by many as the gold standard in vehicle quality. While the Japanese automakers continue to make improvements, we're seeing other brands, most notably Korean makes, really accelerating the rate of improvement." Among the top 10 in IQS, Kia and Hyundai ranked second and fourth respectively, while Japanese brands Infiniti, Lexus and Toyota ranked fifth, ninth and tenth. Topping the list was Porsche.
Earlier this week, Consumer Reports announced its reliability survey and in addition of kicking Tesla off is recommended list, it notes that Acura and Cadillac dropped seven spots each to 18th and 25th on the list, while Lexus and Toyota were the top two. And Porsche, which topped the J.D. Power study, dropped from 10th to 14th on the Consumer Reports study. Honda also dropped four spots to eighth.
The common thread in these changes, however, is not necessarily poor quality, which is what you think these studies are measuring, but rather the increase in complexity of in-car infotainment systems. So now, rather than measure actual things gone wrong, much of the dissatisfaction leading to these lower ratings is the difficulty of using some of the systems, which may or may not be a lack of knowledge on the part of the buyer.
While these surveys may be good over time tracking owner satisfaction, until they separate out actual things gone wrong versus design flaws, they will have less and less meaning to shoppers who are more concerned about long term durability than how to work a radio. This underscores the importance of not only taking a test drive in a new vehicle, but also spending time with the vehicle to familiarize yourself with things like infotainment and connectivity.
Also: See the New and Redesigned Cars of 2016
Volkswagen's incentives grow as scandal deepens
As the Volkswagen diesel scandal deepens on reports that no fewer than four iterations of the software used to cheat emissions tests were developed, the German automaker is offering nearly double the incentives of other automakers in an effort to keep traffic in showrooms and move its gasoline-powered inventory. Among the spiffs are $2,000 rebates, 0-percent interest loans up to 5 years and low cost leases such as $139 per month on the Jetta sedan with $2,199 down.
"They need something to get traffic to their showrooms because the diesel lovers are not coming in," Joe Phillippi, an analyst and principal of Auto Trends, Inc. told Bloomberg. Softness in VW demand is nothing new, as Phillippi observed "They weren't exactly knocking the cover off the ball before the crisis, either." Prior to the scandal, analysts estimated that VW was one of the largest spenders in the industry on incentives and rebates and that those numbers have doubled in the past month.
Meanwhile, Kelley Blue Book data shows that average auction prices of VW diesels have dropped by nearly 16 percent. Tim Fleming, a KBB analyst, also reports that "some auctions are still holding off on selling the affected Volkswagen inventory. While Volkswagen diesel auctions prices are in decline, we could see larger fluctuations depending on how this inventory is handled."
While shopping and value activity on the VW diesel models increased on news of the scandal, it has generally decreased, according to Arthur Henry, senior manager of Strategic Insights for KBB. "Interestingly, with regard to cross-shopping data, consumers are not looking at fuel-efficient or hybrid vehicles," he said. "For example, shoppers interested in the Jetta TDI are looking at the Honda Civic, Mazda3 and Ford Fusion as alternatives, according to cross-shopping data from KBB.com"
VW Passat priced
As Volkswagen wrestles with its diesel dilemma, it still has gasoline-powered cars to sell including its new facelifted 2016 VW Passat. The redesigned sedan, which features both exterior and interior refinements, starts at the same $22,440 base sticker price as the previous model. According to VW, when new content is figured in, holding the line represents a $1,315 enhancement over the 2015 Passat.
The new Passat is available with a choice of a 1.8-liter turbocharged 4-cylinder engine or a 3.6-liter VR6 powerplant. A new R-Line model with sporty exterior accents, 19-inch rear wheels and a modified rear diffuser is priced at $23,975. The mid-line SE model starts at $26,280, while the 1.8-liter SEL Premium retails at $34,270. Topping the range is the V6 SEL Premium at $36,835.
Las Vegas Ferrari/Maserati showroom closes
A Ferrari/Maserati dealership operated by Penske Automotive Group in Las Vegas' Wynn Casino has closed. The showroom not only catered to car buyers, but also offered the general public an opportunity to stroll among the exotics for a $10 admission fee. Penske and Wynn mutually decided to end the relationship and close the showroom. The Penske organization declined to say how many cars a year were sold in the casino or whether or not the location was profitable.
A downtown exotic car dealer, Towbin Motorcars, has bought the franchise and moved the inventory to its main location which also sells Rolls-Royce, Aston Martin and Bentley.
Also: Kelley Blue Book Best Buy Awards of 2015
The Rundown
Named after the color of their matte finish paint jobs, the 2016 Cadillac ATS-V Coupe/Sedan and 2016 Cadillac CTS-V Crystal White Frost editions will be built in a 99-unit limited production run. Pricing for the ATS-V sedan version starts at $71.460, the coupe at $73,660 and the CTS-V sedan at $94,990.
Also jumping on the limited edition bandwagon is Toyota, which is offering a 1,900-unit run of the 2016 Toyota Prius C Persona series. Priced from $22,190, the new series includes special paint, badging and wheels.
Promised as a game-changer in the compact car segment, the 2016 Honda Civic lives up to its billing in our first review.
POPULAR AT KBB.COM