This Week in Car Buying: High times for high end cars; dearly departed models; GM production trimmed again
by
Matt DeLorenzo
|
February 27, 2015 11:57 AM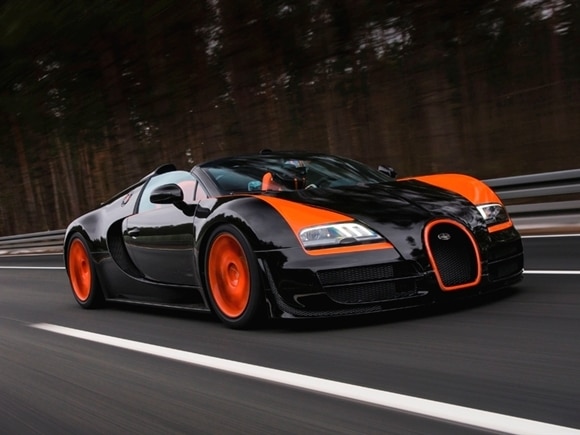 The old adage in the auto business is that cars are sold one at a time, including the last one. This is no truer than in the case of Bugatti, which announced that the last of its Veyron series of W-16 supercars has been sold, marking the end of a limited production run of 450 vehicles that spanned a decade. This last Veyron, dubbed La Finale, will be shown at the Geneva Auto Show next week. The car has been sold to a Middle Eastern car collector who remains anonymous.
Since its introduction in 2005, the Veyron, which retailed for prices ranging from $2 to $3 million, has gone through several iterations, including seeing its horsepower jump from 1,000 to 1,200, and has spawned special collector models, a lightweight high speed special and an open-top roadster.
The dizzying prices underscore the fact that super premium cars like the Bugatti, have been selling at a record pace and high-end makers like Rolls-Royce and Bentley are looking to expand their lineups with new crossover SUVs, while Mercedes-Benz has dusted off its Maybach nameplate to create a new sub-brand that launched the Mercedes-Maybach S600 as well as re-introducing a legendary limousine in the form of the Mercedes-Maybach Pullman S600.
Also: Kelley Blue Book Best Buy Awards of 2015
According to Bloomberg, sales of the seven leading high-end car makers, which includes brands like Lamborghini, Aston Martin, Maserati and Porsche, have surged 154 percent versus the 36 percent in overall global car sales. Big factors in this growth are emerging markets like China and also demographics that are seeing growth in the number of ultra-rich worldwide-UBS and a firm Wealth X quoted by Bloomberg indicate that 211,000 people globally have a net worth of at least $30 million, up 13 percent in just four years.
As a result, look for continued health of high-line automakers who will continue to pump out new and greater number of offerings for the 1 percent. If you can't buy one, at least the chance that you'll see more exotics on the road continues to grow exponentially.
Gone, but not forgotten
The recent Academy Awards program had its usual tribute to the stars that have died during the previous year, a feature that inspired our video crew to do its own clip on the 2015 models that will soon be passing from the scene. Among those models this year are the Nissan Murano CrossCabriolet (2011-2014), Scion xD (2008-2014), Nissan Cube (2009-2014), Lexus IS-F (2008-2014), Volkswagen Eos (2007-2015) and Jaguar XK (1997-2015). Check out our video.
Smart shoppers know that the demise of a model means there's likely to be deals left on the remaining units on the ground in dealers' hands. Other cars that have ceased production include the Cadillac CTS-V wagon, Land Rover LR2 and the Nissan Xterra.
While Porsche has no plans to drop models this year, a report in Automotive News says that even though sales are going gangbusters for the German automaker, it is looking to perhaps consolidate its dealer body. A top executive told the trade paper that some markets have too many sales points and that the company may use its right of first refusal when a dealer decides to sell to buy back the point.
GM trims production, again
Two weeks ago we reported that General Motors had trimmed Chevrolet Sonic and Buick Verano production at its Orion Township assembly plant in suburban Detroit in order to cut back on growing inventories of the two models. Automotive News reports that downtime has been scheduled at the company's Oshawa, Canada plant as well. The flexible assembly line there will be idled for a week to adjust inventories of the Chevrolet Camaro (which will be replaced by a new model next year), Buick Regal and the full-size Chevrolet Impala and Cadillac XTS.
Also: The Class of 2015 -- New Vehicles Ready to Roll
Currently, Chevrolet is offering incentives of $250 and financing ranging from 3.9-7.9 percent on Camaro and Impala. Buick has just the financing on the Regal, while Cadillac is offering 1.9-56.9 percent financing on the XTS (although 2014 models are eligible for a $5,000 rebate). While GM trims output in Canada, Ford has announced that it is hiring 400 more workers for its Oakville assembly plant outside Toronto in anticipation of spooling up assembly of the new 2015 Ford Edge, which not only has gone on sale in North America, but is set for European and Asian export.
More borrowing, a bit more delinquency
A testament to the robust sales in 2014 is the fact that auto loan and lease originations grew 17 percent in the fourth quarter last year, according to the New York Federal Reserve. According to the Fed, that debt for new and used cars totals $102 billion, up from $87.5 billion a year earlier. The government also said that loan delinquencies grew slightly from 3.35 to 3.45 percent and that total auto debt is nearly $1 trillion. While the delinquencies are always a concern, credit agencies Experian Automotive and Equifax downplayed speculation that a bubble in auto loans is occurring, one that could collapse similar to the way the sub-prime loans took down the real estate market. "From a data perspective, prime [lending] is growing faster than subprime," Amy Crews Cutts, chief economist for Equifax, told Automotive News. "For this to be a bubble...you would think there would be more of an increase in customers coming from that subprime space, but that's not the case."
Meanwhile, according to bankrate.com, "The average rates for 60-month and 48-month new car loans rose 1 basis point to 4.07 percent and 4.04 percent, respectively. The average rate for a 36-month new car loan rose 2 basis points to 4.02 percent." Used car rates remained unchanged at 4.86 and 4.98 percent for respective 36- and 48-month contracts.