This Week in Car Buying: December's top deals; Interest rates up; Women make better hagglers; No more Chrysler 200 dealer incentives; Mopar offers new warranty
by
Matt DeLorenzo
|
December 17, 2015 11:42 AM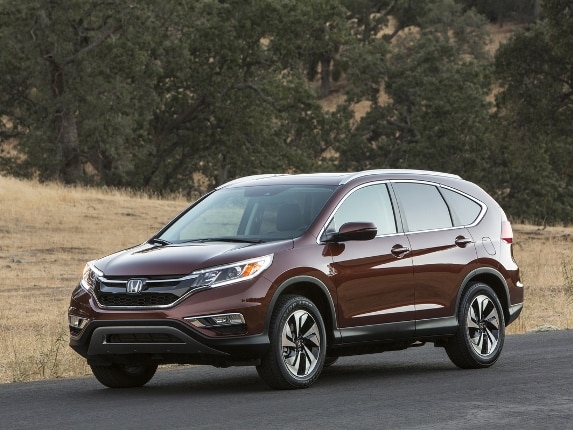 Even top sellers sometimes need a little help as this month's deals, which center on Kelley Blue Book's Best Buy Award winners, shows that there are some pretty attractive offers as makers push their holiday sale events. When looking for a great deal, it helps to focus on the outgoing 2015 version as dealers look to clear out their inventories before the end of the year.
"With holiday shopping in full force, our list of standout December deals focuses on the finalists and winners of the Kelley Blue Book Best Buy Awards, which are designed to help car shoppers identify the cream of the crop of all available new models," said Jack R. Nerad, executive editorial director and executive market analyst for Kelley Blue Book's KBB.com. "This month's 10 Best Deals list places a strong emphasis on value and includes sedans and SUVs, a sleek luxury choice as well as a minivan, sports car and truck. Topping the list is the 2016 Honda CR-V, named this year's Best Buy Award Winner in the small SUV/crossover segment."
The lease deal offered on the 2016 Honda CR-V is enticing-just $229 per month for 39 months and only $299 due at signing. Other Hondas on the list include the 2015 Civic, which has a $200 per month lease deal for 38 months and nothing down, while the 2015 Odyssey is being offered with 0.9-percent financing for 5 years.
In the mid-size segment, the 2015 Kia Optima has a 39-month lease offer at $189 per month and $1,999 down, while Chevrolet's full-size 2015 Impala has a 0-percent financing deal for 5 years. Other Chevrolets with incentives include the 2015 Chevrolet Volt with $1,500 cash back and 0-percent financing for 5 years, the 2015 Chevy Tahoe has $1,000 cash back and the Corvette is eligible for 3.9-percent financing for 5 years.
Ford's best-selling F-150 pickup truck carries a $3,750 rebate, while the 2015 Lexus RX350 is available on a 3-year lease at $399 per month with $2,399 down.
Interest rates rise
As expected, the Federal Reserve has raised interest rates from virtually nothing by 0.25 percent, a move that will impact monthly car payments, although those increases will be minor according to Kelley Blue Book data. Assuming a current rate of 4.81 percent on a loan of $28,524, the Fed's move will boost that rate to just over 5 percent and would increase the monthly payment from $486.30 to $488.80 -- or just $2.50 per month. If the Fed ratchets up rates another quarter point during the upcoming year, the overall year over year increase in month payments will amount to just $5.
However, an economist with the Fed predicts that a rate increase of 1 percent could result in a drop in overall car sales of 3.25 percent, which would be about a half-million vehicles on 17-million sales.
Women drive better lease deals
According to a column in Automotive News by Hannah Lutz, women drive better lease bargains than their male counterparts. The story, based on data from Swapalease, reveals that on average, women have lower lease payments than men for similar vehicles. The study was based on a survey of 2,500 consumers and showed no significant differences in the length of the leases taken out by women versus men, which if women were in longer contracts could account for the difference.
Swapalease found that men paid 17 percent more than women on Toyota Corolla S and Camry LE models and 3 percent more on Ford Explorer XLT and Chevrolet Equinox. Scot Hall, executive vice president of operations at Swapalease told the trade journal that: "It may just be that women are savvier when it comes to negotiating." An earlier 2014 survey by the firm found that a third of female shoppers said negotiating makes shopping "a fun process."
Also: Kelley Blue Book Best Buy Awards of 2016
Dealer incentives on Chrysler 200 end
Smart shoppers may have found really good deals on the Chrysler 200 midsize sedan and while current rebates range from $500 to $2,750 on 2016 models and $500 to $3,500 on 2015 versions, the factory had been putting additional money on the car as an incentive for dealers to hit sales targets. These additional so-called "stair step" incentives could amount to as much as $100,000 per month for a dealer if they hit their objective, according to Automotive News. However, that sales goal was also predicated on moving a minimum number of 200s to activate the payments.
As a result, some dealers were actually buying the cars themselves to reach their objective and then selling the car as pre-owned with little or no miles on the clock. However, Chrysler has now moved that incentive off the 200 and onto the Jeep Cherokee. What buyers may see, then, is less money off the 200, but perhaps much better deals on the Cherokee in the days ahead, especially near the end of the month.
Mopar offers new warranty
Mopar, the parts and service division of Fiat Chrysler Automobiles is offering a new long-term extra cost warranty package that goes above and beyond the standard factory program. Called Complete 360, the plan provides 5-year/60,000-mile or 6-year/75,000-mile coverage that includes scheduled maintenance as well as coverage for wear items like brakes, shocks and struts, wiper blades, alignments, belts and hoses, clutch assemblies, battery, headlamps and more. The latter typically are not covered by the standard warranty.
The Complete 360 program also includes roadside assistance, a car rental allowance, wheel and tire coverage, $1,000 trip interruption insurance and key fob replacement coverage.
The rundown
Infiniti has been buying revamping two of its product offerings including the 2016 Infiniti QX60, which is slated to bow at the North American International Auto Show in Detroit next month. And while its high-performance Eau Rouge version of its flagship sedan isn't going into production, a performance tuned version of the 2016 Infiniti Q50 is.
Mercedes will soon launch the S-Class of full-size SUVs in the 2017 Mercedes-Benz GLS-Class. See our first review.
Meanwhile, Audi is looking to keep up with the competition with its all-new 2017 Audi Q7 sport-ute. This one is lighter and more fuel efficient as our first review reveals.