This Week in Car Buying: Car prices continue to rise; VW Group halts more diesel sales; Cadillac CT6 priced; GM offers military discounts
by
Matt DeLorenzo
|
November 6, 2015 4:23 AM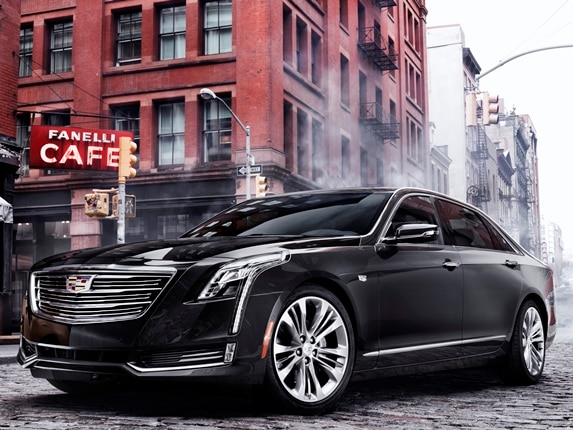 Transaction prices on new vehicle sales continue to rise, posting a gain of 1.4 percent or an average of $458 in October. The average new vehicle transaction price according to Kelley Blue Book data now stands at $34,023, which also represents a $223 increase over the September figure.
"Transaction prices continue to rise with several segments besting the industry average in terms of growth, including full-size SUVs, high performance cars, midsize trucks and vans," said Akshay Anand, analyst for Kelley Blue Book. "From a brand perspective, Chevrolet, Hyundai, Lincoln, Ram and Subaru report superior month-over-month and year-over-year gains. These brands had growth from different segments across their lineups, a promising sign given the increasing popularity of SUVs and trucks."
Overall, General Motors saw a three percent increase in transaction prices. One of the bright spots has been the introduction of the midsize Chevrolet Colorado and GMC Canyon pickup trucks. So far this year, GM has sold 95,000 of those vehicles, exceeding in 10 months some industry projections of what the company would be able to sell in a year. The Colorado and Canyon are also selling with little or no incentives, which will prop up transaction prices.
The only brand to see a drop was Volkswagen, which saw its average transaction drop 3.6 percent from September and 1.8 percent year-over-year. The decline is attributed to the bad publicity from the diesel scandal, increased incentives on the gasoline models and the fact that VW stopped selling its 2.0-liter TDI models, which generally command a premium over gasoline versions.
Also: Kelley Blue Book Best Buy Awards of 2015
VW Group stops diesel sales across all brands
In addition to suspending sales of 2015 and 2016 2.0-liter TDI 2015 VW Golfs, Jettas and Beetles as well as similarly-equipped Audi A3 models, the German auto group has also stopped selling vehicles powered by the 3.0-liter V6 diesels across the VW, Porsche and Audi lines.
The halt in sales for these 2013-2016 models was prompted by additional allegations that these engines also had defeat software allowing them to pass emission tests and then revert to a higher emission mode when being driven on the street. All these vehicles are equipped with the AdBlue urea injection designed specifically to control NOx emissions. The affected models include the Porsche Cayenne, VW Toureg and Audi A6, A7, A8, Q5 and Q7 models.
2016 Cadillac CT6 priced, set for March launch
Cadillac announced pricing for its 2016 CT6 flagship sedan which will now go on sale in March. The all-new sedan will be offered in rear-drive and AWD configurations along with a choice of three drivetrains. The base rear-drive model will be powered by a 2.0-liter 4-cylinder turbocharged engine and start at $53,495. The CT6 equipped with all-wheel drive and a normally aspirated 335-horsepower 3.7-liter V6 carries an MSRP of $55,495. The 400-horsepower twin-turbo V6 CT6 AWD will start at $64,395 and top out at $83,465 for the Platinum trim level. All prices exclude $995 delivery.
"The CT6 is an entirely new approach to prestige luxury, adding driving dynamics and technology while reducing the bulk of traditional large sedans," said Johan de Nysschen, president of Cadillac. "With the CT6, Cadillac has a competitive edge: our use of advanced lightweight construction and innovative technology, it is prestige luxury reimagined."
GM expands military discounts
Just ahead of Veterans Day on Nov. 11, General Motors is expanding its military discounts offered to active duty, reserve and retired service personnel to 23 million veterans and their spouses. The military discounts, first offered in 2008, feature below MSRP pricing for eligible Chevrolet, Buick and GMC vehicles and are typically given to active, reserve, retired or veterans within a year of discharge and their spouses. GM's expanded program extends those discounts regardless of separation date.
"As current and former members of our armed forces celebrate Veterans Days and the holidays with their families, we want to show our appreciation for their service," said Steve Hill, GM vice president of U.S. sales and service. The program runs until January 4, which matches the expiration date of Ford's recently announced Friends & Neighbors program that offers below-MSRP employee pricing to the general public.
While some see it as the start of an incentive war, Mark LeNeve, Ford's vice president for U.S. marketing, sales and service, told Automotive News that "The Friends & Neighbors event does not escalate our incentive spending. We're going to have a simple, compelling consumer offer that we know from history is highly valued by the consumer."
The program is designed to offer no haggle pricing within $200 of dealer invoice for eligible vehicles. Some of these discounts can be substantial as the report indicated Ford's website as listing discounts ranging from $3,238 on a 2016 Explorer XLT up to $10,388 on a 2015 F-150 XLT SuperCrew.
"We're in a strong market, but it's a very competitive market with a lot of activity out there," LeNeve explained. "We anticipate that this holiday season we're going to see considerable ad spending. We're going to have a lot of clutter in the marketplace and a myriad of incentive offers for customers to try to figure out."
Also: See the New and Redesigned Cars of 2016
The rundown
With a starting price of $30,305, the limited run 2016 Scion FR-S Release Series 2.0 model has been introduced. Only 1,000 will be built.
A facelifted 2016 Mirage is expected at the Los Angeles Auto Show, but in the meantime, buyers who fancy a great sound system can find it in the 2015 Mitsubishi Rockford Fosgate Edition. The amped-up hatchback starts at $15,755.
Long rumored to be on the chopping block, the Honda's 2-seat CR-Z hybrid will continue in the lineup. The Japanese automaker unveiled the 2016 Honda CR-Z Hybrid that has a new face and cabin upgrades.