New fuel-economy window sticker coming for 2013
by
KBB.com Editors
|
May 26, 2011 8:55 AM
After nearly a year of discussion and deliberation, the Department of Transportation (DOT) and the Environmental Protection Agency (EPA) have finally unveiled their final take on a new-and-improved fuel-economy label that will become the industry standard starting with 2013 model year offerings. The revamped format will feature three distinct variations, covering vehicles with liquid-fueled, electric and hybrid powertrains. More comprehensive in scope than the sticker it replaces, it also will place each vehicle into a comparative context vis-à-vis other members of the fleet with respect to average fuel economy, greenhouse gas emissions and smog production levels. As expected, the new label does not include the controversial letter grade element that was initially presented for consideration.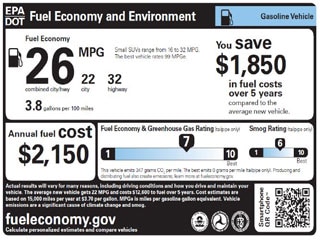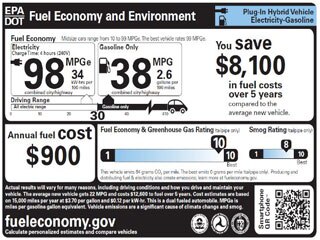 Created to comply with the requirements of the Energy Independence and Security Act of 2007, the new EPA labels represent the most sweeping change in the way fuel economy and related vehicle information is presented to consumers since the program was started over 30 years ago. In addition to providing conventional mpg ratings -- and MPGe equivalency marks for plug-in hybrid and pure electric vehicles -- the sticker will provide potential buyers with a whole new range of information, including things like how much fuel or electricity it takes to travel 100 miles, ways to compare energy cost/use between conventional and alternative fuel vehicles, estimates on likely fuel costs and/or savings over a five-year period compared to the average new vehicle and information on the driving range and recharge time for an EV.
These new EPA stickers also will feature a "QR Code" that will allow smartphone users to access online information about the comparative stats of various new models as well as download data about their own driving patterns and get a more precise estimate of fuel costs and savings they could realize.
"The EPA and DOT are creating a new generation of fuel economy labels to meet the needs of a new generation of innovative cars," said EPA Administrator Lisa P. Jackson. "Today's car buyers want the best possible information about which cars on the lot offer the greatest fuel economy and the best environmental performance. These new labels provide comprehensive information to American car buyers, helping them make a choice that will save money at the gas pump and prevent pollution in the air we breathe." U.S. Transportation Secretary Ray LaHood followed up Jackson's statement by noting: "Our new fuel economy and environmental labels are a win for automobile consumers and for the nation's energy independence."
With the consumer automotive side of the labeling game now complete, the administration is preparing to take on new challenges in this arena. In July, it will finalize its first-ever national fuel economy and greenhouse gas emission standards to cover commercial trucks, vans and buses built in the 2014-2018 timeframe. Two months later, it plans to announce a proposal for the next generation of joint fuel economy/greenhouse gas emission standards that will apply to all model year 2017-2025 passenger vehicles.