by
Bob Nagy
|
March 20, 2014 1:15 PM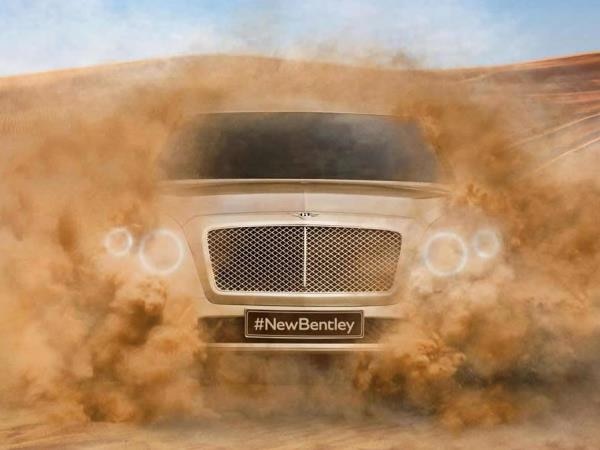 Offering no new facts on its official name or mechanical makeup, Bentley has released a teaser image of the automaker's first ever SUV at a press conference in London. The brief release accompanying the photo reiterated previous statements by Bentley Chairman and CEO Dr. Wolfgang Schreiber, that this groundbreaking addition to the Bentley lineup "will create a completely new segment in the SUV market" and be both the most luxurious and the most powerful vehicle of its kind when it does hit showrooms sometime in calendar 2016. Based on this artsy preview pic, Bentley's primo on/off-roader has shed a good deal of the design quirkiness seen on the original EXP 9 F Concept SUV unveiled at the 2012 Geneva Auto Show. Its new production-ready face displays a good deal of current Bentley character, with its grille and dual-lamp treatment closely resembling the latest Continental.
If this new Bentley is going to be the most powerful SUV in the game, it's likely to be fitted with a form of the 616-horsepower/6.0-liter twin-turbo W12 used in the Continental and Flying Spur. That speculation was reinforced by Schreiber's follow-up announcement that Bentley's factory in Crewe has been named the center of excellence for all W12 engine production in the entire Volkswagen Group from the end of 2014 onwards.
Also: 12 Best Family Cars of 2014
Given Bentley's global ambitions for its new SUV, expect to see it offer several other engine choices including an existing 4.0-liter twin-turbo gasoline V8 as well as a potent turbodiesel for some markets. That latter role would be nicely filled by the torque-rich 4.2-liter V8 currently fitted to the Porsche Cayenne Diesel S model. On the green front, Bentley has already confirmed a plug-in hybrid version of this new SUV will be introduced sometime in 2017. Pricing for this adventurous new Bentley is expected to start around $200,000.
More Premium SUVs and Crossovers...
Cadillac has taken the all-new 2015 Escalade to a new level of luxury
The redesigned 2015 GMC Yukon and Denali are full-size fantastic
Excellently efficient, the new 2014 Porsche Cayenne Diesel delivers on all counts
Popular at KBB.com