Mazda MX-5 Speedster and MX-5 Spyder Concepts previewed
by
Bob Nagy
|
October 29, 2015 10:52 AM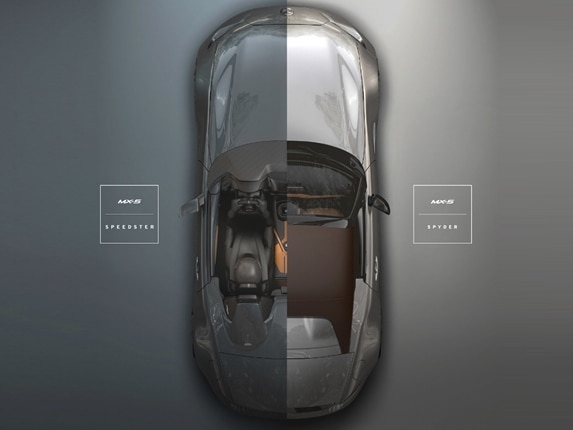 Mazda will show a pair of new lightweight one-off versions of its MX-5 Miata next week at the Specialty Equipment Market Association (SEMA) Show in Las Vegas. The cars were created to explore two different possible venues for this iconic 2-seater and each weighs "significantly" less than the 2,332-lb standard MX-5 model.
Retro cues
According to Mazda, the MX-5 Spyder, which is finished in custom Mercury Silver, embodies the fundamental character of a vintage roadster brought up to modern spec but displaying classic detailing in its handcrafted leather interior.
Also: Class of 2016 -- New Cars Ready to Roll
The MX-5 Speedster also recalls an earlier era, but takes things to a more extreme level. Reflecting the flair of minimalist 50's-era roadsters, the car is even lighter and sets off its Blue Ether exterior with a cut-down wind deflector. Both feature components from Racing Beat, Haartz Corporation, ASC - American Sunroof Corporation, Makin Industries/RAYS Wheels, KW Suspensions, Delta Seat, H&R Springs, Lusch, AC&A Manufacturing, Franks Fab Shop, Long Road Racing and SIM Specialty Interior Manufacturing. We'll see if either car has the possibility of making it into production.