Infiniti QX30 Concept first look
by
Bob Nagy
|
February 5, 2015 11:28 AM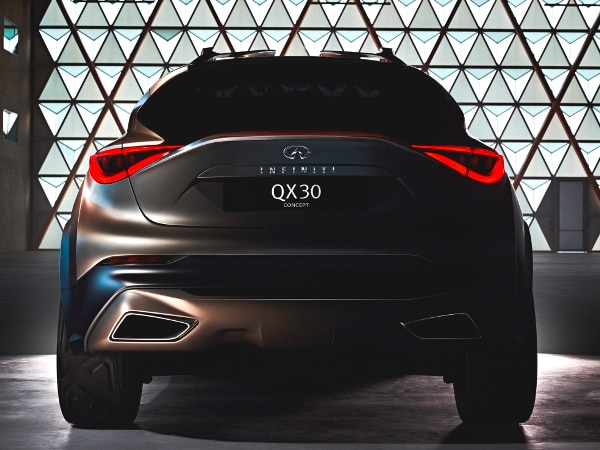 Previewing a new luxury compact crossover the automaker claims will meet the needs of upscale customers "searching for a product to suit their urban week and get-away weekend lifestyle," the Infiniti QX30 Concept will be hitting the show stand next month at the Geneva Auto Show. Aimed at the Audi Q3 and BMW X1, this compact luxury crossover SUV sports bolder styling cues that the previous Infiniti Q30 Concept that debuted at the 2013 Frankfurt Auto Show. This higher-profile variation on the theme retains that model's basic coupe-like character but offers more of a command seating position and even greater interior flexibility.
Also: The Class of 2015 -- New Vehicles Ready to Roll
According to the brief accompanying release, the QX30 Concept "foreshadows an urban explorer which is equally at home in the city as it is on the open road." Infiniti has yet to reveal exactly what that will mean with respect to key details like the QX30 Concept's drivetrain configurations and in-vehicle connectivity. However, the production QX30 - as well as the upcoming Q30 hatch that should be rolling out late this year - are expected to be spun from the same platform found under the Mercedes-Benz A-Class/B-Class vehicles and be fitted with a modified version of the M-B 4-cylinder turbo engine used in those vehicles..
More Concept Vehicles...
The Hyundai Santa Cruz Concept previews a possible production compact pickup
Toyota's Urban Utility Concept is loaded with potential
The hot Volkswagen Golf R 400 Concept is almost certain to see production