Honda Civic Type R Concept teased for Geneva
by
Bob Nagy
|
February 13, 2014 9:20 AM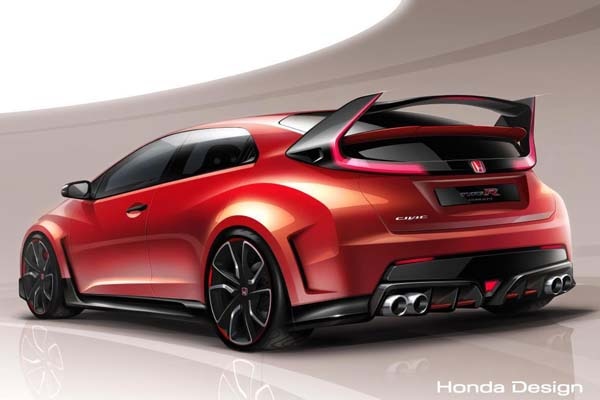 Providing an early peek at a fast future, the Honda Civic Type-R Concept is set to debut at the Geneva Auto Show in March. A precursor to a production Type R model due to hit showrooms in Europe sometime next year, this potent one-off matches high-profile bodywork with high-performance suspension and powertrain elements, to create a "racing car for the road."
10 Best Luxury Cars Under $40,000
Although the volume-build Type R is destined to lose a bit of the Concept's visual impact, it's expected to arrive carrying the same turbocharged 2.0-liter VTEC 4-cylinder "Earth Dreams" engine that will reportedly crank out at least 280 horsepower and quite possibly more. With that kind of power on tap, Honda believes the 2015 Civic Type R will be able to set a new lap record for front-drive vehicles at Germany's fabled Nurburgring race circuit. Sadly, like the previous Civic Type R that went out of production in 2010, this first-ever turbo Civic won't be coming to America.
More Concept Cars...
Kia's cool GT4 Stinger Concept could spawn a real-world production model
The Mini John Works Cooper Concept previews an ultimate "new-gen" hardtop
Nissan's Sport Sedan Concept is a precursor of the next-gen Maxima
Popular at KBB.com