Freedom Machines: Getting your First Car
by
KBB.com Editors
|
July 5, 2012 10:35 AM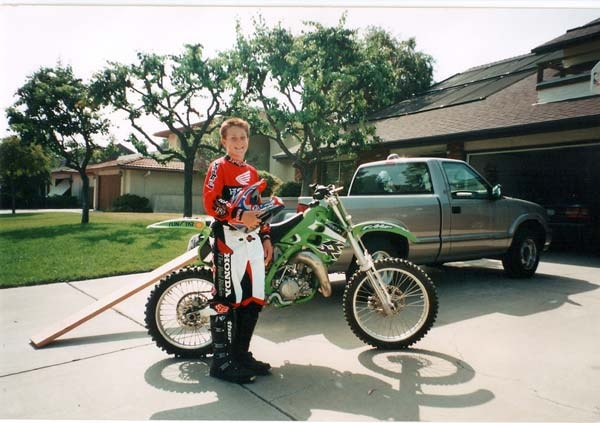 The Fourth of July is officially Independence Day, marking America's independence from the "mother country" of Great Britain. That has a special meaning to us at Kelley Blue Book because no invention is more symbolic of independence than the automobile. The memory of getting your first car is, no doubt, attached to the feeling of freedom that having your own wheels gave you. Fill up the tank, turn the key and you are ready to go anywhere at any time. No bonds, no bounds. That, my friend, is independence.
So in honor of Independence Day our social media mavens are kicking off a two-week photo contest called "First Car Freedom." We're asking folks to share a picture of their first car to enter, and we'll draw three winners at random from the entrants to receive another access to freedom — a $200 gas card. The contest can be accessed on our Kelley Blue Book Facebook page, where you can share your personal story, your car's photo and enter to win.
In the interest of getting the party started, our editors have chimed in with their own "First Car" stories:
My first car was a 1983 Ford Escort with silver sheet metal and a triple-red interior: red dash, red carpet and red vinyl seats. The color scheme and curb weight — about 2,000 pounds — are the stuff of a great driver's car, but the internet tells me I was only working with 65 horsepower through that 4-speed manual. My friend Andy and I flew to Seattle and drove the hand-me-down gift from my grandparents 1,200 miles back home to Orange County, California. Six months later my first car was summarily cast aside for my first love: a 1985 Volkswagen GTI. —Jason Allan, Managing Editor, Online Content
$700 went a long way back in 1974. In my case, it went all the way back to an indestructible 1966 Ford LTD 4-door with a 289 V8 and 3-speed Cruise-O-Matic transmission. It was the first time I ever drove over 100 miles per hour, and the first time I ever risked suicide by trying to replace drum-brake return springs. (One false move and the spring would fire off the brake assembly like a bullet). Cold-blue-steel metallic in color and "executive" styled, the LTD sedan was my parents' insurance policy that I would remain a virgin throughout high school. —Rich Homan, Senior Vehicle Evaluation Editor
Following countless years of incessant begging, my parents ultimately caved in to my requests for a dirt bike. Still a few years shy of obtaining a driver's license and lacking the means to transport my new motorcycle, my dad reluctantly accepted the prestigious title of weekend chauffer and purchased a champagne gold 1998 GMC Sonoma pickup. When it came time to hand over the keys, the officially dubbed "Gold Shark" was decidedly ill-prepared for the ensuing onslaught of teenage automotive hooliganism. Subsequently, a bent frame, blown head gasket and a portable CD player ingeniously super-glued to the carpet carried with it a one-way ticket to the junkyard. —Zach Vlasuk, Associate Editor
Being the youngest in the family meant I was the de facto receiver of hand-me-downs, and this of course extended to my first car: a 1985 Ford Tempo sedan. Off-white and with a top speed that felt slower than the go-cart from which I was graduating, that car nonetheless served me well and opened the door to the freedom that is finding an open road and going wherever it leads. Two decades later, Ford Tempos are all but nonexistent, yet the memories will always remain. —Matt Degen, Senior Associate Editor
My first car was a dark blue 1988 Isuzu Trooper 4WD two-door with a 5-speed manual transmission. Shortly after purchase it developed a mysterious problem where the engine would stall, absolutely refusing to idle without my foot working the throttle. The stalling issue inspired panic, flop sweat and awkward early experiments with left-foot braking. And yet, my Trooper love endured. If Isuzu could have somehow capitalized on the ignorant infatuation of 16 year olds they might still be selling cars in America. —Micah Muzio, Managing Editor, Video
As the youngest of three brothers, I was the last in line to receive the 1987 Honda Civic that was the designated car for first-time drivers in our family. The car was bland but, luckily, my brother who had possession of it before me decided to spice it up by lowering it, slapping on a 5-inch exhaust tip and covering it with stickers in race-car fashion. The car looked ridiculous, and I would constantly get egged on for stoplight drag races, so it was too bad it only had 76 horsepower. —Joseph Santos, Road Test Editor
My first car was a 1966 Dodge Dart coupe with a small-block V8 and a Torqueflite automatic. Originally owned by an accountant for Chrysler Corporation, I acquired it for $180 with 78,000 miles on the odo. It was still engagingly quick but in serious need of major TLC to counteract abuse sustained while in the hands of her far-less-conscientious kids. After a summer spent getting the Dart mechanically sound and cosmetically smooth, it became my daily driver for two trouble-free years before turning into my dad's work commuter for three more seasons. Sadly, this stalwart mount met the same fate as so many other Ohio cars: terminal body rot caused by too many winters of overexposure to toxic road salt. —Bob Nagy, Senior Editor, News & Trends
For some reason I became enamored of cars of the 1920s when I was in my early teens, and my dad suggested that if I got an old clunker and fixed it up I could then drive it to high school. After a lengthy search I ended up buying a then 40-year-old 1926 Nash Light Six and started the restoration process. Amazingly, I still own the car 45 years later, and I'm happy to report it is almost done. —Jack R. Nerad, Executive Editorial Director
Okay, those are our first-car stories. Now we'd like to see and hear yours. Visit our Kelley Blue Book Facebook page to enter the contest.