Fisker teases The Force 1 for Detroit
by
Bob Nagy
|
December 15, 2015 12:39 PM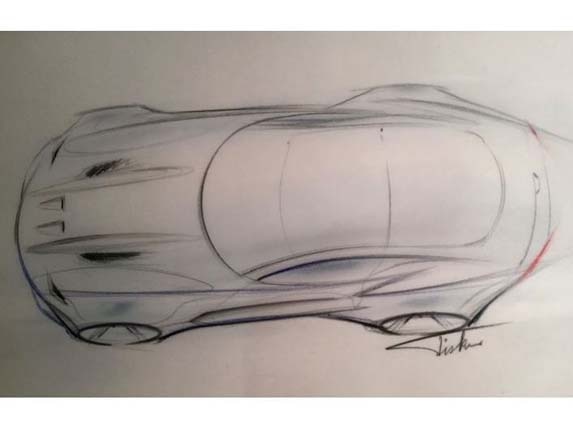 Designer Henrik Fisker is readying a pair of new dream machines that will debut next month at the North American International Auto Show in Detroit. While one remains a mystery, Fisker has released a sketch along with a bit of information on what will be a limited edition model called The Force 1. Based on "an American sportscar" -- which from its other design elements would seem to imply Corvette underpinnings -- the front-mid-engine 2-seater will feature aggressive full carbon fiber bodywork, active suspension and ride on 21-inch alloys wrapped in Pirelli P Zero performance tires. While giving no specific performance data, Fisker says output of The Force 1's naturally aspirated engine will rank near the top in power compared to any vehicle currently available and that it can be paired with either a 6-speed manual or paddle-shifted automatic transmission.
Also: Class of 2016 -- New Cars Ready to Roll
To ensure an outstanding dynamic character, Fisker co-developed The Force 1 with "an acclaimed American race car driver and his team." To be priced from just under $300,000, up to 50 units of The Force 1 will be manufactured at a facility in Michigan with production said to start next April. "I believe there is room in the market for a daily driver that embodies all the attributes of the best track racing car and the comfort of a luxurious sports car" he notes.
More Concept Vehicles...
The Audi e-tron Quattro Concept previews the upcoming Q6 crossover
Mazda Koeru Concept offers a look at a new compact crossover model
Porsche Mission E Concept: a 600-hp EV on the fast track to production