Kelley Blue Book Best Buys of 2016: Small Car
by
KBB.com Editors
|
November 12, 2015 2:40 PM
"Game-changing" isn't a term we use lightly, but it's apt for the 2016 Honda Civic. All-new and now in its 10th generation, Honda's venerable compact car has thrown down the gauntlet for the rest of the segment. Thanks to a top-to-bottom revamp, Honda's latest Civic is the most sophisticated yet -- and will leave competitors scrambling to catch up.

2016 Honda Civic

All-new Civic again sets the pace for the small car segment.
"Game-changing" isn't a term we use lightly, but it's apt for the 2016 Honda Civic. All-new and now in its 10th generation, Honda's venerable compact car has thrown down the gauntlet for the rest of the segment. Thanks to a top-to-bottom revamp, Honda's latest Civic is the most sophisticated yet -- and will leave competitors scrambling to catch up.
This marks the Civic's second year in a row winning the title of Kelley Blue Book Best Buy among small cars. That outgoing model was and is a winner; the all-new Civic shines even brighter. In addition to taking the top spot for this year's Best Buy among small cars, this all-new Civic was also named this year's Overall Winner among all 2016 Kelley Blue Book Best Buys.
Class-above Looks and Feel
Get into a 2016 Honda Civic -- especially the new, top-line Touring model -- and you might think you're in a premium midsize sedan. This is a car you just want to be in, whether that's in front or back. The driver's seat is highly ergonomic and grants a superior position behind the wheel. The rear seats require some finesse to get in and out of, but once there adults will find excellent legroom and possibly the most comfortable rear seats available in a mainstream compact car. You might just prefer them to your sofa.
The class-above characteristics carry over to the Civic's exterior and interior design. The new Honda Civic looks at once mature in the here and now and futuristic enough to be a show car. Practically, its trunk is large, the interior is filled with nooks and crannies to gobble gear, and this sedan's overall fit and finish exudes quality.
New Engine, New Technology
New powerplants make the new Civic more powerful and more fuel-efficient. In the sedan, the first of the Civic family to launch for 2016, lower trims come with a 2.0-liter 4-cylinder engine, while the majority of others use a 1.5-liter turbocharged 4-cylinder. Don't let the latter's size fool you: It puts out an impressive 174 horsepower. All models except a base LX are connected to a stellar continuously variable transmission (CVT). For the few drivers who do want to shift for themselves, a 6-speed manual is available with the LX, and at under $19,500, it's the least-expensive Civic, to boot.
While hybrid and compressed natural gas (CNG) variants of the Civic have exited stage left, the all-new models are exceptionally efficient. Those with the 2.0-liter engine and CVT earn up to 41 mpg/highway, while Civics with the 1.5-liter turbo are rated at a hybrid-like 42 mpg.
The new Honda's infotainment system has been upgraded, and models fitted with navigation now feature more robust graphics and a quick processor. Unfortunately, physical knobs for volume control and tuning are still MIA. Adjustments to most climate settings in our Touring test model are also touch-based and require multiple steps to, say, change the fan speed.
A Safe Bet for Every Buyer, With More on the Way
The 2016 Civic sedan is available in a wide range of trims, starting under $20,000 for an LX to over $27,000 for a Touring model. Those are good values, and even more so when you consider the Civic's enviable reputation for high reliability and resale value. But perhaps the best news is that you don't have to buy the most-expensive trim to get the Civic's latest safety features. Any trim can be had with the impressive new Honda Sensing package that bundles advanced safety and driving aids like radar cruise control, collision mitigation braking, lane keeping assist and road departure mitigation.
The new Civic sedan is available now, and more variants are on the way. You probably already expect the familiar 2-door coupe and sporty Si variants, but more excitement awaits in a 5-door hatch Civic and a performance-oriented Type-R, which in Euro-spec form makes over 300 horsepower. Stay tuned for more on these fresh new Civic models closer to their U.S. arrival.
More 2016 Honda Civic
If you want to soak up more of Honda's latest winner, read our 2016 Honda Civic full review. Ready to take the next step? Build and price your own Civic to unlock its Fair Purchase Price, 5-Year Cost to Own and more. And if you want to cover all your bases, head straight to our Compact Car Buyer's Guide.
2016 Small Car Best Buy Finalists

As with all our Best Buy categories, there were multiple nominees in the Small Car segment, and any one of them could be your personal winner. For example, if you want a stylish, safe and sophisticated hatchback for less than $20,000, there's the all-new Scion iM, while the Toyota Corolla and Hyundai Elantra have become stalwarts of value and easy driving manners. Here are the finalists, in alphabetical order: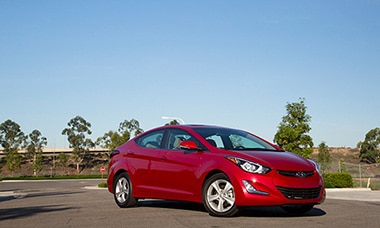 2016 Hyundai Elantra
A Blueprint for Value
The 2016 Hyundai Elantra Value Edition plays like it was made to be one of our Best Buy finalists. Based on the Elantra SE sedan (which starts at around $18,000 and stands quite nicely equipped), the Value Edition adds goods like a power/tilt sunroof, push-button start, heated front seats, a leather-wrapped steering wheel and shift knob, and a 6-speed automatic transmission. All for a sticker price of just $20,650.
Plus, it's a Hyundai Elantra, which means you'll get a fresh, stylish compact sedan that's quiet, comfortable and engaging to drive. The base 145-horsepower 1.8-liter 4-cylinder engine is well matched to the 6-speed automatic for easy acceleration and capable passing power, but if you really need to put power first, go for the 173-horsepower 2.0-liter four in the Sport sedan and GT hatchback models. Both engines are also available with a 6-speed manual gearbox if you're that kind of driver.
In the 2016 Hyundai Elantra cabin, you'll enjoy very comfortable seats enhanced by quality materials and a suspension setup that absorbs both staccato road bumps and whooping swales. Two bonuses: Hyundai's 10-year/100,000-mile powertrain warranty, and the fact that resale value on Hyundai vehicles is gaining strength every year.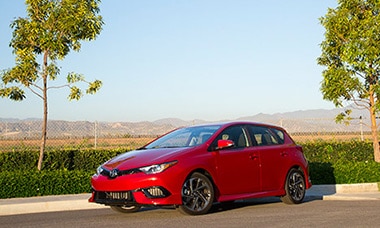 2016 Scion iM
Hot Hatch, All Grown Up
The iM is all-new to Scion, and it brings a newfound maturity to Toyota's youth-skewed brand. This five-door hatchback stands out for its array of standard features that include dual-zone climate control, backup camera, 7-inch touchscreen infotainment system and 17-inch alloy wheels. Even more impressive is the fact you get all that in a car that starts under $20,000. Opt for a manual transmission instead of the CVT automatic, and that price decreases to just over $19,000.
Beyond a price tag that's enticing for younger drivers and other buyers on a budget, the new Scion iM packs versatility by design. Hatchbacks have the inherent ability to swallow a surprising amount of stuff with the rear seats folded, and this one carries that trait of interior flexibility while also boasting an energetic exterior design. As we stated in our 2016 Scion iM review: "Design-wise, the Scion iM keenly embraces the tuxedo T-shirt philosophy: It wants to be formal, but it's also here to party."
The Scion's 137-horsepower engine won't win many drag races, but at up to 37 mpg, it is very fuel-efficient. The iM's tidy size makes it easy to drive in urban environments, while its 2-year/25,000-mile no-cost maintenance program makes it easy to own. Throw in Scion's reputation for strong reliability and high resale value, and the iM finalist status as a Best Buy contender is a no-brainer.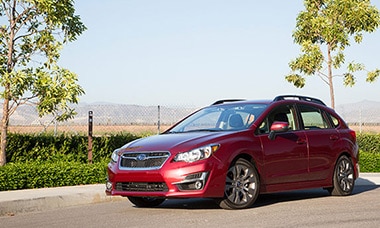 2016 Subaru Impreza
Winter is Coming. Be Ready.
Assume what you will, think what you like, but never, ever forget: Any car that comes with standard all-wheel drive is worth paying attention to. With one of the more impressive all-wheel-drive systems around, the 2016 Subaru Impreza -- particularly the 5-door Wagon, which cuts a highly attractive profile -- offers outstanding resale value. The best-value Imprezas come with a non-turbocharged 2.0-liter flat-4 engine. As such the 148 horsepower and 145 lb-ft of torque have to work pretty hard to get the all-wheel-drive car up to speed, but you can drive it surprisingly hard if that's your thing (all-wheel drive helps handling in the dry as well as in the wet or snow). If you plan to go to war, you can win by spending more for the turbocharged WRX (268 horsepower) or the STI (305 horsepower).
On the practical side, the 2016 Subaru Impreza 5-door offers superb cargo space under the rear hatch, as well as firm, comfortable seats over long distances and a very livable interior. Even the rear seats are decent for a compact car, and headroom feels limitless in every spot. Pricing for the Subaru Impreza starts just a nudge over $19,000, but at that price you'll be shifting your own gear with a manual transmission. A continuously variable automatic transmission is available.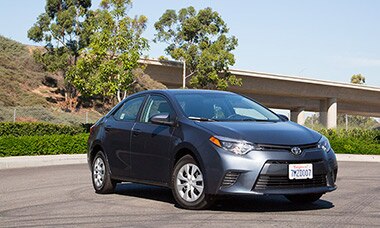 2016 Toyota Corolla
Can't Stop Making Sense
If car-buying wisdom fills your bountiful heart, and reliability and resale value make you glow, then you and a lot of other car buyers have the same idea about a best buy: The 2016 Toyota Corolla. Toyota's compact sedan is a standard bearer for surety without showmanship or pretense. The Corolla is virtually guaranteed to get you to your destination without beating you up on the way or surprising you with any irritating quirkiness. The interior materials are high-quality, and the rear seats were the roomiest of anyone's in our Best Buy field of compact cars.
2016 Toyota Corolla prices start just a few dollars above $18,000, and while that price doesn't net you a host of standard equipment, you can still get an automatic-transmission version that gets 42 miles per gallon on the highway for under $20,000 (the LE Eco model). The Corolla wasn't the quietest compact car in our group, nor was it the most dynamic, but in many ways -- many ways that translate into value for a buyer on a budget -- it is one of the surest bets you can make in the small car segment.