2016 Hyundai Tucson Concept boasts 700+ hp
by
Bob Nagy
|
September 22, 2015 12:35 PM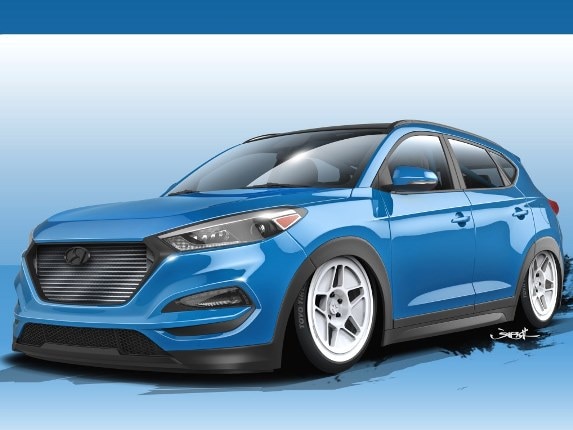 Hyundai released the first image of its upcoming 2016 Tucson "Brute Ute" Concept that will debut in November at the 2015 SEMA (Specialty Equipment Market Association) Show in Las Vegas. Built in association with Bisimoto Engineering, the "Brute Ute" packs a turbocharged version of the automaker's 2.4-liter Theta II 4-cylinder engine that develops over 700 horsepower and is backed by a 6-speed manual transmission. To complement that massive 530+ bump in pony count, the first-ever crossover built by its long-time SEMA partner, Bisimoto, also gets major revisions in other areas, including bolder exterior/interior treatments and a major chassis upgrade.
Also: Class of 2016 -- New Cars Ready to Roll
The Brute Ute Tucson sports a huge intercooler that occupies the space normally reserved for the grille, but this "street fighter" hauler also sports a set of 19-inch white-finish racing wheels wrapped in sticky R-compound rubber and rides on a full air suspension. Inside, a Bisimoto 4-point roll cage, racing seat and Racepak IQ3 instrument cluster are complemented by a killer 650-watt Harman Kardon Infinity sound system and custom leather upholstery.
Also: Kelley Blue Book Best Buy Awards of 2015
"The 2016 Tucson was the perfect platform for this year's build, offering me the opportunity to captivate a wider audience by tapping into the growing popularity of the CUV market," said Bisi Ezerioha, owner and chief engineer, Bisimoto Engineering. "After hundreds of hours of testing and developing new engine components, we're confident that this power plant can handle what we're asking from it, delivering a fresh, race-bred take on the 2016 Tucson with performance and reliability at its core."
More Concept Vehicles...
The Audi e-tron Quattro Concept previews the upcoming Q6 crossover
Porsche Mission E Concept: a 600-hp EV on the fast track to production
The Toyota C-HR Concept crossover could see showrooms here wearing a Scion badge
POPULAR AT KBB.COM