2016 Chevrolet Spark teased for New York
by
Bob Nagy
|
March 9, 2015 9:47 AM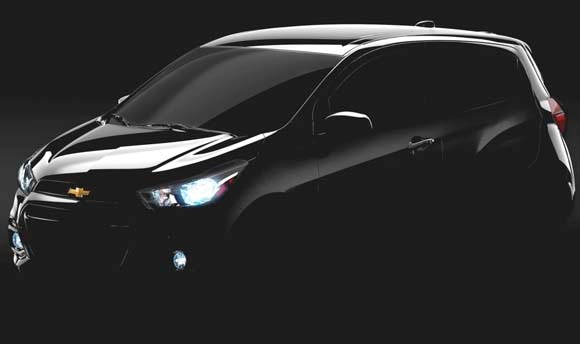 Due for a simultaneous reveal early next month at the New York Auto Show as well as in Seoul where it will be produced, the 2016 Chevrolet Spark has surfaced in this first official preview image. Despite Chevy's best efforts to hide the finer details, it's clear the remake has given the subcompact Spark a slightly more sophisticated overall character, losing some of its exterior "quirk" while gaining a sleeker rising shoulder line and additional Chevrolet cues, particularly in the front fascia treatment.
Also: The Class of 2015 -- New Vehicles Ready to Roll
Although he offered no technical details on the 2016 Spark, Michael Simcoe, GM International vice president of Design confirmed that the look of this 5-door hatch has "evolved and grown up with the segment," adding: "The youthful whimsy of the original Spark is still in its genes, but it is conveyed in more traditional proportions that reinforce the customer's refined expectations."
Also: Kelley Blue Book Best Buy Awards of 2015
The new Spark will share its platform and design basics with the Opel Karl that debuted at the Geneva Auto Show. We'll have to wait a bit to see if that commonality also extends to the Karl's new 1.0-liter/3-cylinder turbocharged Ecotec engine that makes 74 horsepower in Euro trim or if the new Spark will keep the current 1.2-liter/84-horse 4-cylinder powerplant. We're also awaiting word on the fate of a next-gen Spark EV.
More Compact Cars
Check out our Compact Car Buyers Guide for a look at what's new and what's next.