2013 Volkswagen Passat TDI sets new Guinness mpg mark
by
Bob Nagy
|
June 24, 2013 6:31 PM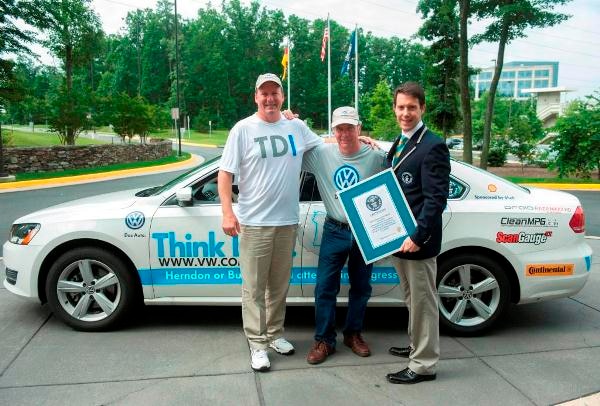 Driving a stock 2013 Volkswagen Passat TDI fitted with a 6-speed manual transmission, the team of Wayne Gerdes and Bob Winger has established a new Guinness World Record in the rather awkwardly named "lowest fuel consumption -- 48 U.S. states for a non-hybrid car" category. Starting out from VW's headquarters in Herndon, Virginia on June 7 and finishing there on the 24th, Gerdes, Winger and the Passat TDI rolled up 8,122 miles in the process of touching all the contiguous states, using just 104.94 gallons of Shell diesel fuel to average an amazing 77.99 mpg. Not only is that figure more than 10 mpg better than the previous mark of 67.9 mpg, it also eclipsed the existing Guinness record for hybrid vehicles by over 13 mpg. Interestingly enough, Gerdes, a well-known "hypermiling" expert and founder of cleanmpg.com, also holds that honor with a 64.6-mpg average.
Also: Your 12 Midsize Sedan Choices
For its successful Guinness attempt, the Passat TDI wore Continental PureContact with EcoPlus Technology low-rolling-resistance tires and relied on a Linear Logic ScanGauge II to precisely measure fuel economy - which is officially recognized by the EPA as being 31 city/43 highway mpg when fitted with a manual gearbox. While Gerdes admitted that he and Winger did employ some "specialized techniques" to handily shatter the record for this category, he also offered three simple guidelines to help owners of any vehicle improve their mileage. First, plan ahead and be proactive rather than reactive in dealing with potential impediments and/or topography down the road to help conserve momentum whenever the vehicle is cruising. Second, moderate both acceleration and braking, and coast between intersections when possible. Finally, obey speed limits. The increased impact of wind resistance caused by stepping up the pace from 55 mph to 75 mph can trim fuel economy by as much as 30 percent in some vehicles.
You Should Also Know...
We put the 2013 Honda Accord and Toyota Camry in a head-to-head shootout
The all-new 2014 Mazda Mazda6 is a true driver's car
The 2013 VW Jetta Hybrid gives the automaker seven cars with 40+ mpg