Ford Mustang to star in upcoming 'Need for Speed' movie
by
Bob Nagy
|
June 10, 2013 1:33 PM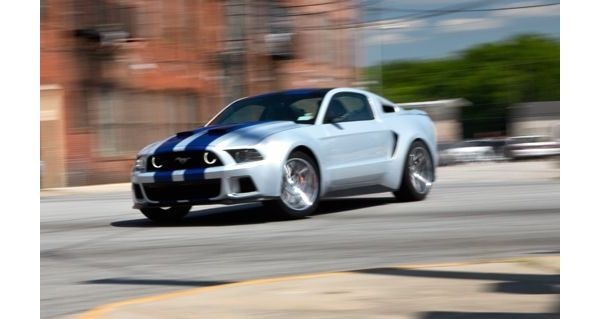 Ford Motor Company and DreamWorks Studios have announced a new partnership that will see a custom-designed Ford Mustang play a prominent role in the upcoming "Need for Speed" movie. Set for release next March, the film is based on the hugely popular Electronic Arts video game series. Ford Motor Company's Jim Farley, Executive Vice President, Global Marketing, Sales and Service, characterized the action epic as chronicling a near-impossible cross-country journey that begins as a mission for revenge but turns into a journey of redemption. As part of that transformation, the Mustang will become an integral part of the "mythology of the movie."
Also: Your 12 midsize sedan choices for 2013
Designed and created by Ford, this trick Mustang features a unique wide body kit, a bespoke hood with large intakes that channel air to its 900-horsepower supercharged 5.8-liter V8 engine and unique LED-halo fog lamps. Finished in a special silver metallic with blue stripes that glow in the dark when struck by light, the car sits on a lowered suspension and is fitted with a 22-inch wheel/tire package. Ford also created a second Mustang that will serve as a camera car and enable the use of new and more exciting cinematic techniques during the filming of various racing action sequences. Also due for some serious on-screen time is a special F-450 pickup dubbed "The Beast."
Also: 10 Best SUVs under $25,000
"Need for Speed is rooted in Americana, and when we were casting our hero car for the film, Ford Mustang was the obvious choice," said Stacey Snider, Partner and Co-Chair of DreamWorks. "With its 50-year history in film, the iconic Mustang is the perfect co-star for Aaron Paul." Directed by Scott Waugh (Act of Valor), Need for Speed also will feature Dominic Cooper ("Captain America"), Imogen Poots ("Fright Night") and Michael Keaton ("Batman").
You Should Also Know...
Chevrolet revealed the 2014 Camaro Z28 at the New York Auto Show
Dodge is offering the 2013 Challenger R/T with new Redline performance options
Nissan gives the 370Z Nismo some cosmetic upgrades for 2014