2012 Ford Mustang Boss 302 -- First Drive
by
KBB.com Editors
|
February 24, 2011 9:02 AM
As you plunge through the fabled Corkscrew at Monterey's Laguna Seca Raceway literally unable to see the apex of the next corner that you hope to brush in a hundredth of a second or so, you realize the scale of the task Ford engineers cut out for themselves as they went to create the 2012 Ford Mustang Boss 302. Their clearly defined goal was to create a Mustang that could lap Laguna Seca faster than the highly praised, super-specialty BMW M3, a car that has a Kelley Blue Book Fair Purchase Price in excess of $60,000. Oh, and by the way, the new Boss 302 should do nothing to detract from the legend created by the first Boss 302, a 1969 model that quickly cut a swath through American road racing.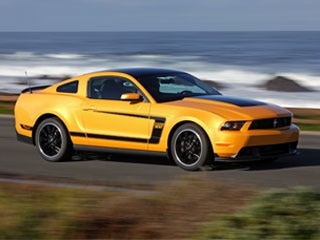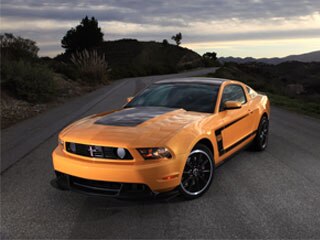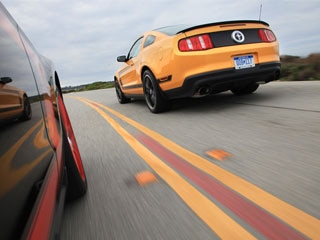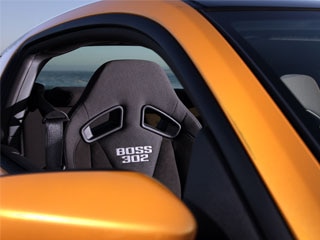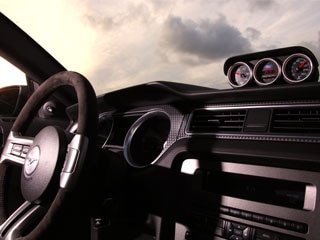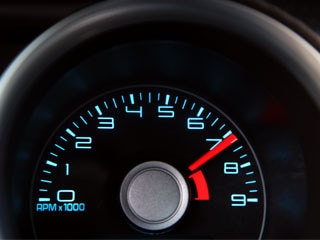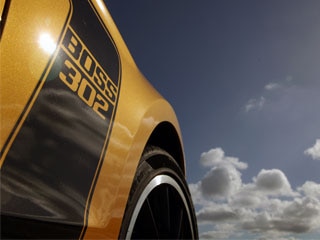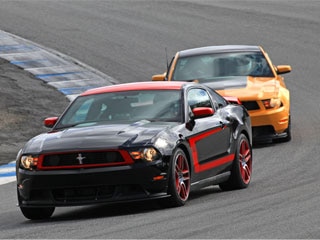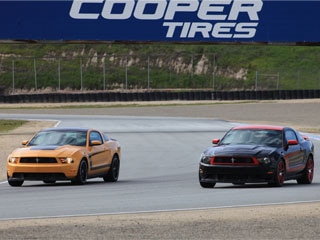 What Ford engineers have created, led by Mustang chief engineer Dave Pericak, succeeds on many levels, and if it falls short in an area or two, it is only because that area could contribute nothing to the over-arching goal of out-performing a performance icon. So if the interior is a bit plain-jane, if there are plastic grille inserts where a little more bling might seem to fit, it is only because adding efforts (and costs) in those areas wouldn't do anything to out-run an M3 through the hairpin.
As Ford's chief marketer, Jim Farley, told us, "What I'd really like to see from this car is for someone make a lot of money street racing, doing something maybe even against the law. It's about pure driving."
While Ford's legal department might not endorse that point of view, we think thousands of Mustang enthusiasts the world over will. So how did Ford engineers go about their task? Well, first, they knew instinctively that more horsepower could only help their cause. The 412 horsepower from the five-liter V8 engine in the 2011 Mustang GT is nothing to sneeze at, but upping the ante to 444 horsepower would only make things better. So Mike Harrison and his crew decided that a new intake system was mandatory.

"We wanted three things from the engine," he said. "We wanted it to breathe, rev and be durable."
Those worthy goals involved lots of manifold work. The resulting runners-in-the-box plenum and velocity stack give the engine an ability to breathe that rival forced induction, and the manifold is accompanied by more aggressive camshafts actuated with the same twin independent variable camshaft timing (Ti-VCT) mechanism used on the Mustang GT. Other technical niceties include unique cast-alloy cylinder heads that receive hours worth of CNC machining. Lightweight hollow-stem valves help the valvetrain remain stable all the way to the 7500-rpm redline. An oil-cooler and a larger radiator were fitted so the Boss 302's engine will live with the higher stresses that churning out all that horsepower and 380 lb-ft of peak torque can create.
While engineers fiddled with the airflow into the engine, they also played a few interesting games with the airflow out of it. The 2011 Mustang GT exhaust system was deemed to be just dandy in terms of proper but not excessive backpressure, so they decided to turn the exhaust system into a giant pipe organ that plays some beautiful music. From a car like the Boss 302 you might expect two rear exhaust outlets, but you might not also anticipate the twin side outlets that send exhaust gases through a set of metal discs tuned as much for their macho note as for anything else. Sadly, the side outlets are basically invisible from a normal vantage point - perhaps more obvious outlets were victims of liability issues, namely customers sizzling their shins.
The six-speed manual transmission features a short-throw shift lever topped with an eight-ball-inspired knob. During our test drive the box was a bit more vague than we expected, but we quickly came to terms with it. The 3.73 ratio solid rear axle (more on this later) features a carbon-fiber-plate-equipped limited-slip differential, while those seeking even more can opt for a Torsen torque-sensing diff that is packaged with Recaro front seats.
Lest you forget, the Boss 302's mandate was to be the best-handling Mustang ever, so the Mustang GT's suspension system got worked over substantially. The headline-news is the adjustable suspension that offers customers five levels of performance all accessible in Henry James' fashion by The Turn of the Screw. In this case the shocks are adjusted by using a standard flathead screwdriver to rotate the adjustment head at the top of each shock tower whether inside the trunk and under the hood. While we applaud the simplicity of the arrangement, we have to admit a bit of worry that some customers might inadvertently dial up a 5 (full-on track) setting on one shock and a 1 (boulevard ride) on another. Having this error engineered out with a dashboard or console-mounted actuator might not be a bad idea.
Speaking of ideas that aren't bad, we would also toss in that modern wonder - independent rear suspension. Yes, the Boss 302 has a larger diameter rear stabilizer bar, higher-rate springs and stiffer bushings, but all that cannot make up for the skittery handling of a live rear axle when it encounters uneven surfaces. The Boss 302 loves smooth pavement, but it doesn't appreciate one rear wheel encountering a dip the other one doesn't feel.
We have no complaints on the speed-sensitive electronic steering system, also revised from its Mustang GT application. It, too, can be calibrated to fit the driver but this recalibration can be done without the benefit of a flathead screwdriver. Instead, Comfort, Normal and Sport modes can be accessed from the instrument cluster. Also driver-controllable are the traction control and stability control systems. In typical situations both are engaged, but the driver can select an intermediate setting that allows more aggressive maneuvers before they engage, or the driver can turn them off altogether and see what that gets him. On the challenging Laguna Seca track we found the fully engaged mode to be completely transparent, so that might tell you something both about them and us.
We also have no complaints about the unique lightweight 19-inch black alloy racing wheels shod with Pirelli PZero summer tires. The staggered wheels - 9 inches wide in front and 9.5 inches wide in the rear - carry, respectively, 255/40ZR19 and 285/35ZR19 tires that are said to be good for more than the Boss 302's 155-mph top speed. All that go requires the stopping power of a brake system that includes Brembo four-piston calipers acting on 14-inch vented rotors in the front and standard Mustang GT brakes upgraded with a Boss-specific high-performance pad compound in the rear. Even during the demands of the track the brakes proved excellent.
When it came to styling, Ford sought to retain some of the essence of the 1969 Boss 302 while giving it a contemporary "bad boy" feel. To go in that direction each car will have a second-color roof panel - either white or black - coordinated to the color of the nostalgic side "C-stripe." The color palette also draws liberally on the fabled past with exterior hues like Competition Orange, Performance White, Kona Blue Metallic, Yellow Blaze Tri-Coat Metallic and Race Red.
The biggest styling alteration is the big, aggressive lower splitter, designed to manage airflow around and under the car. At high speeds it is helpful in cutting front-end lift, under-car drag and, as a bonus, it helps direct air into the cooling system. While the splitter is properly "racecar," the grille looks a bit cheap with its plastic fillers in the spots where fog lights would otherwise find a home. On the other hand, we like the looks of the black-painted alloy wheels.
We have to admit we are old-school enough to appreciate fabric-covered seats, and the optional Recaros that resided in the various test vehicles we drove are particularly good with excellent bolstering. We're less enthusiastic about the instrument panel, which is plain to the point of dullness and demonstrates how far interior design has moved since this generation of Mustang first hit the streets. In defense of the panel, though, it does offer big speedometer and tachometer readouts in traditional fashion. Further, a fashionable dashboard never made a car go faster. The "Powered by Ford" door sill cover makes a vivid first impression, and the Alcantara suede-covered steering wheel was a joy to hold.
So does the Boss 302 accomplish the objective of beating the M3 around Laguna Seca? Well, the M3 brought out for comparison purposes was retired with an unnamed malady before we had a chance to try it, but we're certain that the Boss 302 with its massive power and torque could be more than a match for the M3 at that venue. What surprised us more was that the Boss 302 offers good roadholding and fine handling finesse without beating up its occupants with a buckboard ride. The electronic power steering is more communicative than you might guess, and the heavy dose of torque and engine flexibility allows you to stay with gears longer than you might in a more highly tuned, smaller displacement car.
For those who want even more, Ford will offer a Laguna Seca version of the Boss 302 that commemorates the track where Parnelli Jones won the 1970 Trans-Am Series opener in - what else - a Boss 302. The Laguna Seca ditches its rear seat in favor of cross-bracing and features a firmer chassis setup and an aerodynamics package carried over almost in its entirety from the Ford Racing Boss 302R. Both the Boss 302 and Laguna Seca version will arrive in limited numbers later this year.