AAA Calls for Headlamp Improvements
by
Bob Nagy
|
May 14, 2015 10:26 AM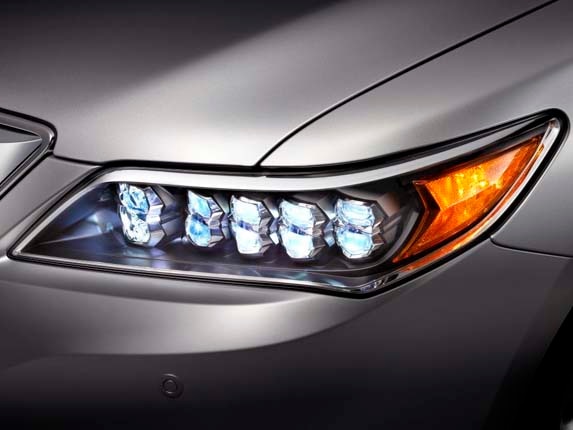 A new study by the American Automobile Association on the effectiveness of today's headlamps has found that even the most advanced LED units can't adequately illuminate potential hazards that may lie ahead when the vehicle is traveling on an otherwise unlit road at even moderate speeds. The testing, which measured the distances at which modern headlights illuminate non-reflective objects on both low-beam and high-beam settings, was conducted with the Automobile Club of Southern California's Automotive Research Center. AAA then compared its findings with guidelines issued by the American Association of State Highway and Transportation Officials. Based on that data, it concluded that today's headlights simply don't provide sufficient light to allow a driver to see an object, animal or person on the road in time to react and bring the vehicle to a complete, safe stop.
Also: Class of 2016 -- New Cars Ready to Roll
The testing conditions used by AAA were typical of what drivers encounter on American rural roads, venues that account for about 40 percent of the total miles travelled annually in the U.S. According to the AAA, flicking over to high beams improved the sight distances by 28 percent, but even then, the headlights were maxed out at just 48 mph. Supplemental testing showed that HID and LED units could shoot a low-beam 25 percent further than conventional halogen lamps - about 45 mph worth of "safe distance' -- and bump that to 55 mph on high beams. However, even the best lighting delivered 60 percent less than what's provided by conventional daylight.
New technologies touted
"While it's encouraging to see the safety benefit that newer headlight technology offers to drivers, there's still room for improvement," commented John Nielsen, AAA's managing director, Automotive Engineering and Repair. "Unlike the more advanced headlight technology available in European vehicles, current government regulations limit the light output for vehicles sold in the United States. AAA looks forward to working with U.S. policy makers to ensure federal regulations keep up with changing technology." With luck, they'll be successful in convincing the powers in Washington to allow these latest strains of laser-enhanced active lighting systems to appear on cars and trucks sold here as well.
Also: Kelley Blue Book Best Buy Awards of 2015
Beyond its basic testing, AAA also studied the impact of deteriorated headlight lenses on illumination intensity and glare. It found that using a restoration kit to remove the yellowing or fogging doubles the intensity and reduces glare-causing scatter by 60 percent. The downside is that another recent study by the organization found that only 20 percent of Americans actually have done this type of servicing.
More Safety Technology News...
The 2016 Cadillac CT6 will feature a streaming video rearview camera
Mini has begun testing a new Augmented Vision technology system
Subaru is introducing its next-gen EyeSight driver-assist system on select 2015 models