2017 Aston Martin Vantage Expert Review
By Keith Buglewicz
While the 2017 Aston Martin Vantage is the least expensive car in the company's lineup, this $135,000 sports car is anything but entry level. This beautifully styled 2-seat sports car -- available with either V8 or V12 power -- finally offers a manual transmission for either engine. It gives V12 Vantage buyers an option beyond the clunky 7-speed automatic, but sadly, only 100 will be coming to the U.S. this year. Either way, the Aston Martin Vantage lineup starts at about where the Jaguar F-Type and Porsche 911 top out, and stretches into 911 Turbo and Audi R8 territory. Unfortunately, despite the addition of things like Apple CarPlay, it's getting hard to hide that the Vantage is more than a decade old.
You'll Like This Car If...
If you want a V12 engine and a manual transmission, the Aston Martin V12 Vantage is the only game in town. It offers a distinctly British take on the exotic sports car, and with eye-catching styling and a racing heritage, it all but guarantees front-row status at the valet line.
You May Not Like This Car If...
There isn't an Aston Martin dealership on every corner, so getting your Vantage serviced requires some planning. Beyond that, competitive cars are simply newer for the most part, offering more technology and better automatic transmission choices than what's found on the Vantage.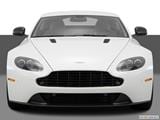 What's New for 2017
The new AMi III infotainment system that includes Apple CarPlay is standard across the board. There's also a new 7-speed manual transmission available for the V12 Vantage that includes a "dog-leg" first gear, and the entire V8 Vantage lineup is consolidated into a single GTS model available in two trims.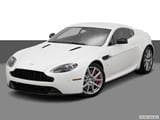 Driving Impressions
There's nothing quite like the roar of the Aston Martin V12 Vantage when it comes to life, and with the new transmission, it's at last as pleasant to drive as...
... it is to look at and listen to. Without the clunky single-clutch automated manual transmission getting in the way of anything but full-throttle fun, the V12 Vantage feels like a proper sports car, and the new manual is surprisingly easy to use considering the massive power it contends with. Already an engaging car, the manual transmission makes it even more viscerally involving. Without the automatic to worry you, the steering and suspension become your focus. The steering is still hydraulic, meaning that it offers the feel and precision enthusiasts crave. The suspension is stiff, of course, giving the Vantage an edge in cornering, but remains comfortable enough for around-town practicality. Excellent brakes bring everything to a halt in very short order.
SIGHT AND SOUND
Despite its age, the 2017 Aston Martin Vantage is an undeniably sexy car. From the curve of the haunches over the rear wheels to the distinctive grille, to the unique brap of the V8 or roar of the V12 engine, the Vantage is a unique sensory experience.

HYDRAULIC STEERING
It bears repeating that one of the things we love about this car is its old-school (by today's standards) hydraulic-assist power steering. By eschewing more modern electric assist, Aston Martin has retained the feel and precision enthusiasts demand in their sports cars.

2017 Aston Martin Vantage Details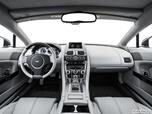 Interior
The AMi III system incorporates Apple CarPlay, a huge step forward for a company that, until recently, was still using a system from the mid-2000s. While the cabin is generously described as "cozy," at least you're pressed against the finest interior materials and craftsmanship you're likely to see. The Vantage coddles its driver and passenger in leather seats, and the piano-black or carbon-fiber accents look modern and right here. Still, there's a feeling of datedness here: The knobs for audio and climate functions feel old, and there are small and confusing buttons everywhere, including the push-buttons for the automatic transmission.
Exterior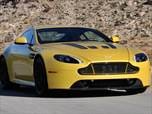 Some shapes are timeless, and with the Vantage still looking this good after more than a decade of production, it's clear this Aston Martin fits the description. The long, low hood and swollen rear fenders define power and grace, while the classic grille treatment makes its heritage unmistakable. The Sport configuration adds 5-spoke alloy wheels with a graphite finish, while the Lux model has a brighter finish on its wheels. The V12 models get additional hood vents, but they look more tacked-on than they should. The roadster's power-operated soft top retracts in 18 seconds at speeds up to 30 mph.
Standard Equipment
The basic (ha!) $135,000 V8 Vantage coupe comes standard with a leather interior, automatic climate control, infotainment that includes navigation and Apple CarPlay, a rearview camera, and a 160-watt audio system with USB inputs. However, it's surprising to see that things like cruise control, an automatic-dimming rearview mirror and heated seats are on the options list, not standard. And never mind blind-spot monitors and the like. The V12 Vantage S comes with the larger engine, carbon-ceramic brakes and a driver-adjustable suspension.
Optional Equipment
Aston Martin offers a "Q" customization program (Q, like James Bond), which allows custom paint and interior schemes. Without that, the options list is short. Beyond colors and wheel styles, there's your choice of Sport or Lux models, each with its own unique wheel treatments and exterior trim. A 1,000-watt Bang & Olufsen audio system is part of the Lux model, and we highly recommend it for audiophiles. For V12 models, the available-to-100-examples manual transmission also includes AMSHIFT, a rev-matching system as part of the package, and a Sport Plus Pack adds a bit of power and torque.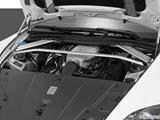 Under the hood of the 2017 Aston Martin V8 Vantage is a sweet-sounding 4.7-liter V8 engine with 430 horsepower. It's available with either a 6-speed manual transmission or a 7-speed single-clutch automated manual. V12 Vantage models use a V12 engine with considerably more horsepower: a solid 565 horsepower, or 568 horsepower if you opt for the Sport Plus Pack. Note that both the V8 and V12 engines are naturally aspirated, making their power without turbochargers or superchargers. The V12 is now available with a 7-speed manual transmission for the first time, but only for 100 lucky customers. Fun fact: It's actually a manual version of the single-clutch automatic transmission available in the Vantage.

4.7-liter V8
430 horsepower @ 7,300 rpm
361 lb-ft of torque @ 5,000 rpm
EPA city/highway fuel economy: 13/19 mpg (manual), 14/21 mpg (automatic)

6.0-liter V12
565 horsepower @ 6,500 (568 horsepower with Sport Pack Plus)
457 lb-ft of torque @ 5,750 rpm (464 lb-ft with Sport Pack Plus)
EPA city/highway fuel economy: 12/18 mpg
Note: Due to changes in EPA testing to more effectively reflect real-world conditions, some 2017 models show slightly lower fuel-economy scores than their 2016 versions.

The Manufacturer's Suggested Retail Price (MSRP) of the 2017 Aston Martin Vantage GTS coupe runs a little less than $137,800, including the $2,825 destination charge. The roadster costs more than $152,000, and remember, this is before adding in options. Opt for the V12 models and you're looking at more than $191,000 for the coupe and well over $202,000 for the convertible. Those prices range from a topped-out Jaguar F-Type and Porsche 911 on the lower end, to exotics like the Audi R8 and Maserati GranTurismo -- and Porsche 911 Turbo -- on the higher end. Usually we'd refer you to the KBB.com Fair Purchase Price to see what others in your area are paying, but suffice it to say there aren't too many people dickering over the price of their (probably bespoke) British exotic sports car.
To compare current market prices, check out KBB.com's car classifieds to view the new and used Aston Martin Vantage vehicles for sale near you.